This Thanksgiving, we here at ProSoccerTalk are grateful for the coaching change of the United States men's national team. No, not because we hated Jurgen Klinsmann nor on account of a love for Bruce Arena.
For the posts, friends. For the posts.
Today, let's take a look at the best MLS players stats-wise as longtime LA Galaxy head honcho takes the USMNT wheel for his latest turn as head coach.
These are the top Americans in the MLS stat pages, culled from several sources including MLSSoccer.com and Squawka.
[ MORE: Stock up/down under Arena ]
It's worth noting, and it's a longer story for another day, that Americans don't exactly run roughshod through the stats. It's another "problem" for the league with its growing popularity: getting better soccer players doesn't mean getting better American soccer players. Money does that, and it's a lesson learned in England, Germany, and other leagues well above MLS.
Some quick takeaways before we get to the numbers: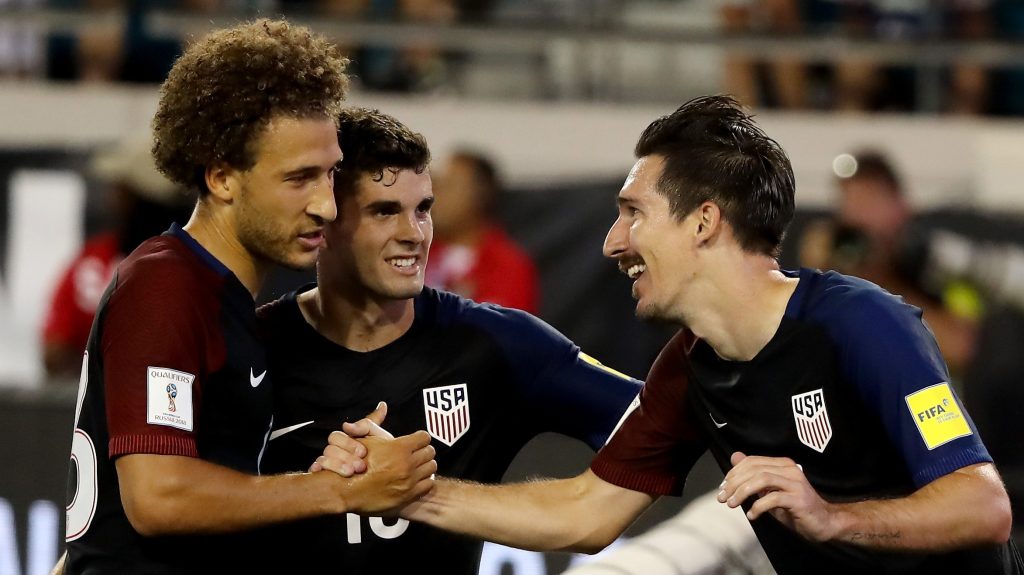 — Looking at these, it seems a no-brainer that Dax McCarty, Sacha Kljestan, Benny Feilhaber, and Darlington Nagbe will get the chance to be back in the fold.
— If Dom Dwyer and Ozzie Alonso could play for the national team, that would be cool (Of course Cuba won't release Alonso and England-born Dwyer still has to formally apply for the honor).
— Could lesser-known names like Scott Caldwell (New England), Wil Trapp (Columbus), and even Ryan Hollingshead (FC Dallas) get a look?
[ MORE: Premier League Player Power Rankings ]
*denotes rookie
#denotes currently ineligible for USMNT
Top American MLS goal scorers, 2015 & 2016
Chris Wondolowski, 28
Dom Dwyer, 28#
Jozy Altidore, 23
Clint Dempsey, 18
Ethan Finlay, 18
Benny Feilhaber, 17
Chris Pontius, 15
Will Bruin, 15
Patrick Mullins, 14
Sacha Kljestan, 14
Juan Agudelo, 14
Lamar Neagle, 13
Jordan Morris, 12*
Top American MLS assistmen, 2015 & 2016
Sacha Kljestan, 34
Benny Feilhaber, 28
Ethan Finlay, 22
Lee Nguyen, 21
Dax McCarty, 13
Mike Grella, 13
Kelyn Rowe, 13
Tommy McNamara, 12
Successful passes amongst Americans in MLS, 2016
Osvaldo Alonso, 1816#
Wil Trapp, 1654
Michael Parkhurst, 1369
Sam Cronin, 1211
Scott Caldwell, 1211
Successful passes amongst Americans in MLS, 2015
Dax McCarty, 2087
Sacha Kljestan, 1602
Michael Parkhurst, 1501
Darlington Nagbe, 1496
Scott Caldwell, 1371
Wil Trapp, 1350
Duels won amongst Americans in MLS, 2016
Osvaldo Alonso, 218#
Chris Pontius, 154
CJ Sapong, 153
Ryan Hollingshead, 150
Kelyn Rowe, 145
Duels won amongst Americans in MLS, 2015
Darlington Nagbe, 291
Ryan Hollingshead, 224
Dax McCarty, 224
Sacha Kljestan, 224
Matt Miazga, 209