Ahead of Week 13 of the 2016-17 Premier League season, we're most looking forward to keeping an eye on the following storylines…
[ FOLLOW: All of PST's PL coverage ]
Payback at the Bridge
The last time Chelsea hosted Tottenham Hotspur at Stamford Bridge, there were 12 yellow cards, an eye-gouge, an on-field melee, and Tottenham's PL title bid went up in a spectacular, bright ball of flames. With largely the same squad intact six months later, revenge will undoubtedly be on the minds of Mauricio Pochettino's men on Saturday (Watch live, 12:30 p.m. ET on NBC and online via NBCSports.com). Flipping the script, this time around it's Antonio Conte's side which looks the truest of title contenders after the Blues went top of the league with their victory over Middlesbrough on Sunday. What goes around comes around?
Early separation of the top five
Three months into the season, the league table reads as follows:
Five sides have threatened to run away from the rest of the pack, and Man United, with just one win in their last six games, are in danger of being left behind. The Red Devils welcome West Ham United to Old Trafford on Sunday (Watch live, 11:30 a.m. ET on NBCSN and online via NBCSports.com), and desperately need three points with three of the five sides ahead of them facing foes from the bottom half of the league. Another loss would likely see them fall nine points out of fourth before the start of December.
Fully focused on the league
Leicester City are through to the knockout stage of the UEFA Champions League — as one of eight seeded side, no less — which means Claudio Ranieri's side can must now return its full focus to a badly floundering domestic campaign. The Foxes sit 14th in the PL with just 12 points from 12 games. From their first 12 games in their title-winning season, they had won 25 points. They won their 12th point of the 2015-16 season in their sixth game, on Sept. 19. With their attention and resources previously split between the PL and the CL, it's been a disastrous start for Ranieri's men, something they must rectify against 15th-place Boro at the King Power Stadium on Saturday (Watch live, 10 a.m. ET on CNBC and online via NBCSports.com).
End of the road for Pards?
Alan Pardew's tenure as Crystal Palace manager is hanging ever so delicately, by a thread, after five straight losses have plunged the Eagles to within a point of the relegation zone. A sixth consecutive defeat, courtesy of Bob Bradley's bottom-of-the-league Swansea City, on Saturday (Watch live, 10 a.m. ET on NBCSports.com) would almost certainly spell the end of the line for Pardew.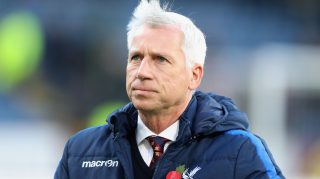 West Brom — European contenders?
Of all the surprise sides to start the season, perhaps no one has overachieved more than West Brom. After narrowly escaping relegation last season, Tony Pulis's side is off to a flying start, currently sitting ninth with 16 points from a dozen games. With a trip to 18th-place Hull City on the books for Saturday (Watch live, 10 a.m. ET on NBCSports.com), the Baggies could finish the weekend as high as sixth, assuming results elsewhere go their way.