Ronald Koeman will be readying himself for a bevvy of abuse, boos and jeers at St Mary's this Sunday from supporters who adored him just a few months ago.
Koeman left Southampton in the summer to manage Everton in a move which angered the vast majority of Saints fans.
When Everton and Koeman come to town on Sunday (Watch live, 11:30 a.m. ET CNBC and online via NBCSports.com) the home fans are ready to show their former manager how they really feel as Koeman returns for the first time since leaving.
There's a pub not far from St Mary's called the "Flying Dutchman" and in the aftermath of Koeman's departure the name of the bar was photo-shopped to become the "Lying Dutchman" with Koeman's face on the outside of the pub.
That image has stuck and most Saints fans have had this Sunday's clash against Everton circled on their calendar since the schedule was released.
[ MORE: How Koeman left Saints ]
Why exactly did Koeman's departure hurt Saints fans so much?
After all, with the constant sales of star players, plus managers like Mauricio Pochettino choosing to move on to larger clubs in recent years, Saints' fans should be used to seeing quality depart St Mary's and then welcoming the new wave of faces arriving as their rapid ascension from the third-tier to the top six of the Premier League in the past six years has shown.
When it comes to Koeman, though, it's personal. For the second half of last season Koeman was asked constantly by the media about his contract situation at Saints and for many fans he went back on his words.
He had a deal at Southampton which ended in the summer of 2017 and he repeated time and time again that he wanted to remain at Southampton until at least 2017 and hopefully beyond that.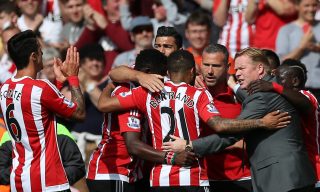 He literally said he would stay multiple times to journalists when asked and this is what he said after Southampton's 4-1 win against Crystal Palace on the final day of the 2015-16 season which sealed sixth place in the Premier League and a Europa League berth.
"I still have a one-year contract," Koeman said. "I spoke to the board and we had the meeting and it's always my wish to stay because I like the club, fans and players."
Yet, just a few weeks later he was gone.
Talks with the club were going well, everyone behind-the-scenes at Southampton thought Koeman would sign a new extension which had been offered to him (as we detailed in this piece at ProSoccerTalk) but then he changed his agent and his mind at the last minute and wanted to move to managerless Everton. He got his wish and has a reported $8.5 million per year deal at Goodison Park.
Saints' fans were livid. They have since been further angered and confused by comments from Koeman stating he was handed an ultimatum by Saints' board about signing a new deal and that Les Reed, the executive director of football, basically ushered him out of the club. Yet, that's something those behind-the-scenes at Saints refute as they claim Koeman simply wanted to move to Everton.
It's all a bit messy.
However, when he's becoming one of the best paid managers in the Premier League thanks to the billions of Everton's new owner Farhad Moshiri, can you criticize Koeman for making the leap and trying to be ambitious and lead a team clearly ready to invest heavily?
Southampton's fans do. The main issue is more about how the situation was handled. The disdain from that remains and the fans will let him know what they truly think this weekend even though his replacement Claude Puel has called for respect for the work Koeman has done at the club.
Ahead of their UEFA Europa League defeat at Sparta Prague on Thursday, Saints' fans congregated in Prague's Old Town square to eat, drink and sing as the Christmas market was in full flow around them in the capital of the Czech Republic.
In that idyllic setting ahead of one of the most memorable games in club history, there were plenty of songs about Koeman, all of which I cannot print here. The animosity is real.
Yet, it's not as straightforward as saying every home fans at St Mary's on Sunday will hurl abuse at Koeman.
Many, whether they like to admit it or not, will applaud Koeman for what he managed to do in his two seasons in charge at Southampton.
The Dutchman transformed Saints into a top six team by the end of his time on the south coast and that was despite the likes of Adam Lallana, Luke Shaw, Rickie Lambert, Dejan Lovren being sold just before he arrived and then Morgan Schneiderlin and Nathaniel Clyne being sold in the summer of 2015. This summer Graziano Pelle and Sadio Mane followed Koeman out of the door and their departures, couple with Koeman's, leave Saints in a slightly more precarious position than they'd wish for after the opening third of the season under new manager Puel who is still finding his feet in his first-ever season in England.
Both Southampton and Everton need the points on Sunday and the former could be just one point off the relegation zone before kick off if results go against them earlier in the weekend. That fact is adding something extra to the plot too, because Saints' fans feel like the club would've kicked on again and challenged for a top four spot if Koeman had stayed and more money was spent.
For the fans, Koeman was a likeable figure. He spoke the truth. He interacted on Twitter and was seen in bars and restaurants in the south coast city embracing their lifestyle. He seemed genuine. He really was one of the nice guys in the eyes of Southampton's fans. Together, they believed he could lead them into they unknown to challenge the perennial big boys in the Premier League.
Abruptly, Koeman didn't want to be a part of that any more.
He is hoping for respect this weekend but he knows that isn't likely.
"I can not change opinions and feelings of the fans," Koeman said. "I hope they will respect me. We had a great time and after my career I will look back. Of course I understand the different opinions and reactions and I am not afraid of that. It's time to think about Everton. I chose to make the move and am happy with that. What happened in the past is the past."
Koeman isn't expecting to get widespread respect. In truth, he will get the complete opposite from most inside St Mary's on Sunday.