Jozy Altidore took brash to the next level, in turn driving Toronto FC to its first MLS Cup final.
The American striker knew his team was down 3-2 after one leg. He also knew that Montreal's defenders didn't like his physical play in Quebec.
So he dug in.
[ MATCH RECAP: Toronto 5-2 (7-5 agg.) Montreal ]
Altidore told Montreal defender Victor Cabrera to "do more curls", unapologetic for using his massive frame and electric athleticism to boss the Impact's back line.
When play opened at a raucous BMO Field on Wednesday, Altidore delivered an irrepressible performance. From minute one, the 27-year-old USMNT striker was throwing his body around and daring someone to catch it.
This wasn't the man who struggled to justify his $13 million price tag at Sunderland; It was the evolution of a man who bagged goals for fun at AZ Alkmaar and has a legit chance to chase down Landon Donovan as the USMNT's all-time leading goal scorer.
There was Altidore, plowing his way through defenders to catch a ball near the end line and challenge goalkeeper Evan Bush. There he was again, going 100mph into a card-worthy collision with Hernan Bernardello.
And it wasn't strictly enforcer business. Altidore scored a goal scorer's goal with his header of a Sebastian Giovinco corner, then supplied an extra time assists as Tossaint Rickets put this one to bed.
Like he had done all season, Altidore celebrated with the fans and praised their fortitude following the win. TFC hadn't just been bad for most of their existence; The Reds were awful. A passionate fan base had learned to expect very little from big name signings, at least until the past two seasons.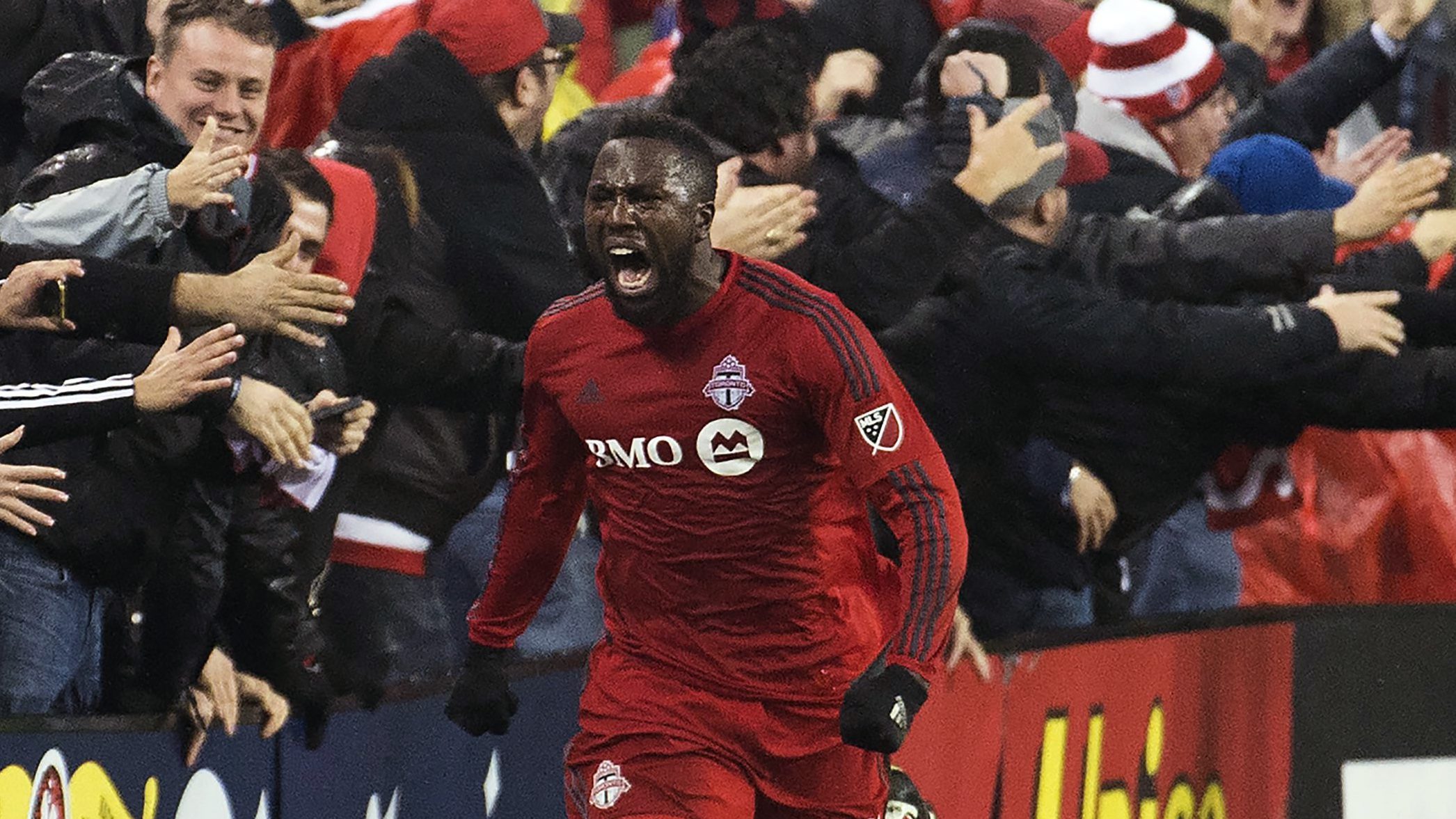 "It's all for their fans. They suffered a long time. To deliver the type of season we had, it means a lot."
And the fans had. They needed a bull to pull them through their struggles. While Toronto as a city likes to think of itself as the playmaking wizardry of Sebastian Giovinco, Altidore did it for the blue collar types.
For my Ontario hockey types, he rolled Wendel Clark, Mats Sundin, and Gary Roberts into one package, and spit out something Leafs fans haven't seen since 1967: an appearance in a championship game.
TFC will be at home come Dec. 10, and the focus will be on electric imports Sebastian Giovinco (if he's healthy) and Nicolas Lodeiro. Fans will bring up the names of Michael Bradley and Jordan Morris.
But it's the big striker, on the heels of a roller coaster European adventure, who got them there. On Wednesday night in Canada, Josmer Volmy Altidore was an absolute monster.