LONDON — Two of the brightest and most highly-regarded managers in world soccer square off on Saturday at the Etihad Stadium as Pep Guardiola and Antonio Conte collide.
[ MORE: Conte or Guardiola? ]
Manchester City vs. Chelsea (Watch live, 7:30 a.m. ET on NBCSN and online via NBCSports.com) is eagerly anticipated as many people's title favorites lock horns in what should be an intriguing tactical battle with Guardiola and Conte both already stamping their authority on their teams just a few months into their reign.
Speaking at Stamford Bridge on Friday before Chelsea hopped on a train from London to Manchester Conte spoke to the media in a humble manner, playing down his own importance and revealing his admiration and respect for Guardiola not only as a coach but as a player when they met the one time in Italy towards the end of their careers.
With Conte having success at Juventus, plus with the Italian national team despite winning any title, the 47-year-old coach was asked who was more popular; himself or Guardiola?
"For sure Pep," Conte laughed. "Because Pep won a lot in his career, he won trophies internationally, not only in Spain but also in Germany and now he's in England. For sure Pep. I think now he is the top."
When you look around the Premier League at the top managers currently working in big clubs (Jurgen Klopp, Jose Mourinho, Arsene Wenger, Mauricio Pochettino and many others) that's high praise indeed from Conte. Yet, you get the sense that he and Guardiola aren't so different and aren't so far off one another.
[ WATCH: Full TV, streaming schedule for Premier League ]
Talking after Liverpool beat Chelsea in September at Stamford Bridge, Liverpool's manager Jurgen Klopp referred to Conte as the "Guardiola of Turin" for the work he did with Juventus, leading them to three-straight Serie A titles from 2011-14.
What did Conte make of that comparison to Guardiola?
"I think this is a great compliment,"Conte said. "I thought that Klopp said this because I had the possibility in three years to build a clear idea of football with Juventus. It was a good compliment for me."
Humble is word which sums up Conte well.
He is still getting to grips with his English and is improving every week but he still looks rather sheepish and almost embarrassed when he is talked about in the same breath as Guardiola and the great coaches currently managing in England.
Where does he rank himself among the elite coaches in the Premier League.
"Yeah, but for me it is difficult to give a judgement on myself. It is very difficult. I prefer the other people to be the judge," Conte said. "I know me very well. I know that I put a lot of pressure, I study a lot of football to create and find solution. I know I put a lot of the time of my day in my work. I know this. Then I don't know if I am up in this table or at the bottom of this table."
Conte is clearly not at the bottom of the table but in England his fame has yet to translate to the street. In Italy he would be mobbed for photos while out at a dinner or shopping due to his success with Juve and the Azzurri, however in west London he doesn't get bothered much. And he quite enjoys that.
"In England it is very different if you compare with Italy. Here they ask with great education to sign a photo. In Italy you can find lots of friends who say 'come with me, take a photo, come on' and you are eating at your table and the fans come and sit with you and want to eat with you!" Conte said, laughing. "This is the big difference. I am pleased that when I go for a walk and people ask me to sign a photo, I am pleased and able to take the photo every time."
Photos aside, Conte has hit the ground running at Chelsea and had just a few days of vacation this summer as he transitioned straight from Italy's penalty shootout heartbreak in the quarterfinals of EURO 2016 to taking charge of Chelsea and managing in the Premier League for the first time in his career. He has taken to Chelsea quickly and the fans have taken to him, with his name sung loud and proud around Stamford Bridge by home fans in recent weeks as his rapport with them has been built by signals to get behind the team and jumping in and celebrating with them when the Blues score.
But does Conte have to win a title, or even a UEFA Champions League, at Chelsea to get to the same level of admiration that Guardiola has globally?
"I don't know if you win a league and what you can reach. I have to work with my team to reach the best results for us. I remember our first press conference. Not many people trust in Chelsea and our work," Conte said. "This must be a great strength for us. To continue to work and change the opinion of the people. For me, I never think of myself. I always think for my team and my club. We win and we lose together."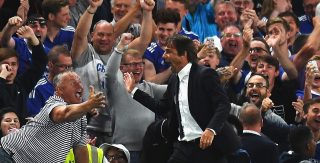 With Chelsea on a seven-game winning streak and conceding just one goal in that stretch, Conte's side are in-form and one point ahead of Guardiola's City ahead of Saturday's game. Following their 10th place finish last season as their title defense went horrendously wrong, not much was expected of Chelsea this season under Conte. They've exceeded expectations, thus far.
As for Guardiola, plenty was expected of his expensively assembled squad and City have faltered in recent months, winning just three of their last seven Premier League games.
Conte isn't sure if Guardiola is under more pressure than he is, but he does know that he will continue to put massive pressure on his shoulders and, gradually, on the shoulders of his players who currently sit top of the remier League.
"I must be honest I don't know. I know that I put myself under great pressure on every situation," Conte said. "I try to work, try to win always, also when sometimes you understand this is very difficult bu I put a lot of pressure on myself. Also I try to start to transfer this pressure on my staff and also to start to push this pressure on my players."
With his Chelsea team written off at the start of the season, slowly expectations levels are starting to rise and many of the doubters are turning into believers of Conte's project in west London.
"Before we are working for ourselves, our club, our fans to show we love this shirt, love this club," Conte said." It is normal when you are a great team like Chelsea and when you play and you are a manager of this great team, the expectation is high. Sometimes it is right to be high. Sometimes you have to wait because you are building something important. I repeat, now it is important to continue to work and show that Chelsea can fight for a place in Champions League or fight for the title and fight the best teams in the league."