It has been a good day for the Bradley family.
And it could get even better.
[ VIDEO: Swans batter Sunderland ]
Bob Bradley's Swansea City beat Sunderland 3-0 at the Liberty Stadium on Saturday to get things going, with the American coach sealing the second Premier League win of his eight matches in charge which lifted them off the bottom of the table.
Later on Saturday Bob's son, Michael, will captain Toronto FC in the MLS Cup final against Seattle at BMO Field as he aims to lead TFC to its first-ever MLS title and cap off one of the most memorable days in the history of the Bradley family.
Speaking to Sky Sports after the win against Sunderland, Bob was delighted not only with Swansea's win but also with their clean sheet, just the second since he's been in charge and Swansea's third of the season through 15 games.
"It's good work. We're proud of it. The response this week has been excellent," Bradley said. "We've talked about how we need to be good at the Liberty. There's continued work. The clean sheet was essential. We've conceded too many goals. The focus throughout was quite good."
Bradley also told reporters that he plans to sit up late on Saturday (the game kicks off at 1 a.m. UK time on Sunday morning) to watch MLS Cup with a glass of wine as he cheers on his son with close friends and family.
As for his own exploits ts at Swansea, Bradley has silenced plenty of critics who have been becoming more vocal over the past week with the Swans losing 5-0 at Tottenham to make it 19 goals conceded in his opening seven games in charge. Yes, Bradley knows that he has plenty of work to do defensively with his side but he's obviously getting something right as they looked very solid and dependable in a big relegation battle against David Moyes' Sunderland.
At the other end, as long as he has Gylfi Sigurdsson, Jefferon Montero, Modou Barrow and now Fernando Llorente (four goals in his last two home games for Swansea) his team will score goals and they look dangerous.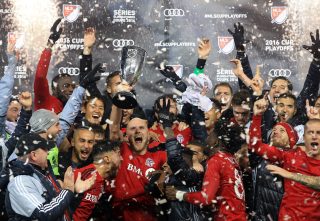 With reports of internal reviews ongoing at Swansea City due to the poor form of the club this season, plus some questioning if Bradley will lose his job in January, the American coach continues to prove doubters wrong. He has been backed by Swansea chairman Huw Jenkins in the press and Bradley also hit back at some criticizing him from day one just because he has an American accent.
The New Jersey native, who is the first American to ever coach in the Premier League, has always been a man who will speak his mind and he is slowly making his mark at the Liberty Stadium.
Without his own players to work with (the January transfer window will help him make some key additions in defense) he has now gained eight points from a possible 24 but there are signs of improvement for the Swans, especially at home. With five very winnable games against relegation rivals coming up between now and Jan. 3 (West Brom, Middlesbrough, West Ham, Bournemouth, Crystal Palace) Bradley knows this is a critical period for Swansea's survival hopes.
Getting their biggest win of the season and a shutout kicks off a pivotal few weeks rather nicely.
It also starts the day off right for the Bradley family who will be hoping U.S. national team captain Michael will be getting his hands on his first piece of silverware with Toronto FC in a few hours time.
Somewhere in Swansea, Bob will be proudly raising a glass of fine wine to his son and his teammates if Toronto can pull off the win.