If pangaea never broke, Kentucky would still be a long ways from Lesotho.
Even a cursory look at globe is daunting, especially for a 15-year-old kid making the 9,000 mile trek from Southern Africa to Midwest America on his own.
This is at the heart of the story of University of Kentucky star midfielder and MLS Combine participant Napo Mastoso, who hasn't seen his mother or father since moving to the United States almost seven-and-a-half years ago.
[ MORE: Harkes wins Hermann Trophy ]
Matsoso grew up in Maseru, Lesotho's capital city, awed by his father Thato's skills on the ball as a member of the country's national team and local club Arsenal FC.
Napo darted barefoot through the youth soccer landscape in Lesotho, figuratively cutting his teeth on the opposition while physically cutting up his legs on the dirt pitches of Maseru.
Barefoot.
"The dirt hurts your body pretty bad," Matsoso said. "When you slide or someone trips you. … I played barefoot until I was 12 or 13 years old. My father bought me cleats, they were not like labeled, they were just random cleats."
Napo Matsoso hasn't seen his parents since he was 15 years old, encouraged by them to leave the 145th most populous nation in the world for a chance on the schools and youth soccer fields of Louisville, Kent. Moreover, he said they haven't seen him play a minute since he left the country.
[ MORE: Monmouth GK trials with Everton ]
His father's professional teammate at Lesotho's Arsenal, goalkeeper Thabane Sutu, had gone on to play in Egypt and coach in Turkey before settling into an opportunity in America with Louisville club United 1996 FC.
Sutu — now the GK coach at Louisville City FC — became friends with Marc Maguire, a father of two United players. Conversations on Sutu's dreams to bring young Lesotho talent to the U.S. turned to action when Maguire welcomed two young players who he'd later adopt: Sunny Jane and Lepe Seetane.
It was an incredible experience for both. Maguire, now Jane and Seetane's "American parent", had two exceptional sons.
"They wouldn't just clean their room," said Maguire, a car dealer in Louisville. "We'd come home and find them cleaning the whole house."
Both earned D-1 scholarships, with Seetane playing 78 games for Northwestern between 2010-13 and Jane earning All-ACC second team status at Maryland en route to a pro career with Wilmington Hammerheads and, currently, Richmond Kickers.
[ MORE: USL gets D-2 status ]
Four years after Jane and Seetane arrived, Maguire welcomed Matsoso. The experience followed suit, though Matsoso was understandably reserved at first.
"He's a great kid," Maguire said. "As we got to know him better, we discovered he's quite hilarious, maybe the funniest person I know. He's conscientious, he's a hard worker."
He had to be, moving from a world of hard pitches and harder tackles to the artificial turf and expensive cleats.
Some transitions were easy enough, like the on-field. Matsoso scored 29 goals and added 19 assists as a freshman at St. Francis High School in Louisville.
"It took me a long time to play on turf then on natural grass," Matsoso said. "It also took me a long time get used to the cleats."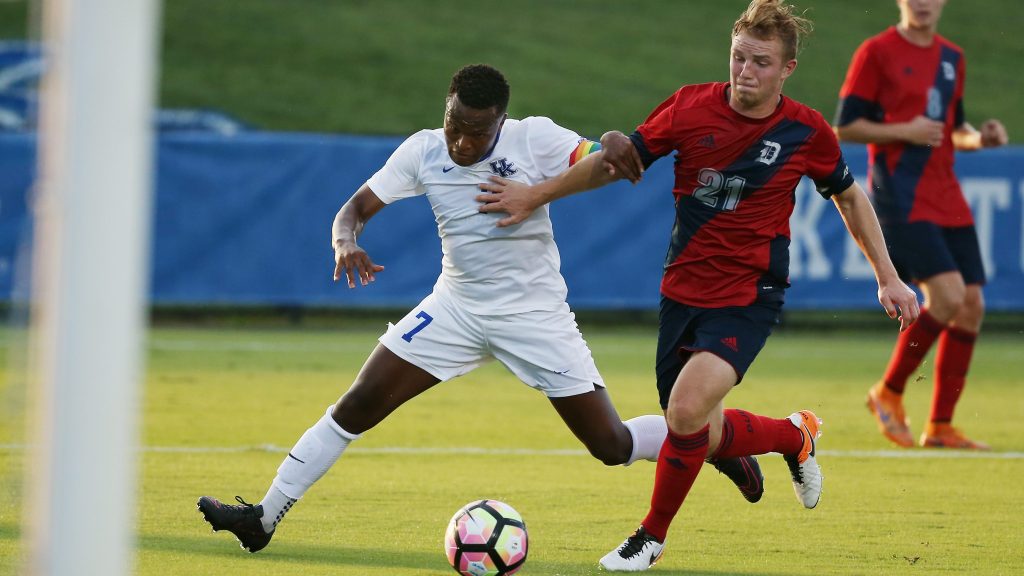 The soccer part was easier than the myriad emotional issues that would seem to come with leaving everything behind to pursue a goal. Picture this teenager, uprooted. He was fortunately to have a loving new family here, and was at least able to update his Lesotho parents via phone.
But this was a rare opportunity.
"It was pretty hard but I knew it was going to be better for me, and my parents knew it was going to be better for me," Matsoso said.
"They knew if I didn't make the decision, things would've been different because not many people go to school. People will stay in the street, or rob people, do all the bad things. They knew at the end of the day that I'd be happy."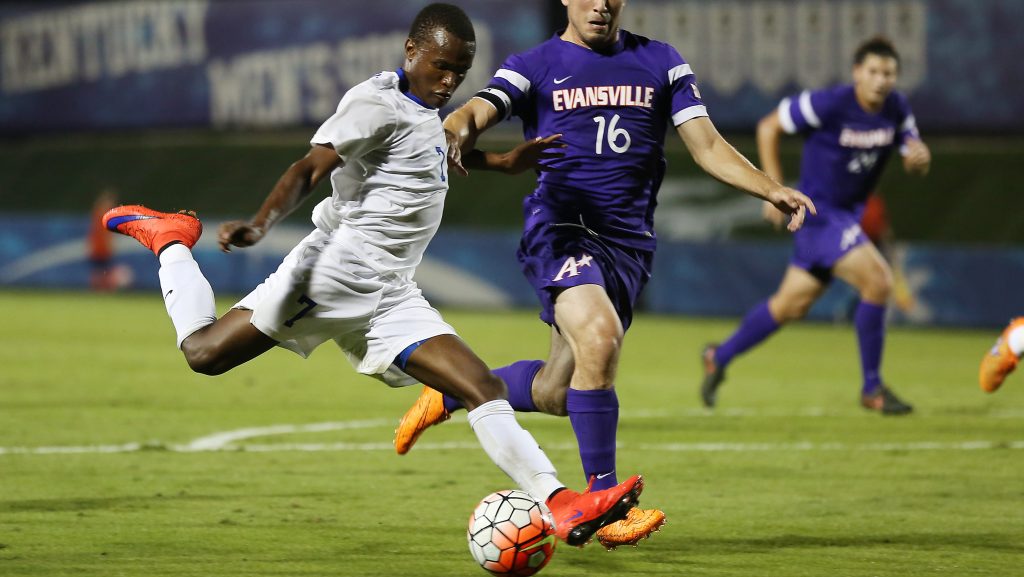 Now Matsoso has hope that his hard work and electric gifts could bring about a reunion. He's excitedly told his family about the MLS Combine, trying to explain the standard of the league and his chances to succeed.
Jane has been capped 7 times by the Lesotho national team and has assured Matsoso that he can contribute at the national team level. That means Matsoso may be on the verge of a reunion with the loved ones he left to pursue this worldwide sport.
"The head coach from Lesotho has contacted me asking how I feel, if I'm ready to play on the national team, and I've told him that I think I'm ready whenever I get the call-up," said Matsoso, who is in the process of obtaining an American green card.
Matsoso was fantastic at Kentucky, first called to our attention by coach Johan Cedergren last Fall. Cedergren said Matsoso keeps teams off-balance, and the attacking midfielder can go box-to-box as well. He scored 19 goals and 20 assists in his four years at UK, thrice named First Team Conference USA after an All-Freshman Team campaign in 2013.
[ MORE: Ozil will stay at Arsenal if Wenger does ]
"I like to get my teammates involved and make sure everyone is on the same page and involved in everything that the team is doing," he said. "I'm trying to be a leader."
Now comes the Combine in Carson, California. It's 10,403 miles from Lesotho's capital to the home of the LA Galaxy.
"I've always wanted to take it to the next level," Matsoso said. "My dad when I was young he would take me to his professional soccer games and I just saw how much fun he had and how excited people were to watch him play. I was like, 'I want to be like him, and I want to make the fans happy to come watch soccer'."
That next step comes when he hears his name called Friday.