Kyle Walker and Danny Rose have undoubtedly become two of the best full backs in the Premier League.
[ MORE: Latest January transfers ]
The Tottenham Hotspur and England duo have now been linked with a move to both Manchester United and Manchester City as it is claimed Jose Mourinho and Pep Guardiola want to overhaul their options at right back and left back.
A report from the Sun claims United have the two 26-year-old full backs at the top of their wish-list and are willing to pay $73 million for the pair.
With right back Walker and left back Rose signing new contracts at Spurs last summer, Mauricio Pochetino is counting on them to be an integral part of Spurs for the foreseeable future but with the kind of money being paid to the likes of Kevin De Bruyne, Sergio Aguero, Paul Pogba, Zlatan Ibrahimovic and others in Manchester, perhaps Walker and Rose will both have their heads turned.
But would Spurs really allow two of their most important players to join a direct rival for the PL title and top four?
This season the duo have been sublime as their pacey forward runs always add an extra dimension in attack and Pochettino has been able to implement both a more solid 4-2-3-1 and a more attacking 3-4-3 when they're in the team as both Walker and Rose slotting in as exemplary wing backs.
Rose was named as the best left back in the Premier League in the PFA Team of the Year last season, while Walker was the named as the best right back in the 2011-12 campaign and both have become regular starters for England along with Harry Kane, Eric Dier and Dele Alli as Spurs' young English core have all signed long-term contracts to continue the exciting project under Pochettino. With the new White Hart Lane stadium due to be finished in 2018, Spurs are heading into a brave new world and have worked hard to lock down their current players with transfer fees rising all the time.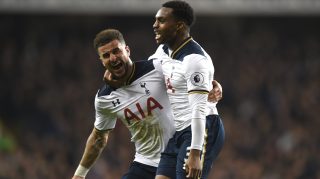 Now, factor into all of this that Spurs chairman Daniel Levy has a reputation as one of the most ruthless businessmen in the sport and both United and City will have to work extremely hard to pay anywhere near the market value for Walker and Rose.
It is very tough to see Levy letting these two leave Spurs without a struggle.
Reluctantly he let Gareth Bale leave for Real Madrid for a world-record fee in the summer of 2013 and even then Levy was against him leaving for a direct rival in Manchester United. We know Levy drives a hard bargain.
We also know that Guardiola is far from happy with his current options at full back and his defense in general. With the ageing quartet of Bacary Sagna, Aleksandar Kolarov, Gael Clichy and Pablo Zabaleta his best choices, Guardiola knows it is the one area of his team he must improve if his project at City can flourish over the next few seasons. City's defense has been easily their weakest link since the Spanish coach took over with John Stones stumbling, Vincent Kompany struggling with injury and the likes of Kolarov forced to play in central defense at times.
For United, they've improved defensively under Mourinho and have ample options in central defense with Eric Bailly, Phil Jones, Chris Smalling, Marcos Rojo and Daley Blind, but at full back they appear a little short as converted winger Antonio Valencia continues at right back, plus Luke Shaw's injury issues continue to hamper his progress at left back with Blind, Rojo and even Matteo Darmian shifted out to the left.
Yes, it's true that both Manchester clubs could do with upgrades at full back but trying to buy Walker and Rose from Spurs will likely prove incredibly expensive, even for them, and very tricky.
Are they worth it? Yes. Will it happen? I highly doubt it.