There are fans in certain confederations disappointed at the expansion of the World Cup to 48 teams in 2026.
A vocal group of Europeans already think it should essentially be a Europe-heavy tournament, and expect the expansion will lead to many blowouts.
Some American and CONCACAF fans worry it will dilute World Cup qualifying, snaring drama from so many fun nights across North and Central America.
[ MORE: World Cup expansion confirmed ]
There's something in those arguments, but the gains will outweigh the losses across the world. In other words, we have to be careful that we aren't living in an echo chamber that the political world would even find a bit goofy.
Consider New Zealand, by far the strongest team in its region, has not be assured a spot in the tournament unless it can win a playoff tie. Or great stories like Bob Bradley's Egypt, who was at the mercy of a home-and-home battle for a World Cup group despite going 6-0 in group play.
Look it's easy to be selfish in these instances, but we are not likely to be dealing with the oft-cited "Tahiti in the 2013 Confederations Cup" scenario.
In fact, let's consider how it would look. Let's assume that the 16 groups of three teams still feature one seeded team and confederations remain separated.
[ MORE: Explaining the format ]
UEFA will get 16 teams, and have one team per group. CONMEBOL goes up to six teams, with CONCACAF going to 6.5. Africa goes up to nine, while Asia moves to 8.5. Oceania gets one, presumably, with the hosts snaring an extra.
---
Using ELOratings.net and the FIFA ratings, here is who would be headed for the World Cup:
Seeded: Argentina, Brazil, Germany, Chile, Belgium, Colombia, France, Portugal, Uruguay, Spain, Switzerland, Wales, England, Croatia, Poland, HOSTS.
Remaining UEFA (5): Italy, Netherlands, Republic of Ireland, Turkey, Ukraine.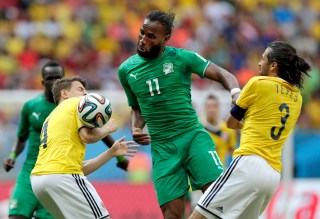 Remaining CONMEBOL (1): Ecuador.
CAF (9): Ivory Coast, Senegal, Egypt, Nigeria, Algeria, Cameroon, South Africa, Tunisia, Ghana.
Asia (9): South Korea, Iran, Japan, Australia, Uzbekistan, Saudi Arabia, UAE, Qatar, Syria.
CONCACAF (7): Mexico, Costa Rica, USA, Panama, Honduras, Canada, Jamaica.
Oceania (1): New Zealand
[ MORE: Schneiderlin off to Everton ]
---
---
Now a sample draw, where two teams would advance from each group.
GROUP A:
Argentina
Italy
Senegal
GROUP B:
Brazil
Netherlands
Egypt
GROUP C:
Germany
Ivory Coast
Mexico
GROUP D:
Chile
Republic of Ireland
Nigeria
GROUP E:
Belgium
Syria
Algeria
GROUP F:
Colombia
Turkey
Cameroon
GROUP G:
France
Qatar
South Africa
GROUP H:
Portugal
UAE
Tunisia
GROUP I:
Uruguay
Ukraine
Ghana
GROUP J:
Spain
Saudi Arabia
Costa Rica
GROUP K:
Switzerland
Uzbekistan
United States
GROUP L:
Wales
Australia
Panama
GROUP M:
England
Japan
New Zealand
GROUP N:
Croatia
Iran
Honduras
GROUP O:
Poland
Ecuador
Canada
GROUP P:
HOSTS (Let's cater to UEFA and say, uh, Greece)
South Korea
Jamaica
[ MORE: Odegaard leaving Real Madrid on loan ]
---
So, you're getting more games and more meaningful games, each in their own individual television window. Even groups that seem clean cut — like Spain, Saudi Arabia, and Costa Rica — could be flipped on their ear by the end of the first match.
For what it's worth, I would not end every match with penalty kicks and keep draws. I'd rather see extra time than an impetus for Greece to pack it inside its own 18 for 90 minutes.
But I believe we'd see something better from a 48-team tournament, and it would mostly end the days of, "Man I wish this list of stars was at the World Cup" (or at least make the list much smaller).
As for the "dud teams" involved, those countries get one less guaranteed game by the move to 3-team groups. And while in some ways qualifying would certainly suffer, consider the following scenarios. With CONMEBOL having 1.5 more spots, you'd see teams 9 and 10 alive longer in qualifying. That's why it's arguably an improvement for South America, who should've gone to a Hex-style format long ago.
What do you think? Are you bummed about the 48-team World Cup? Or is a lot of the furor rooted in a preference to dislike FIFA moves from the hop?