LONDON — Over the past few months Tottenham Hotspur's new 61,000 stadium adjacent to their current White Hart Lane home seems to have been rising another 10 meters into the sky on a weekly basis.
Like Tottenham's current Premier League title challenge, momentum is building.
[ STREAM: Every PL game live ] 
On Thursday Pro Soccer Talk was invited to check out the new premium seating options at the stadium which will become the largest club venue in London when it opens in 2018, and also home to at least two NFL games per season from 2018 until 2028. The National Football League will become a big part of this stadium when it is up and running.
The tour included augmented and virtual reality, as a virtual tour around the swanky Tunnel Club area, H Club and Sky Lounge were backed up by the incredible pitchside view of the 17,000 one-tier south stand which will resemble something similar to the Kop at Liverpool and Borussia Dortmund's Yellow Wall, making it the largest single-tier stand in the UK.
[ PHOTOS: Check out Spurs' new stadium ]
Hanging out in Lilywhite House, Tottenham's club offices currently in the shadows of the cranes which encircle the new stadium, manager Mauricio Pochettino spoke to the press on Thursday ahead of their massive clash against Manchester City this Saturday (Watch live, 12:30 p.m. ET on NBC and online via NBCSports.com).
Pro Soccer Talk asked Pochettino if the project at Tottenham is further along the line than he expected at this point and the Argentine coach said they are currently "a thousand miles ahead" in football terms compared to the 2014-15 campaign when he took charge.
"I don't know, that is too difficult for me to judge because we are ambitious and we want to win every game. I think if we go backwards to our first season and we now start to see, analyse and judge and I think we are a thousand miles ahead but in football it's about belief, it's about faith, it's about working hard and it's true that the club has moved on in two-and-a-half years," Pochettino said. "That was our expectation – to push and move the club quickly, but sometimes it's not possible.

"It's true that now we are in a very good period and all that is related to Tottenham is exciting – you can see here, the new stadium, the squad – all that is happening is very positive. It is true that in two-and-a-half years before I arrived here, you related Tottenham some good, some not so good and today it is looking like we are the best team in the world. That is very good. The hard work is to keep that feeling. It will be difficult but we will try."
I have to admit I felt slightly dizzy as I popped on the virtual reality goggles, such was the vividness of the experience as I took a trip around the premium areas of the new stadium. It felt like I was there walking around, bumping into fans enjoying a drink and then I walked out (using a controller to guide me) of a tunnel and into the stadium bowl itself. What a view.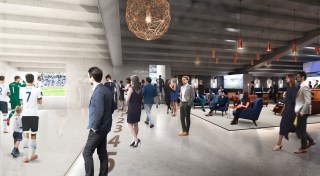 What struck me was just how close you still are to the pitch at the new White Hart Lane. In many new stadiums across the globe that isn't the case. One of White Hart Lane's best current features, and most favorable for Spurs, is how close the fans are to the pitch and that in turn creates an intimidating and inspiring atmosphere.
The new White Hart Lane is set up to not only be a place where the premium experience is mind-blowing, but also where the average fan can generate a phenomenal atmosphere. It all knits together perfectly as the premium seating is located on the east and west stands and the atmosphere will be generated by Tottenham's hardcore fans behind both goals.
One of the most impressive premium areas is the Tunnel Club, where you can see the players walking out for games in a one-way window as you see in many sporting venues in the U.S. but this is the first-time you can experience anything like this in the Premier League. It will cost a cool $11,681 to have a season ticket there, which can only be bought in pairs. So, $23,362 all in for a season. However, getting the chance to see Harry Kane and Co. in the tunnel in the final moments before kick off, plus maybe a bit of a scuffle at half time or full time with opponents after a fiery encounter, can you really put a price on that?
"It's dangerous, dangerous," Pochettino laughed when asked about the Tunnel Club view. "Because there have been a lot of things in the tunnel. It is for that reason that it will be very expensive."
Overall, premium seating can be purchased for as little as $109 per game, while suites can be purchased by companies and not only used on matchdays but also during the week as their hub.
But this project is about more than creating more luxurious seats for Spurs fans.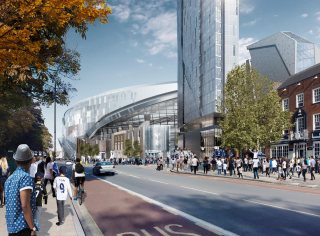 It is no secret that the area surrounding Tottenham's home is one of the most deprived in London. It hasn't received much funding from the council or government and if it wasn't for this new stadium project — dubbed the Northumberland Development Project — then the area wouldn't have a bright future.
Now it does as Spurs are the main stimulus for regeneration as over $360 million is expected to be generated for the area each year.
Over 3,500 new jobs will be created in various capacities thanks to the project, with the London Academy of Excellence opening up a site in the complex this year, plus housing, shops, bars and restaurants all adding to the matchday experience around the Lane.
Local companies and produce will be used and infrastructure will improve drastically in this forgotten section of north London.
Much like the Barclays Center rejuvenated Downtown Brooklyn and the surrounding areas, you can expect Tottenham High Road to be unrecognizable in years to come as the entire area gets a massive boost and gentrification takes place.
When it comes to the NFL, a separate artificial turf pitch is ready for NFL games right away as the grass pitch Spurs play on will slide out and be looked after in a designated area outside the stadium bowl. Four separate locker rooms and areas just for the NFL teams visiting will be built and it will bring over $160 million in extra revenue to the area over the 10-year deal.
With the NFL looking to bring a franchise to London in the years to come, everything is set up to house a potential London NFL team at the new White Hart Lane.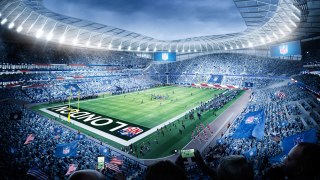 With this incredible stadium rising from the ground at a rapid rate while the old heart of Spurs sits in its shadows on adjacent ground, there will be a nod to the old White Hart Lane in the "Tottenham Experience" museum. That is set to guide fans through just what the old stadium was like and some of the original White Hart Lane buildings and monuments will still be kept.
The past will still be present.
Striking a balance between bringing in cutting-edge technology and keeping tradition is difficult in the modern era, but so far Spurs seem to be hitting the nail on the head.
Plus, Spurs' new home will feature the world's first stadium micro-brewery which will produce 1 million pints of craft beer per year and 10,000 pints per minute and also the longest general admission bar in a UK stadium at 86.8 meters long. It will also have a cheese room, artisan bakery and Michelin star dining. Cheers indeed.
Exciting times ahead for Tottenham and their local community as one of the most ambitious stadium projects in Premier League history continues to take shape.