If your client is being criticized by an entire fanbase for being lazy, the logical thing to do is fight back. Right?
Well, that's what Mesut Ozil's agent has done. After Arsenal was thrashed by Bayern Munich in the Champions League on Wednesday, Ozil's laziness was highlighted further throughout the match, but Dr. Erkut Sogut believes he was let down by his teammates.
"Criticism is normal if a player plays badly," Ozil's agent told BBC Sport. "But Mesut feels people are not focusing on his performance; they are using him as a scapegoat for the team after bad results."
Ozil's poor form was not just limited to Wednesday's collapse, but still Sogut claims the criticism was unfair due to the progression of the game, which forced the Gunners back into their own half for most of the game. "Bayern had 74% possession. How can someone in the No.10 position create chances if you don't have the ball? In these games people usually target a player who cost a lot of money and earns a lot of money – that is Mesut. But he can't be always be the scapegoat. That's not fair."
In many cases, this would be a fair argument, but Ozil had a poor match no matter how you slice it. He was most notoriously called out on social media for his utter lack of regard for Arjen Robben as the Dutchman scored his opener. Ozil was caught lounging without even an attempt to pick Robben's pocket, and the Bayern winger rifled a stunning shot off his favorite left foot moments later.
His dashboard from the Bayern game tells a broader tale. Ozil created just one chance – delivering a corner – and was completely directionless with his positioning and passing.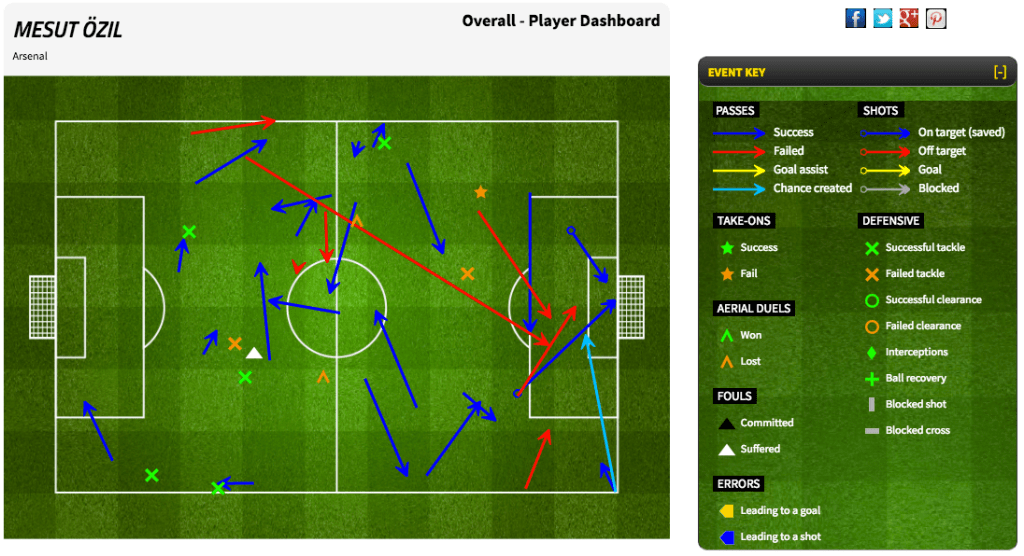 To be fair to Ozil and Sogut, his next quote is a fair assessment of the pre-match talk. "Football is a team sport and Arsenal are not performing well as a team. Eleven players were on the pitch but Mesut was singled out for criticism. Was he the reason that Arsenal conceded five goals? It started before the match, throughout the week leading up to the game. People started discussing: 'Should he play? Should he be dropped?'. It was as if everyone knew Arsenal would not make it through and we needed a scapegoat. This is not right. You win as a team and you lose as a team."
There was plenty written about Bayern's poor league form coming into the game, but Ozil's equally bad recent play had him singled out – fairly or not – before kickoff even started. The target on his back gave fans a reason to watch his effort with particular interest, and he failed to deliver.
With Ozil's contract up in 2018, will Arsenal look to make a change this summer, and ship Ozil out for someone who consistently puts in a shift more like Alexis Sanchez?