Controversial coach Marcelo Bielsa will take charge of ambitious Lille for next season, signaling his return to French football after a chaotic end to his spell with Marseille.
Lille said in a statement on Sunday that Bielsa will replace interim coach Franck Passi on July 1 and has been given a two-year deal.
"Marcelo Bielsa is without a doubt one of the most respected and influential coaches in the world and it's a huge satisfaction for Lille," said Marc Ingla, a club director. "It also proves the ambition of our club."
[ MORE: UCL Tuesday preview ]
A former Argentina manager, Bielsa is highly rated as an innovative, attack-minded leader who brings the best out of his players.
With Lille hiring Bielsa, Lyon already settled into a new stadium, Marseille recruiting aggressively under new American ownership and Monaco challenging Paris Saint-Germain strongly, next season promises to be an even more competitive one in France.
A more entertaining one, too, now that Bielsa is back and likely to give the French media plenty of headlines.
Bielsa stunned fans and the club's directors when he quit Marseille last season, after just one game of the new campaign. The 61-year-old Argentine was taking charge of his second season and was a fan favorite when he suddenly quit.
[ MORE: Wenger treatment "unacceptable," says Pep ]
He was out of contract but had struck a verbal agreement with the president to extend his tenure.
Then, just before putting pen to paper on his new deal, he changed his mind, alleging that Marseille officials amended the terms of the agreement at the last minute. He had previously publicly criticized Marseille's president in a vitriolic outburst during a news conference because he was angry at the club's transfer policy, saying it had signed players over his head.
Controversy seems to follow Bielsa, who in football circles earned the nickname "El Loco Bielsa" (Crazy Bielsa), due to his driven personality, single-mindedness, tough talking and relentless determination to do things only on his terms.
In the summer of last year, he quit as coach of Italian side Lazio – just two days after the Italian club announced it had signed him.
In football terms, Bielsa made much of his reputation more than a decade ago.
At club level, he won three Argentinian titles with Newell's Old Boys and Velez Sarsfield – reaching the South American Copa Libertadores final with Newell's in 2002. Later on, he also guided Athletic Bilbao to the Europa League and Spanish Cup finals in 2012.
[ MORE: Bernardo to Chelsea? Blues reportedly bid first ]
With Argentina, he won gold at the 2004 Olympic Games and led Argentina to the Copa America final the same year.
Lille's new owner Gerard Lopez, the president of the finance group Genii Capital and former president of the Lotus Formula One team, previously spoke about Bielsa in glowing terms.
Lopez recently took over from Michel Seydoux – a French businessman and film producer who was club president since 2002 – and Lopez is keen on rebuilding Lille with talented young players in the same way Monaco has done.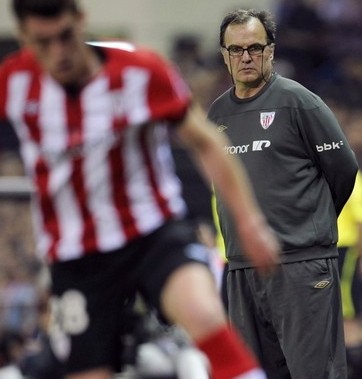 On the final day of the transfer window last month, Lille signed six players aged 23 or under. Dutch forward Anwar El Ghazi, who joined from Ajax, scored his first goal for the club on Saturday.
The club's scouting network is also likely to be very strong in South America, with Bielsa working closely alongside Luis Campos – who is an advisor to Lopez.
Campos previously worked with Jose Mourinho at Real Madrid and then for three years as a technical director with Monaco.
The well-connected Campos oversaw the arrival of several promising young players at Monaco – including highly rated attacking midfielder Bernardo Silva – and they have blossomed so much that Monaco is top of the league and has scored more than 100 goals overall this season.
Lille is playing catch up.
Although Lille qualified six times for the Champions League during Seydoux's tenure and clinched the league and cup double in 2011, results have dropped and the northern French club is currently in 14th place.
The club's youth system – which produced players such as Chelsea star Eden Hazard – has not been so successful in recent years and this will also be an area for Bielsa to improve.