Ahead of the 2017 season, Major League Soccer is going through a transformative period.
[ PHOTOS: New jerseys for 2017 MLS season ] 
It will be both exciting and intriguing to see how it plays out.
The emphasis has switched from wedging in as many big name, veteran Designated Players in each market to trying to develop young talent at all 22 clubs.
I already had this column lined up before the new MLS roster rules for the 2017 season arrived earlier today.
[ MORE: MLS 2017 season previews ] 
Major League Soccer announced changes that will help a "continued strategic focus on cultivating young talent" as two more roster spots will be available for Homegrown players and a large chunk ($200,000 to be exact) of Targeted Allocation Money (TAM) can be used to sign Homegrown players to their first pro contracts.
[ LIVE: Stream every PL game live ] 
Okay, so that may not seem like a huge deal now but when you compare it to years gone by there's definitely an undercurrent both from the league office and front offices across MLS to try and push young players from within MLS academies to the first team.
If you look at the big name "veteran" DPs around the league this season, there are probably four or five (Clint Dempsey, Tim Howard, Andrea Pirlo, David Villa, Kaka) you can call genuine veterans. The rest are either approaching their prime or right at the end of it. The goal is to attract a Sebastian Giovinco type from Europe or elsewhere in their prime of their career. We've seen the likes of Seattle and Portland look to South America for DPs in their prime and it has worked well recently. Atlanta United is also following this method for their expansion season.
With the departure of Didier Drogba, Steven Gerrard, Robbie Keane and Frank Lampard over the offseason, there's no doubting that these players had the eyes of the world on them whenever they played.
Do MLS teams need these big name players to fill stadiums? It remains to be seen.
Robbie Keane, who is arguably the greatest DP in MLS history as he scored 104 goals in 165 appearances in his five years with the LA Galaxy, is a little concerned the new strategy may not work out.
"I had an unbelievable time there…but they just have to be careful now because some of the big players have left, and at the end of the day people want to watch names – that's the just the reality," Keane told Talksport last month. "Myself, Gerrard, Lampard and a few of the other big players are just starting to drift out, and now they're going down to route where they want younger players who are not really well known.

"That is a good thing I think, but people do want to watch big names. They have to be careful – they've set a high standard that they have to keep going and I'm not sure if they go down this route they'll be able to do that. So I'm a little bit worried about that."
Is Keane right to be concerned? When you look at the Chinese Super League and what they're trying to do, then its fits in with MLS' model. Except, the CSL is spending big money on transfer fees and is paying outrageous wages for the likes of Carlos Tevez, Oscar, Hulk and Jackson Martinez to play in China, most of which are in their prime.
MLS may no longer be the biggest cash cow for veteran players embarking on the twilight of their career after winning everything on offer in Europe. That's exactly what MLS wants, to move away from veteran DPs, but surely it would still be beneficial for the growth of the league to keep adding big-name players, when possible, who have a large brand and following?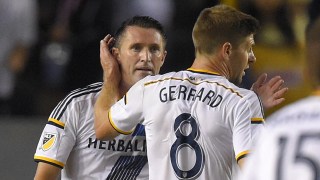 Time will tell if that's the case, but it is certainly exciting for fans of the U.S. and Canadian national teams to think that some of their best young talent will now get to play regularly in MLS and test themselves against top players.
Of course, MLS has a window of opportunity to test this out and then if things aren't working, plenty more veteran DPs will be available from May onwards when their time at top European clubs is up. I'm talking Bastian Schweinstieger, Wayne Rooney, John Terry, Pablo Zabaleta and many others.
There's no doubt that MLS is trying its best to help young talent come through, and that's admirable. But there's also a little uncertainty about how a lack of veteran stars will play out in terms of attracting fans and also any impact it may have on the quality of play. Can a handful of veteran players really make that big of a difference to the success of a league?
We are about to find out.