On Wednesday night at the Nou Camp Barcelona led 3-1 but trailed Paris Saint-Germain 5-3 on aggregate in the 88th minute.
[ MORE: Barca stun PSG with late show ] 
By full time they'd won 6-1 on the night and 6-5 on aggregate to spark wild celebrations as Luis Enqriue's men completed the greatest comeback in UEFA Champions League history and made the quarterfinals at PSG's expense.
Was it the greatest comeback in the history of the game though?
[ MORE: "We saw it in the Super Bowl" ] 
Here's a look at the top six greatest comebacks, including the madness last night. Let us know in the comments section below if you agree or if there are any others comebacks which deserve recognition.
---
1. Liverpool 3-3 AC Milan (Liverpool win 3-2 on PKs) – May 25, 2005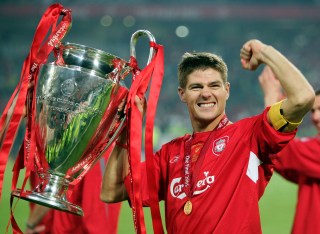 This night in Istanbul will never be forgotten. Trailing 3-0 at half time in the UEFA Champions League final and completely ripped apart by Milan's stars such as Kaka, Pirlo and Crespo, Liverpool surged back with three goals early in the first half to make it 3-3 with captain and hometown hero Steven Gerrard the driving force. They then managed to hang on throughout extra time despite an onslaught from Milan and were then victorious on penalty kicks to win their fifth European Cup. Incredible scenes for Rafael Benitez's side.
---
2. Barcelona 6-1 Paris Saint-Germain (Barca win 6-5 on aggregate) – March 8, 2017
As Enrique said, it's a night that every kid in Barcelona will never forget. Trailing 4-0 for the first leg in Paris, Barcelona knew they'd have to launch the greatest ever comeback in UCL history to advance. They led 3-0 early in the second half to make the hostile home crowd believe it was possible, but then Edinson Cavani scored for PSG to make it 3-2 on the night and that meant Barcelona needed three more goals to advance. In the 88th minute it was still 3-1 but then Neymar scored a free kick to make it 4-1 and then he scored a PK in the 91st minute to make it 5-1. Then, with almost the last kick of the game, substitute Sergi Roberto scored to make it 6-1 and send Barca past PSG 6-5 on aggregate.
---
3. Manchester United 2-1 Bayern Munich – May 26, 1999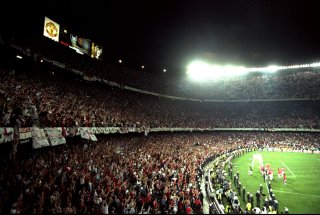 Another wild final in the Champions League saw Manchester United dead and buried with 90 minutes on the clock. They trailed Bayern 1-0 at the Nou Camp and that looked to be it for Sir Alex Ferguson's side. Not so far. First Teddy Sheringham equalized and then Ole Gunnar Solksjaer popped up in stoppage time to score the winner as United scored twice in two minutes to win 2-1 and be crowned Champions of Europe for the first time since 1968. Pandemonium in Manchester and in the stands in Barcelona as Fergie's boys completed the famous treble.
---
4. Manchester City 3-2 Queens Park Rangers – May 13, 2012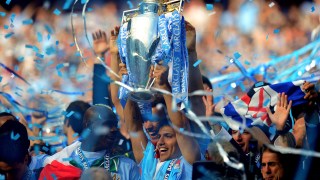 Heading into stoppage time Man City trailed QPR 2-1 on the final day of the season. A win meant they'd win the Premier League, their first in 44 years. A draw or defeat meant their bitter rivals Manchester United would be crowned PL champions. Edin Dzeko made it 2-2 in the 92nd minute to give City hope and then in the 95th minute Sergio Aguero got free in the box and hammered home to win Man City the title on goal difference and leave United heartbroken just when they thought they'd won the crown. Martin Tyler's call of "Aguerooooooo! I swear you will never see anything like this ever again" made the moment even more incredible. The best finish to perhaps the best PL season in history.
---
5. Tottenham Hotspur 3-4 Manchester City – February 4, 2004
Manchester City, once again, have a penchant for the spectacular as they trailed 3-0 at Tottenham in an FA Cup and were down to 10-men after Joey Barton was sent off. No chance of a comeback… Sylvain Distin pulled one back just after half time and then Paul Bosvelt made it 3-2 with 20 minutes to go. Shaun Wright-Phillips then scored a stunner to make it 3-3 with 10 minutes to go and although Spurs had a man advantage, they were broken. City sealed the incredible 4-3 win in stoppage time as Jon Macken headed home. Quite possibly the greatest comeback in the illustrious history of the FA Cup.
---
6. Newcastle United 4-4 Arsenal – February 5, 2011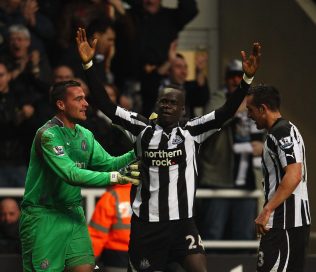 Arsenal were 4-0 up after 26 minutes and Newcastle were stunned. They looked stunned until the 68th minute when Joey Barton pulled a goal back from the penalty spot and then something happened as Leon Best made it 4-2 with 15 minutes to go and then Barton added another PK in the 83rd minute to make things interesting. The ball then fell to Check Tiote and he hammered home from distance to make it 4-4 in the 87th minute and send St. James' Park wild. Arsenal were stunned, while Newcastle's fans will still mark this down as one of the most memorable games in their history. It has rightly gone down in PL folklore.