Belgium, already without superstar Eden Hazard for the upcoming World Cup qualifier against Greece, will now be without playmaker Kevin De Bruyne, who picked up an injury in training on Friday and will miss both the match against Greece and the subsequent friendly against Russia three days later…maybe.
The Belgian National Team official Twitter account sent out a quote from manager Roberto Martinez that confirmed De Bruyne would miss the pair of matches, but the tweet was quickly deleted.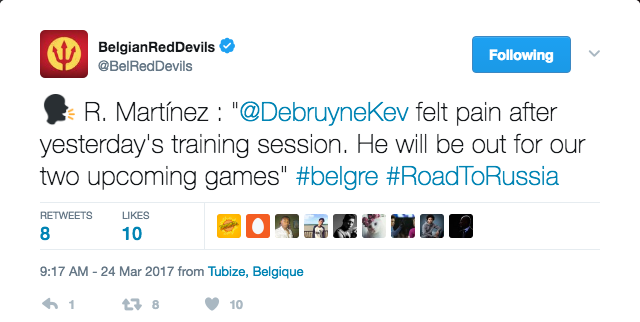 Instead, this one was pushed out in its place, correcting his availability and also updating the type of injury:
Should De Bruyne miss out, it means Belgium would likely rely heavily on Dries Mertens and Kevin Mirallas for the playmaking duties, with midfielder Radja Nainggolan potentially taking on a more attacking role as well.
Belgium and Martinez also confirmed that right-back Thomas Meunier will miss out after failing to recover from an ankle injury, while Marouane Fellaini's status is unknown after he was held out of Thursday's training session.
The injury also leaves De Bruyne's status for Manchester City up in the air, with a pair of massive games in London in quick succession after the injury break. City visits Arsenal next Sunday, followed by a hop over to Stanford Bridge on Wednesday.