With Tottenham Hotspur heading to the U.S. for their preseason tour this summer, Spurs' club legend Ledley King embarked on a whistle-stop trip of their three host cities.
[ LIVE: Stream every PL game live ] 

King, 36, spent time in New York City, Orlando and Nashville last week as Tottenham's fans Stateside gear up to see Spurs' first full U.S. tour since 2014.
Tottenham did play the MLS All-Stars in 2015 but that was a brief one-game trip during preseason. Now, they've gone all-in as Mauricio Pochettino's men will play Paris Saint-Germain in Orlando on July 22, AS Roma at Red Bull Arena on July 25 and finish the tour in Nashville on July 29 where they take on Manchester City in an all-Premier League clash.
Pro Soccer Talk caught up with King last week and the club ambassador revealed that everyone connected with Tottenham is excited to be heading back to the USA.
"It is something everyone enjoys," King explained. "We have a huge fanbase in the States and on previous trips I have been able to spend some time with the supporters groups out here and it's forever growing. It's really important we put on a show for them and try and give back to them."
[ MORE: PL giants announce preseason tours ] 
King — Spurs' former captain who was forced to retire early at the age of 31 after chronic knee problems — met with Tottenham supporters groups in NYC, Orlando and Nashville during his trips, as well as taking in some iconic sights from all three cities.
One thing which stood out to the towering former central defender was the dedication Spurs fans in the States have for their team.
"It's amazing," King said. "A lot of the supporters make trips over to White Hart Lane when they can and they are obviously very clued up on everything that's happening surrounding the club, all the recent moves, they are all up to date. Whenever I come away, no matter how far away from home, I bump into Spurs fans everywhere which is great."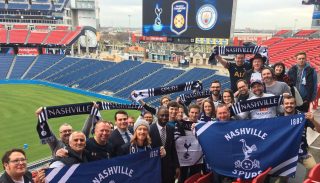 Pochettino's players will be based on the east coast of the U.S. for the trip this summer but they will soak up three very different cities. From the hustle and bustle of NYC to the theme parks and heat of Orlando and laid-back sights in Nashville, Tottenham's players will get a real taste of America this summer.
"Every city is quite different, the weather especially!" King laughed as he'd traveled from a frigid NYC to steamy Orlando in 24 hours. "The Spurs fans are all there and they greeted us in every city we went to which was great. They will get fully behind the team when the lads come out this summer. I would imagine most of the boys have been to New York before but I don't think many have been to Nashville. It is great that they can experience what a nice place it is and I'm sure the team will be looking forward to it."
On King's quick trip the former England international was able to catch up with Man vs. Food star, and huge Spurs fan, Adam Richman in NYC, plus pose for a few classic photos. With U.S. national team stars Kasey Keller, Clint Dempsey, DeAndre Yedlin and current center back prospect Cameron Carter-Vickers all calling White Hart Lane home over the years, Spurs' links with the U.S. are strong.
Like many of Spurs' current first team players, King is also a huge fan of U.S. sports. Harry Kane is a massive New England Patriots fan, while the likes of Jan Vertonghen, Eric Dier and Dele Alli are avid followers of many American sports.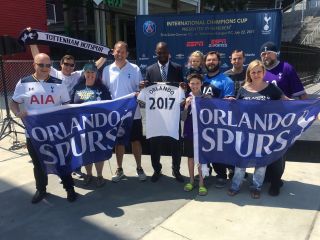 King is no different and, somewhat unsurprisingly, he is a big fan of a certain NBA team from San Antonio…
"I'm big into basketball and the NBA at the moment. I've always followed players. I was a big Kobe Bryant fan years ago but there are players I like now, LeBron James, Steph Curry. I like the San Antonio Spurs, obviously…" King laughed. "I like their organization and the way they are run. They've had an infrastructure in place and keep performing at a high level. I'm a big basketball fan and I'm trying to get into the NFL more. I've met quite a few players the last few years on their trips to London and our training ground and I'm really looking forward to all of the NFL teams coming over to London and Tottenham once our new stadium is ready."
With Spurs' new 61,000 capacity stadium at White Hart Lane scheduled to be ready for the 2018-19 Premier League season, they've signed a 10-year deal with the NFL to host at least two games per season in London. That will keep fans of both types of football on either sides of the pond very happy.
As for fans in the U.S., King applauded their dedication and revealed the different reaction PL players receive when they come Stateside.
"I think what makes it special is their passion and love of the game," King said. "When players and the likes of myself are able to come over to this side of the pond and meet fans in the flesh, the fans in the U.S. seem genuinely shocked that we are actually there. There is always a big surprise and we get a good reaction when we are in their company or in their country. That's a nice treat."
With so many teams coming to the U.S. from all over Europe each summer to train, play against each other in preseason tournaments and try to capture the hearts and imaginations of the American public, what will Spurs, a team who has battled for the PL title the past two seasons, aim to gain from their time Stateside?
"We have an exciting team and an exciting project with a young group of players and I think the U.S. fans like the underdog, " King said. "We are not a team who goes out and spends huge sums of money. We try to do things the right way and play the game the right way. I think the fans appreciate that and we would like to grow our fanbase. The other thing in coming out here is that we get the weather and the opposition. The opposition we will be competing against is at a very, very high level, and that will enable our players to get the right preparation for the new season. On all levels it works really well."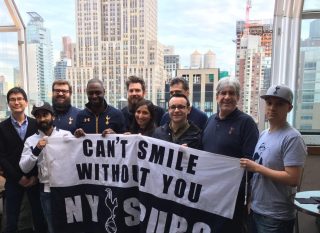 Another thing which has gone really well in recent years is the popularity of the Premier League in the U.S.
There's no shying away from the fact that more and more fans of the PL are popping up across the country and preseason games involving Premier League clubs are selling out. Has King noticed a difference in how soccer is now perceived compared to previous trips across the pond?
"Just coming here on this trip, you can see the interest in the Premier League is growing," King said. "I've never been to Nashville before but going there surprised me. When we did the press conference so many people wanted to come down and everyone was passionate about the game. Overall, people really know their stuff about the Premier League and in MLS with great players like Steven Gerrard and Frank Lampard coming over recently and obviously Robbie Keane doing so well in LA, all of these little things add up to people looking at the Premier League. It is the most exciting league in the world. Americans like their fast-paced action and that's what you get with the Premier League."
Fans Stateside this summer will be getting to see the likes of Tottenham, Manchester City and Manchester United up close and personal.