With the U.S., Mexico and Canada to announce a joint bid to host the 2026 World Cup on Monday at 2 p.m. ET, many people have many questions.
[ VIDEO: Premier League highlights ] 
The fact that all three of the countries involved could conceivably host the tournament on their own (especially the U.S.) has many questioning  why a trio of hosts is needed, yet the prospect of a tournament being hosted across an entire continent is an exciting idea and something UEFA is indeed doing for EURO 2020.
So, let's take a look at how a 48-team World Cup could be hosted across the U.S., Mexico and Canada with a minimum of 16 host stadiums needed if you take into account that there are currently 12 host stadiums for 32-team World Cups to date.
UPDATE: With the announcement that the U.S. will host 60 of the 80 games in the tournament, I'm thinking 10 host cities in the U.S. and three each in Mexico and Canada. No doubt that number may changes in the months and years ahead, but for now it seems like just three venues in each of Mexico and Canada will be enough.
The most intriguing nature of this idea, for me at least, is the fact that cities close together on the US-Canadian border and the US-Mexican border can be linked together and group games can be played in two countries, giving a real international and unique vibe to proceedings.
Here's a breakdown at the best options in each country to host World Cup games, with a few notable mentions as the U.S. has so many great cities and venues to choose from.
Let us know your thoughts in the comments section below.
---
USA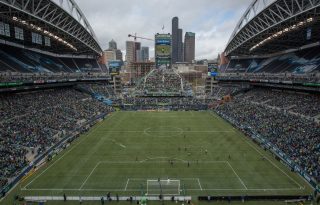 New York City – MetLife Stadium is the obvious choice here with NYC also an outsider to host any potential World Cup final.
Chicago – Solider Field hosted World Cup games in 1994 and should be the venue once again for America's third city.
LA – Plenty of options here with new stadiums being built. The Rose Bowl in Pasadena has a rich soccer history, but the new NFL stadium for the Rams could be an option.
Houston – Mexico and the U.S. have always got huge crowds for international games in Houston and NRG Stadium would be the perfect venue, especially as it's just a four-hour drive from the Mexican border.
Seattle – One of the strongest soccer fanbases in the U.S. is certainly deserving of World Cup matches at CenturyLink Field. Not the biggest city in the U.S. but with its proximity to Portland and the Canadian border with Vancouver the Pacific Northwest could become a hub for group games.
Orlando – This would complete a very even spread of stadiums and would give soccer fans in the Southeast a chance to watch the games. Hosting them at Camping World Stadium would be easy.
Atlanta – The new Mercedes Benz stadium was built for tournaments like this. Atlanta is a growing soccer city with a new MLS franchise and given its status as a huge transport hub, ATL seems nailed on to be a host city.
Washington D.C. – Having the U.S. capital on board will be key for many reasons and having FedEx Field available it's a no-brainer.
San Francisco – The home of 49ers in Santa Clara has hosted plenty of big games in the Copa America Centeratio and the International Champions Cup and the Bay Area would be a brilliant host region for World Cup games.
Boston – Gillette Stadium (then known a Foxboro Stadium) hosted World Cup games in 1994 and with New England being a passionate soccer region this makes total sense.
Other notables: Philadelphia, Denver, San Diego, Michigan (The Big House), Miami, Kansas City, Las Vegas, Dallas
---
Mexico
Mexico City – Azteca Stadium would undoubtedly be a worthy venue to host the World Cup final given that it's done so twice in the past.
Guadalajara – Estadio Chivas the obvious choice here and a city rich in soccer heritage would be a gem in Mexico's bid. Surely nailed on.
Tijuana – Its close proximity to the U.S. border and San Diego would again give teams the chance to get a flavor of both the U.S. and Mexico perhaps during the same group.
Maybes…
Puebla – Puebla's Estadio Cuauhtemoc home would be a fine World Cup venue and with it being close to Mexico City, Puebla is easily accessible.
Leon – Estadio Leon would need an upgrade but Leon's proximity to Mexico City means that it would once again be easy to travel to and from Mexico's capital.
Monterrey – The sparkling Estadio BBVA Bancomer should be in line to be one of the host venues, plus Monterrey being a quick flight away from Texas could mean group games played in the U.S. and Mexico.
Other notables: Mexico City (Estadio Olimpico Universitario) Guadalajara (Jalisco Stadium), Toluca, Pachuca, Queretaro
---
Canada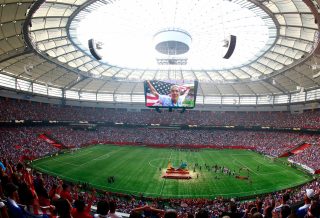 Toronto – Capable of hosting huge sporting events, Canada's largest city would almost certainly be a host of group games and knockout matches. BMO Field to be expanded?
Vancouver – After doing a wonderful job in hosting the 2015 Women's World Cup final, BC Place is the front-runner and Vancouver makes tons of sense as it's on the border with the U.S.
Montreal – A hub of culture and sport, Montreal makes plenty of sense and hosted the Olympic games and has a rich soccer culture.
Other notables: Calgary, Ottawa, Winnipeg, Edmonton