Week 8 in MLS action could teach fans a lot about clubs with plenty to prove.
With questions still abound regarding teams like NYCFC, New England, Seattle, Portland, and New York Red Bulls, all those teams have a chance to make statements regarding their potential strength this season.
[ MORE: Week 8 MLS Power Rankings ]
In addition, struggling teams such as Los Angeles, Minnesota, and Montreal all have opportunities for much-needed points against arguably weaker opposition.
Let's take a look at the weekend slate chronologically:
Toronto FC vs. Houston Dynamo
7:30 p.m. ET Friday

Toronto got a pair from Giovinco last time out, and sitting near the bottom of the crowded East mid-tier, they need points fast to avoid finding themselves in a hole behind the top of the table. There's goals in this one, with Houston defensively challenged and Cubo Torres on fire to start the year.
Montreal Impact vs. Vancouver Whitecaps
3:00 p.m. ET Saturday
An all-Canadian clash actually serves as a vitally important match for both clubs. With each side near the bottom of their conference standings, they both need a result badly to jump-start the campaign. A draw does nobody any good here moving forward.
Orlando City vs. Colorado Rapids
4:00 p.m. ET Saturday
The Lions are one of 2017's surprises, and Cyle Larin is on an absolute tear. Unfortunately, so far, anyone who shuts down Larin shuts down Orlando City. That said, good luck to Colorado shutting down an early MLS Golden Boot challenger.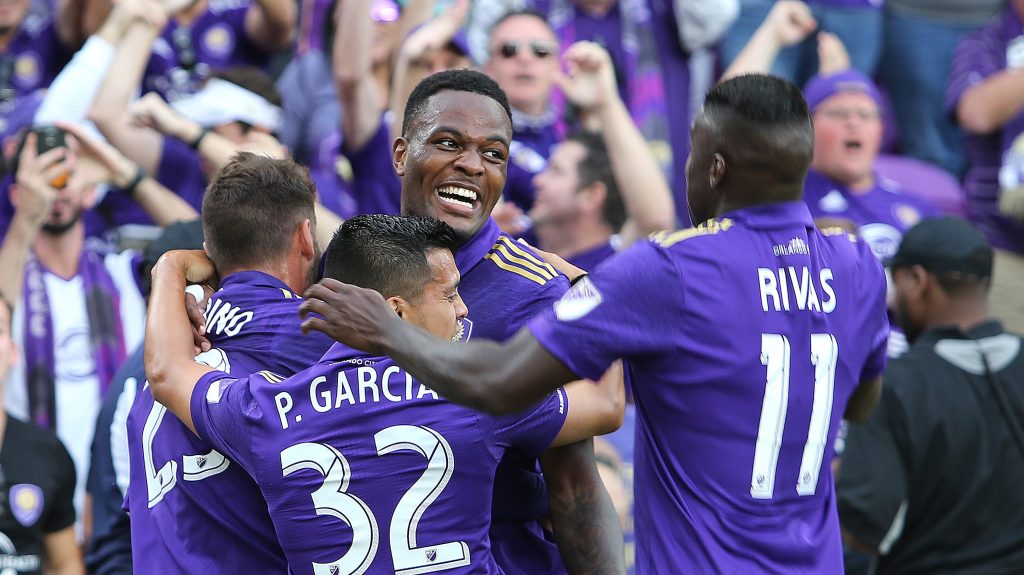 NY Red Bulls vs. Chicago Fire
7:30 p.m. ET Saturday
New York has seen bumps on the early-season road, but overall remains a strong Supporter's Shield contender. They face a big test against another strong Eastern Conference side, and a win here would make it three straight, all over good competition. Chicago is reeling after its defeat to Toronto, out-shot 9-1, but has another chance to pick up a road win before heading back home.
Columbus Crew vs. NYCFC
7:30 p.m. ET Saturday
Columbus has been poor on the road, but they return home to Mapfre Stadium to take on a strong NYCFC side. This game could potentially teach us a lot about whoever comes out on top, as both look to build separation from the rest of the pack in the East. Both have lost two of three, but both still appear strong up front, and three points in this game could prove to be a marquee win to point to later in the season.
Minnesota United vs. San Jose Earthquakes
8:00 p.m. ET Saturday
Minnesota United, owners of one of the worst starts to the season, has shown signs of life. Can they keep it going against another team struggling for points?
FC Dallas vs. Portland Timbers
8:00 p.m. ET Saturday
This is a marquee matchup, and with FC Dallas unbeaten so far, represents a huge test but also a huge opportunity for Portland to announce itself as a true top contender in the West. They're top of the table, but have played at least one more game than most teams just below them. Can the Timbers find a way through the strong Dallas D?
Sporting KC vs. Real Salt Lake
8:30 p.m. ET Saturday
A big rivalry game with big table implications, Sporting KC has the unfortunate luck of catching RSL after hiring Mike Petke and not before. This should be a fun one.
Seattle Sounders vs. New England Revolution
10:00 p.m. ET Saturday
We still don't know exactly what New England is. For every step forward they've taken one back, and for every setback they've had they've found a way through. This is a fantastic test. There are plenty of excuses for a potential loss with the team going cross-country to face one of the league's best attacks, but a result could be a true statement.
LA Galaxy vs. Philadelphia Union
10:30 p.m. ET Saturday
With Philadelphia struggling and now traveling a long way, this should be a chance for the Galaxy to turn things around. Should be.
Atlanta United vs. D.C. United
3:00 p.m. ET Sunday
Atlanta is back home for the first time in over a month. They have slipped a bit since the torrid start, but still appear a dangerous club. D.C. will have its work cut out.