Things are getting very tense at the top of the Premier League table.
[ LIVE: Stream every PL game live ] 

With Chelsea and Tottenham battling for the title, the biggest scrap of all appears to be taking place for third and fourth spots in the standings.
Liverpool, Manchester City, Manchester United and Arsenal are all in contention for the final two UEFA Champions League spots but of course only two will qualify via their final place in the Premier League.
[ MORE: Latest Premier League standings | Schedule ] 
United have the added cushion of knowing that if they win the Europa League they'll qualify for the UCL, but there are so many factors swirling around with games in hand, tough schedules, injuries and more impacting the four aforementioned team.
With that in mind, who better to guide you through a debate on the top four battle than our writers here at ProSoccerTalk.
Take it away, guys.
---
Right off the bat, let's get into it: which two teams out of Liverpool, Man City, Man United and Arsenal will NOT finish in the top four?
Joe Prince-Wright: Arsenal and Manchester United.
Nick Mendola: Arsenal and Manchester United.
Kyle Bonn: Arsenal and Manchester United.
Matt Reed: Arsenal and Manchester United
---
Why?
NM: For Arsenal, it's impossible to be confident that the Gunners will play with any of the desperation we'll see from the other three and they are also coming out of a hole. For United, a combination of schedule and injuries will make Jose Mourinho's first season look less successful than it should.
JPW: Arsenal, given all the off-field uncertainty, has really messed things up in the past few months and I think their mind will be switching to the FA Cup final very soon. For Man United, it's very similar as Jose Mourinho is focusing on winning the Europa League. Both teams have tough remaining schedules and in United's case, 14 draws this season says it all. There really should be a "if only" feeling around Old Trafford. It will go down to the final game but Arsenal and United will be out of the top four.
KB: If you asked me a few weeks ago, I wouldn't be too sure here, as I thought Manchester United had more left in the tank to make things interesting. But with their injury list coupled with an inability to hold onto leads, there's no way in my mind they sneak into the Top 4. With Arsenal and Tottenham still on the fixture list to see out the season, there's too much standing in the way. Arsenal's for sure out at this point, with no way back in.
MR: For the Gunners I think the defeat against Spurs was the final straw. Even with a game in hand, Arsenal face several tough encounters down the stretch and top four seems to be out of reach for me at this point. Meanwhile, injuries have piled up for United and if Mourinho's group can't get a win against Arsenal this weekend I'd say their chances of finishing in a Champions League position are just about over as well.
---
Looking at the run-in for all four teams, who has it easier? Can we expect a major collapse from anyone?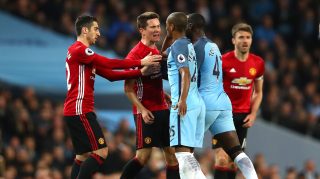 NM: Liverpool should sleepwalk to the Top Four. I wouldn't expect a major collapse from Man City. It could happen to United based mostly on injuries, and I wouldn't rule out Liverpool dropping off a bit (though the Reds seem to be through their extremely rough patch).
JPW: City has it easy and so does Liverpool but both have shown they can slip up against the smaller teams, especially Liverpool. The pressure is off for most of the teams City and Liverpool will play and that always produces some weird results. That's why I think this race for the top four will go down to the final minutes of the final game of the season for all four clubs.
KB: As mentioned before, Manchester United's is tough. Aside from the two North London clubs, they have to face a resurgent Crystal Palace and a tough Southampton. Liverpool is the most likely to collapse given their struggles of late, but their schedule is soft enough for them to see it out. City has schedule that they *should* see out, but games against Leicester, Palace, and West Brom are no cake walk either.
MR: Man City likely has the easiest road over the final three weeks with three fixtures at home and finishing up against an inconsistent Watford side. It's difficult to imagine any of the four really falling apart down the stretch but between United's injury woes and tough fixture list they'd be the most likely candidate.
---
When it comes to Liverpool and Man City, how important is it for Klopp and Guardiola that they finish in the top four?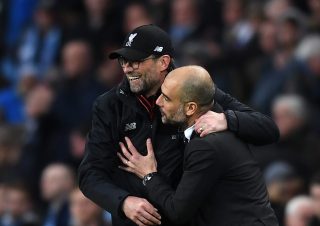 JPW: Hugely important. Jurgen Klopp's project at Liverpool badly needs Champions League qualification, just so he can attract better players this summer and also expand his budget. Liverpool need new defensive stars and only qualifying for the UCL will provide that. As for City, it would simply be a disaster if they've spent all of that money to get Guardiola, and the players he wanted, and they found themselves playing in the Europa League next season. My word, that would be something…
NM: Paramount. It would be an extreme failure for both, but especially Klopp. His reputation would take a major hit if the Reds stumbled to the finish line (especially given the competition).
KB: It's far more important for Guardiola than Klopp, but both are certainly depending on it. Pep's season is far less of a failure than many have made it out to be simply based on his success elsewhere, but if they were to finish outside a Champions League place, it would certainly be a step back from before he was hired. I don't see it happening.
MR: I think given Liverpool's deficiencies at the back this season a top three or four finish would be considered quite the success for Jurgen Klopp and the Reds. Then you consider the fact that the club lost Sadio Mane, arguably one of the most exciting Premier Leaguers this season, to injury a few weeks back. As far as Guardiola goes, he's used to winning titles so anything but that I'm sure he sees as a failure but Man City is still in a semi-rebuilding phase. He did well to bring in Gabriel Jesus and John Stones but you'd expect he goes a little more heavy on the defensive side during the summer transfer window.
---
If Man City finish in the top four, can Guardiola really call this a successful season? What does he have to change for next season?
JPW: He should probably call it a "learning experience" and then move on very quickly from this season. At times it has been majestic. At other moments it has been awful. Guardiola want to make his style of play work week in, week out in the PL but he's being tested tactically unlike anywhere else he's ever coached, at least on a consistent basis. His defensive signings haven't worked out and that's the main thing he needs to address over the summer. A new goalkeeper, two new full backs and another center back.
KB: I think this season has been successful for Pep. If you look at City's expected goals scored vs. allowed, they've outperformed almost every team they've faced this year. The issues have been finishing at the front (surprisingly, given the talent) and a few glaring mistakes at the back.
There's little he NEEDS to change for next year, but I would say shoring up the defense should be his first concern. John Stones is vastly overrated, and Vincent Kompany is on his last legs, hardly able to stay healthy. The attack will be just fine in the long run, especially with Gabriel Jesus providing a much-needed injection of finishing flair.
NM: He can't quite call it a flying success, but he can avoid it being a failure. I'm sure he didn't plan on relying on Yaya Toure as much as he has, and Pep needs to be given another summer window (and second years from Gabriel Jesus and Leroy Sane, plus a healthy Ilkay Gundogan) before we really begin to address his tenure at the Etihad.
MR: It's kind of come apart for Man City at the end here but I think all things considered if they could keep a hold of a top four position it would be a strong start for Guardiola. The side has only won two of its last eight in all competitions, so the fact that the club is even still clinging to the top four is quite amazing. I think Pep really needs to go out and address the backline further this summer. He probably overspent a bit on John Stones but it was a signing the club needed to make in order to ensure it has a strong presence in the centerback position for years to come.
---
Arsenal is in a mess. If they finish fifth and win the FA Cup, would that be a good season? Can Wenger really remain after not finishing in the top four?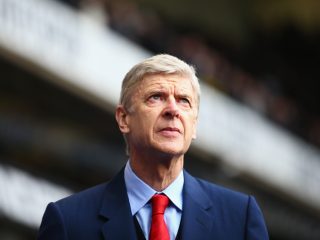 NM: My gut is that Arsenal's hierarchy knows they've shoe-strung Wenger in the past and that he's taken the fall often for not spending (and been quite adamant that the company policy is important). As for an FA Cup win and finishing fifth, it's not a success given their performances. Arsenal right now is on the precipice of something bad, and there's just as much risk in who they hire to replace Wenger as there is in keeping him around. Frankly, they need to start spending more if they want to be the club we remember from earlier this century.
JPW: Not a good season at all. It's not just finishing outside the top four but it has been the manner of the displays. Let's not forget, Arsenal were near the top of the table around October/November time after a long unbeaten run but have collapsed since the festive period. Winning the FA Cup (for the seventh time under Wenger) would merely be a nice distraction for everyone at Arsenal to take their minds off the huge questions which linger. My feeling is that Wenger will stay because the likes of Diego Simeone and Max Allegri, the former being the ideal candidate to take over, will be slightly daunted by the size of the squad overhaul needed.
KB: No I do not think the FA Cup redeems the failure to finish in the top 4. The Gunners are the biggest enigma this season. Arsene Wenger will tell you their inability to extend his 20-year Champions League streak is more a testament to the astonishing achievement of the streak itself than it is a condemnation of this season, and I think that's a partially valid argument. I still think Wenger is a top quality manager, and the biggest question for Arsenal is, if they are to move on from the Frenchman, who will they get that's a significant upgrade?
I don't see it with names mentioned such as Tuchel, Simeone, Rodgers, Vieira, Benitez, etc. However, there are significant issues with the way Wenger has managed the club recently, namely a failure to spend significantly on positions of need, plus he's swung and missed on recent buys like Granit Xhaka, Shkodran Mustafi, and Mohamed Elneny. Finally, the biggest issue seems his complete inability to keep the mental state of the squad strong. They appear suceptible to even the smallest bit of adversity, collapsing at every opportunity. I don't know what the right answer is, but I do know if they can Wenger, they better get his replacement right.
MR: Let me just start by saying that if this actually ends up being the first season when Wenger doesn't guide Arsenal into the top four then that's a pretty amazing run that we've witnessed since he first took over in the 90s. The FA Cup would be a nice consolation but ultimately bailing out in the Champions League Round of 16 once again has to be seen as a massive failure, no matter who their competition was. It's hard to take away from Chelsea or Spurs but this Arsenal side still has loads of quality in it and for that reason I'm not sure that Wenger deserves to get off that easy.
---
As for Manchester United, their focus is on the UEFA Europa League semifinals. Have their top four chances gone after yet another home draw?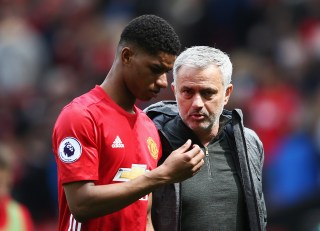 MR: I think it's really going to be challenging for Mourinho to get United into the top four. One point is a minuscule total to overcome but matches against Arsenal and Spurs will likely be too much to handle on top of home-and-away fixtures against Celta Vigo and potentially a Europa League final. That said, if United does get to top four and wins Europa League I think Mourinho deserves a ton of credit considering the injury bug he and his side have been forced to cope with.
JPW: For me, United still have a very good chance of finishing in the top four. It may well go down to goal difference between themselves, Liverpool and Man City on the final day. The home draws, and draws in general, have been hugely damaging but the overall signs are positive. Mourinho is making United into a solid, tough team to break down. Anyone who remembers the Sir Alex Ferguson era will remember the trophies but also that the style of play was uninspiring in certain seasons. Yet, United always got the job done. There's an air of that developing with Mourinho and when the fans have a chant saying he's "playing the United way" you know they're on board. Promising signs and I think United will win the Europa League, even though the loss of Zlatan Ibrahimovic through injury is a huge blow.
NM: No, but their schedule and injuries make it very difficult. I simply won't vote against Mourinho, but this Shaw, Smalling, Jones criticism is very odd even for him (and perhaps more odd given than they are all English and the media will help frame his end of season).
KB: Yes, as stated above. I still think United will have a good chance to make the Champions League anyways via the Europa League, but stopping Ajax in a potential final will be tough. That's a very good young team.
---
In the grand scheme of things, does it matter if Man City and Man United don't qualify for the Champions League? Does their reputation, big-name managers and financial strength make it irrelevant?
NM: In the grand scheme, United can take another hit. City missing out is more of a concern, but Year One of Guardiola will likely give them a break. Plus, I believe we're in a new league and I'll break down that idea in the next question (and maybe a post).
MR: It's a bit unfair to say but given England's overall struggles in the Champions League over recent years I don't think it really matters at this point which teams represent the Premier League next season. I was fairly confident that Spurs could make a run into the quarterfinals of this year's competition after they were drawn a pretty fair group but then Leicester proved to go the furthest out of the Premier Leaguers. Reputation is obviously important as a manager and most of these coaches (Mourinho, Conte, Guardiola, etc) have a track record of winning titles, but it's more about a "What have you done for me lately?" sort of mentality.
JPW: Not irrelevant but I think it was very telling that the likes of Paul Pogba, Zlatan Ibrahimovic and Eric Bailly all chose to sign for United last summer. Will that carry on if United don't have the UCL to offer next season? Will Antoine Griezmann really leave Atletico to play for United in the Europa League next year? I doubt it. For City, it would be a hammer blow. Guardiola's plans, and the whole ethos of the club, is around being the best and delivering supreme attacking soccer. Financial both clubs are set but it would be a massive blow to the egos of the managers, players and clubs overall.
KB: No, I don't agree with that. Money goes a long way, but ultimately convincing players to join relies heavily on the promise of Champions League play, and for Manchester United especially, next season could be their third in a row without Champions League play. That's a really tough sell to players when looking to persuade top buys to come your way. It took a world record fee and massive wages to convince both Pogba and Zlatan to join, and even Manchester United can't keep that business model up forever. Manchester City has more recent Champions League play to fall back on should they miss, but they lack the history and name pedigree Manchester United does, which makes a significant difference when selling to a player.
---
Are the days of "smaller teams" breaking into the top four over for the foreseeable future? Who could challenge?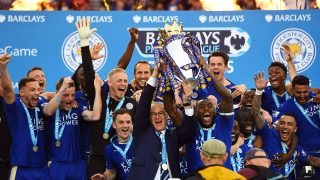 JPW: There are several teams who were challenging the top six last season but took a big step back this year. Leicester, obviously, but both Southampton and West Ham have regressed. Everton seem the most likely to jump into the top four in the next few years but they aren't exactly a "small club" given their history and the huge financial promises from owner Farhad Moshiri. If I had to pick any team to challenge for the top four, I'd actually pick Newcastle. If Rafael Benitez stays and is backed financial by Mike Ashley, I can see the Magpies at the very least being perrennial contenders for the top six.
NM: Leicester City's run into the UCL and the subsequent monetary and social capital gained give it a chance. The Foxes would've been in the discussion had Wilfried Ndidi arrived in August and not January. Everton and West Ham have shown the willingness or readiness to buy big, and that matters. Southampton will have a puncher's chance as long as it continues to nurture its academy and invest wisely. Purse strings and a few years will determine whether clubs like Stoke and Newcastle can re-enter the discussion.
Ultimately, though, the path to the UEFA Champions League and PL titles is so brutal. From now on, I believe the odds for a title is going to rest with the best team not to quality for Europe and the first team kicked out of either tournament. Also, a Manchester United win would be an exceptional moment for the Europa League. I imagine PL sides are going to be encouraged by that (should it happen, and given their back line woes… woof).
KB: I think so yes. It speaks to what an incredible accomplishment Leicester City achieved. If you're going to tab a "smaller" club that could crack the top 4, Everton might be in there, but I still think they're a long way off, and even if they do make it, billing the Toffees as a "small" club is probably inaccurate, even compared to the giants. A step down from the usuals? Sure, but still a big, big club. Southampton maybe, but even they look off the pace.
MR: There was a time this season when I thought West Brom would have a shot at top six or possibly even higher but I think the bigger clubs are on high alert now after what Leicester pulled off in 2015-16. I wouldn't say it was complete embarrassment for the Foxes to win the league last season but in a way it sort of was given the spending power that the top six clubs have at their disposal and the reputation of their managers. If any club is to pull off the feat in the near future though I'd probably lean towards a West Brom despite their poor run of form to end this season. I think if they spend wisely this summer they could be 2 or 3 players away from making a serious run.
---
Out of the current top six, which team do you expect to be the most dominant in, say, the next four years?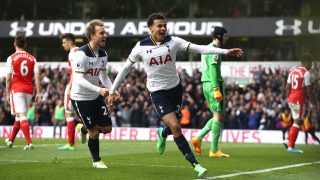 JPW: Has to be Tottenham. If Mauricio Pochettino stays at Spurs then they have every chance of being a power for years to come. With the young squad there, if Harry Kane, Christian Eriksen and Dele Alli all stay on board then they have a heck of a chance. Continuity counts for so much in the modern game with so many clubs switching players and managers on a yearly basis. Chelsea will be very, very strong but will Antonio Conte be attracted by one of Italy's big boys at some point? Who knows. Spurs are the future.
NM: When I look at the exceptional team you could create from players on loan from or not regularly starting for Chelsea, I believe they are best suited to thrive for years. Man City and Manchester United are close behind, the first because of resources and the second because of resources and the years and years of reputation built up by past teams.
KB: That's a tough question. Tottenham certainly looks built to succeed for a long time with such a young core, but they still haven't won anything yet. Chelsea's transfer record is essentially spotless the past five years, and they have a massive web of young loanees looking to break through. I think those two teams are probably the best answer. I think Manchester City will be just fine long-term as well, but there's been too much turnover at the top recently to fully buy-in to their future with so much change in direction.
MR: It's really hard not to love Spurs and their core of youth that continue to produce. I'm a big fan of Mauricio Pochettino and what he has built so far but they must begin to back up their play with trophies.