Chelsea can win the Premier League with a victory at West Bromwich Albion on Friday (Watch live, 3 p.m. ET on NBCSN and online via NBCSports.com) and it wouldn't be the first time they've won the title away from home under a new manager in his first season in England.
[ LIVE: Stream every PL game live ]
With Antonio Conte's men one win from the PL title, his team can seal a sensational first season in England for the Italian manager.
Reports state that tickets for the game at the Hawthorns are already being sold on the black market for far greater than face value as Chelsea's fans jostle to witness their fifth title in the Premier League era and their sixth overall.
Many of those supporters will be casting their minds back to 2005 when Jose Mourinho arrived in England and also delivered a PL title in his debut campaign in charge of Chelsea, winning the title away at Bolton thanks to a victory propelled by two Frank Lampard goals in the second half.
[ MORE: Latest Premier League standings ] 
The similarities between that season and this one are plentiful. That year Chelsea collected 95 points (still a PL record) and with three games to go the Blues can finish on 93 points if they win out this season. Remarkably they lost just once all season back in 2004-05, drawing eight times and winning 29 matches. This season they've won 27 times, drawing on just three occasions and losing five times.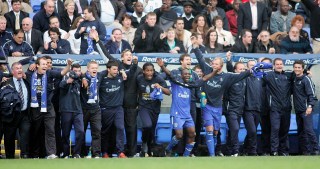 In many ways there is something very similar about this current Chelsea team to that one back in 2005.
As they did in the early Mourinho days, Chelsea now seem almost unbeatable at times and their ruthless efficiency under Conte has the west London club dreaming of not only glory in the PL but more success back in the UEFA Champions League next season.
On Apr. 30, 2005, Chelsea went to the Reebok Stadium knowing a win would secure the PL title. Drawing 0-0 until the 60th minute, Lampard struck twice to send the away fans wild at the Reebok Stadium as Chelsea won their first title in 50 years and just their second-ever in club history.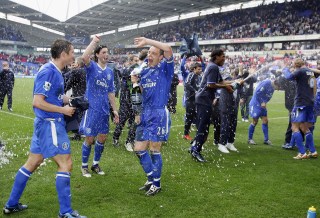 At the final whistle there were scenes of utter jubilation as Chelsea's 50-year wait for a title was over and the Roman Abramovich era has full liftoff.
While an emotional Mourinho smiled on the sidelines as he called his wife on what would now be a ridiculous large cell phone, the likes of John Terry, Lampard, Didier Drogba, Petr Cech, Damien Duff, Eidur Gudjohnsen, Claude Makele, Ricardo Carvalho and others danced away on the pitch at the final whistle.
Chelsea will be aiming to create very similar scenes to those in the photos above by the time the final whistle blows at the Hawthorns this Friday.