Fulham Football Club will remain in the Championship.
The club that reached a Europa League final in 2010 is still battling to recover from its tumultuous faceplant a few seasons ago.
[ LIVE: Stream every PL game live ] 

The Whites came close to a Premier League return this week, falling by a single goal as so many have to a scrappy, rigid Reading side in the playoff semifinal. Forced to remain vigilant another season, they are primed for another run at the top flight.
Every club has a story. Fulham's was storybook: bought by Mohamed Al Fayed in 1997, the club was in the third tier of English football and spiraling down further. Smart hires and an injection of cash spent in the right places changed that all, and within four seasons they had risen to the top flight where they would stick for a decade. The incredible run in 2010 inspired a fanbase to dream even bigger, high on the increasing level of success each new year brought.
Then, it all went wrong.
Al Fayed's old age and failing health convinced him to sell, and in the process of shoring up the books, an 18-month dry spell caused the club to spoil in the summer heat, suddenly vulnerable. Panic does funny things to a team in crisis. They hired a crazy German manager. They signed an expensive yet broken striker. They were relegated from the PL in 2014. The next season, with hopes of starting fresh in the Championship, the club finished 20th and supporters had nightmares to two decades earlier.
Fast-forward to today and the Whites, despite their playoff stumble, look more and more prepared for a slow build to ready themselves not just for a top flight return but another lengthy stay, something only accomplished by years of preparation. The Premier League beckons.
"I'm really just interested in preserving the club and honoring the history and tradition of the club," Tony Khan, Fulham's Director of Football Operations and son of American owner Shad Khan, insists. "But also [I'm] trying to get the club hopefully to heights it's never seen before."
What happened? What changed? What went right when it all seemed to be going wrong?
---
POSSESS YOUR FATE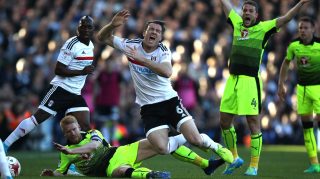 Fulham was unable to break down Reading, scoring just one goal over the course of both semifinal legs. The Championship playoffs are soccer's version of the Hunger Games; only one can advance beyond the mire while the others are forgotten to time.
The Championship itself is a ruthless libretto – known dramatically as a physical gauntlet that sees only the toughest survive. Fulham under Slavisa Jokanovic, however, completely buck that ideal, playing a possession-heavy style of football that at its best manufactures a sparkling on-field product with brilliant goals and alluring flow.
That wasn't the case until recently.
Last season, Fulham finished 20th in the table, largely thanks to an aging squad that couldn't keep the ball and a leaky defense that carried over from its Premier League relegation. This year, with Jokanovic's instruction and the bevy of new signings, Fulham held 57 percent possession and completed passes at an 87 percent rate, both of which shatter the numbers the Championship has seen over the last four years.
So how did they finish 6th, barely snagging the final playoff position?
"I think one of the big things we've seen over the course of the season is they've definitely learned and gotten better," said Ted Knutson, owner of StatsBomb.com and an analytics professional with a heavy following on social media.
The results back up that claim. Fulham struggled to open the season, particularly through a brutal six-game stretch of winless league play in September.
"[We] took a lot of personal abuse when we came on and started to apply these things," Khan said, "and now I've seen a lot of people turn around and see that we weren't doing anything bad, and maybe what we were doing wasn't so crazy."
Fans weren't happy that a career mathematician was taking over their club. They blissfully ignored that for years he had focused all his brainpower on sports.
---
BOYS OF SUMMER
Following the close call with relegation back to League One, it was clear that something had to change at Fulham. The players brought in were talented individuals, but they weren't coming together.
"Their recruitment had been so bad that they had to improve," Knutson said of Fulham's past few seasons. "They literally had to. It's a reversion to the mean. With the amount of money that's in that club, they couldn't have gotten much worse. This was just an impetus to help them make better decisions."
That impetus was the addition of Tony Khan full-time.
Tony had been working with his father's NFL team the Jacksonville Jaguars in the player recruitment and identification department with an analytics and technology focus, and before that in basketball and baseball analytics with his own company TruMedia.
While Tony had been heavily involved in player identification with the Jaguars in the past, this was the first time he had been truly given roster control with any team.
With him, Tony brought his analytics models and experience, and implemented the "both boxes checked" system of player recruitment. This helped merge traditional scouting and analytics to create a list of targeted players who passed the test in both categories.
It didn't go over so well with fans.
"There are some people that have written some really nasty letters to me last summer and early in the season and even again in January," Tony said. "In the past week multiple people have written me to say they're very sorry about the things they said, they can't believe they said those things, they're very apologetic, and they see now what we're trying to do; that we weren't trying to stomp on tradition or do anything negative, that we really believe in what we're doing. This might be different than the way things have traditionally been done but we think this is a good system that will help the club."
Unfortunately, that fiery backlash wasn't an isolated incident.
"We had the exact same thing happen down the road," Knutson, a former employee in Brentford's player recruitment department, said. "It is partly natural for that to happen; if the fans don't understand quite what's going on, it's tougher for them to associate with and accept it. Also, most of the time when analytics is talked about these days, it's talked about as sort of a flameout. Like the Damien Comolli Liverpool period, or 'why hasn't it helped Arsenal win the league?' and the clubs that are doing it well tend to keep it under the radar."
Thankfully for Fulham, the introduction of Khan's methodology and direction had an immediate positive impact.
The front office overhauled the roster at an almost inconceivable level. Of the 49,386 minutes played by Fulham players last season, nearly 40,000 of those departed the club. In their place came attacking flair in Sone Aluko, Floyd Ayite, Neeskens Kebano, and Lucas Piazon plus a wildly successful midfield partnership in Kevin McDonald and Stefan Johansen.
"They mostly got it right," Knutson said. "Kebano has been excellent, and their midfield has been really stout, and that might be the most important part in the Championship. Johansen and McDonald are top class midfielders that have stabilized the whole club."
To finance this, the club sold striker Ross McCormack for a Championship record $15.5 million to Aston Villa. That decision came with significant risk, as McCormack had carried Fulham the previous season with a whopping 23 league goals, but the sale in hindsight was a massive success given his utterly disastrous campaign this year.
They offloaded bigger names in Maarten Stekelenburg, Kostas Mitroglou, and Ben Pringle. They let go aging players in Fernando Amorebieta and Jamie O'Hara. They also fleeced Cardiff City in a straight swap of full-backs, giving away former Swansea flop Jazz Richards in exchange for Scott Malone. Of the 66 goals scored by the club last season among all competitions, they retained 10.
Little of this would have taken place without Tony Khan and his influence.
---
ANALYZING THE GAME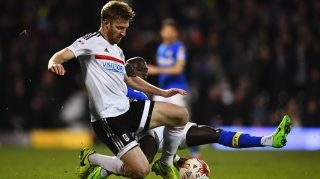 Tony Khan – and his right-hand man Craig Kline – started working in sports analytics at the University of Illinois. He began working in basketball out of college studying statistical models, and came to football while his father began exploring options to purchase an NFL team.
By the time Shad Khan had bought the Jaguars, his son was fully immersed in sports metrics, and was given a role in the player identification department both implementing his own statistical models and helping to develop technology to further the department.
Khan also purchased TruMedia, a company that is heavily involved in professional sports metrics across a number of fronts, particularly in Major League Baseball.
In a nutshell, this isn't Tony's first rodeo. But it's certainly his biggest. The transition was slow, as Tony took time between responsibilities with the Jaguars to implement the analytics department over the past year and a half. At first the internal response was slow, but since his full-time appointment things have really taken off.
"Going into this previous summer was the first time I really took it over and took the lead on it," Tony said. "Since I've taken responsibility for [transfers], things have really gone in a great direction, I'm really proud of that."
The implementation of analytics is growing across Europe. However, it's facing plenty of roadblocks. It's hard to figure out why.
"What's wrong with more information?" Knutson asked. "How can that be wrong?"
While some sectors refuse to embrace the wave, others have welcomed it. Many of those clubs are American influenced from the top down, such as Liverpool, Arsenal, and Roma. Tony's presence at Fulham has added the club to that list.
"Fulham are a fairly rich club in terms of what's possible in the Championship," said Knutson. "It took them a long time to figure out and actually make the changes. That's not me being critical of the Khans – in many cases it's better to take the time learning before making sweeping changes because then you're less likely to make mistakes and you're more likely to do it in a way that's both acceptable and effective. So for Fulham to come along and do this has been very valuable."
"It's intrinsic in the American ideals that fit with sport, not just with football but with sport."
---
LIGHT THE MATCH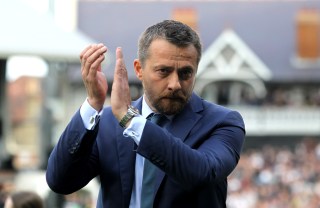 "I'm here because I believe in the club," Khan said. "I could be working at a number of different places and I love the Fulham Football Club and I'm here because I want to be here and I believe in the club."
That's a growing sentiment, but it's not quite there yet. More and more statistics and metrics are beginning to meander their way into mainstream use. Chalkboards are popping up on social media. Knutson's social media following has increased as his radar boards gain popularity.
"I do think the success we've had this season has opened a lot of people's minds," Khan said, "and led to many people that did not have a positive opinion on the place of analytics in player evaluation and recruitment in European football to see that it's not such a bad thing and it can actually be very useful when applied properly as I think we have."
There's no magical formula or supercomputer that can solve every club's problems.
The concept has always been to provide those tasked with critical choices with as much information as possible to increase the chances of making the right decision. As money in the game flows in, the weight those decisions carry become larger, and thus the need for additional help increases.
"I think the rest of Europe is starting to catch on, and it feels like there's grass out there, and it's all really dry, and it's just waiting," Knutson said with a snap of his fingers, "for a match to spark it."
Tony Khan and Fulham have plenty of work to do this summer.
Upgrades are likely needed both up front and at the back, and keeping hold of the squad's best players will be an accomplishment. Midfield playmaker Tom Cairney in particular is a gem wanted by many Premier League clubs, and maintaining his loyalty for another season in the Championship will be a true challenge. Jokanovic will no doubt be a marked man.
Nevertheless, the club continues looking for the light at the end of the tunnel, and with embracing advanced metrics, they hope for a leg up on the rest of the Championship rabble.