LONDON (AP) Russian billionaire Alisher Usmanov has had a $1.3 billion bid to take full control of Arsenal rejected by owner Stan Kroenke, a person familiar with the offer said Friday.
Usmanov remains interested in buying out Kroenke's 67-percent majority stake in a deal valuing the club at $2 billion, the person told The Associated Press. They spoke on condition of anonymity to discuss the club's financial matters.
It is the latest move in a decade-long battle to own Arsenal by Usmanov, who has built up a 30 percent stake in the Premier League club since 2007. The takeover bid was mounted as another season at Arsenal draws to a conclusion amid uncertainty and strife on and off the pitch at the north London club.
Arsenal is set to miss out on qualifying for the Champions League for the first time in two decades, with the team in fifth place heading into its final match of the league campaign against Everton on Sunday.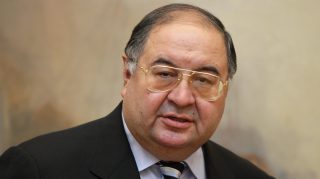 Fan protests have mounted against manager Arsene Wenger with calls for him to leave after almost 21 years in charge. Wenger said his future won't be settled until a board meeting is held after Arsenal plays Chelsea in the FA Cup final on May 27.
Usmanov, whose investment in Arsenal is through Red & White Holdings, has been denied a place on the board of directors by Kroenke and he has publicly questioned the lack of investment in the squad. Kroenke, who – like Usmanov – first started amassing shares in Arsenal in 2007, succeeded in gaining full control in 2011.
Under Kroenke, Arsenal's Premier League trophy drought has continued. The last title came in 2004 and the only silverware since then has been FA Cup successes in 2014 and 2015.
The Financial Times first reported that Usmanov made the recent offer to buy out Kroenke, who also owns Los Angeles Rams NFL team and Major League Soccer's Colorado Rapids.