LONDON — Arsenal beat Chelsea 2-1 to win the 2016-17 FA Cup on Saturday at Wembley Stadium, but this was about much more than a game of soccer.
"They just keep coming, no matter what, don't they?" said a fellow journalist I bumped into surveying the scene outside Wembley before kick off as a wave of red and blue supporters inched towards the home of soccer while under armed police guard.
They certainly did.
The FA Cup final on Saturday, a 90,000 sellout, provided most of the UK with a slight distraction from a nightmare week where the worst terrorist attack since the 7/7 bombings in 2005 dominated the hearts and minds of a nation.
After watching on in horror as 22 people were killed and 116 injured by a suicide bomber outside Manchester Arena late Monday, the attention of everyone in the UK has been focused on the atrocity in Manchester.
That horrendous attack led to the UK being placed into the highest terror threat level of "critical" for just the third time since it was introduced in 2006 and things like soccer games, rivalries and trophies seemed somewhat meaningless as the threat of an "imminent attack" dominated the news.
It didn't matter that this was a final being played between two Premier League teams from London. Everyone had Manchester on their minds.
A few hours before the game British Prime Minister Theresa May downgraded the terror threat level to "severe" rather than critical, but that didn't stop armed policeman in abundance at Wembley as armored police cars replaced some of the burger vans which usually littered the roads near Wembley Way.
Arsenal fan Andy Calcutt stood on an elevated walkway outside Wembley having a cigarette as he pushed his sunglasses further up his nose.
The skyline of London was visible in the distance on a glorious early summer day and the message was clear: terrorists will never win.
"It is the British spirit to soldier on and go through it. It is fantastic today," Calcutt said. "Nobody that I know has any issues about turning up to a big event. There is obviously more of a security presence, which gives you a bit of reassurance, but it's not an issue for anyone here. We keep on going through our day to day. That's how we get on."
As the glorious sunshine beat down on Wembley two hours before kick off, there was a lingering sense of remembrance but celebration was in the air too.
On Friday the most senior counter-terrorism officer in the UK, Mark Rowley, urged citizens to "go out as you planned and enjoy yourselves" around the bank holiday weekend.
After the week the UK has had, it is easy to understand why that was the message following security measures being reviewed for over 1,300 events as the Aviva Premiership rugby final took place at Twickenham, the Manchester Great Run was scheduled and there were many huge events up and down the nation.
The FA Cup final was by far the biggest as the eyes of the world fixed itself on Wembley.
Chelsea fan Marcus Mays stood with his partner looking out on Wembley Way as the fans flooded in before the cup final.
"I was born in Manchester and I have a lot of friends from up that way and I think everyone was behind Manchester United for their Europa League win in midweek. It was lovely to see," Mays said. "We have got to get on with our lives and I think everyone appreciates that. I can't imagine anybody swerving a cup final because of the terrorist attack. Everyone has to crack on with their lives."
That sentiment was echoed time and time again by everyone in and around Wembley. There was plenty more waiting in lines before you got into the stadium but nobody complained, nobody moaned. They queued and got on with it with a smile on their face.
As I walked out of Wembley Park underground station before the game, a guy in an Arsenal shirt went up to a policeman and shook his hand and thanked him, then walked off.
It has been that kind of week, to appreciate those around you and what you have.
At times like these you call your family and friends more often, you kiss your wife, husband or kids more. You reach out to strangers and offer a smile while sat on the subway train, or a polite nod, when previously the stresses of the modern world appeared to be too much to offer such niceties.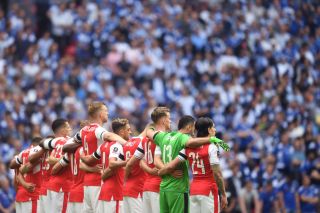 Even in a major cup final between bitter rivals there was respect.
Sure, there was chanting back and forth between Chelsea and Arsenal fans beforehand, laughter and jokes as groups of friends met up in among policeman armed with semi-automatic rifles, but just before kick off it became apparent how reflective the mood was.
There was an immaculately observed minute's silence to remember the victims as both teams stood united around the center-circle, linked to their teammates. 90,000 fans stood in silence as some began to chant "Manchester!" but quickly stopped.
Fans held up signs reading "I love MCR!" and on the large TV screens at either end of Wembley messages simply read "We Stand Together" as the vast three-tier venue stood perfectly still.
Following a week like this it easy to brush off the insignificance of sport. So often fans, and even players and managers, watch or get involved in the action to try and forget everything else in life for a few hours a week.
Speaking after the game, Antonio Conte reinforced that message, one he had shared before the game.
"It was an important game but don't forget the tragedy in Manchester," Conte said in the aftermath of defeat.
He was right. This was no place to forget.
Chelsea and Arsenal's fans held banners up saluting Manchester and the victims of the attacks and before the game both clubs canceled plans for a trophy parade in London on Sunday, out of respect for Manchester and also to not put a further burden on the already-stretched police force as they continue their huge investigations.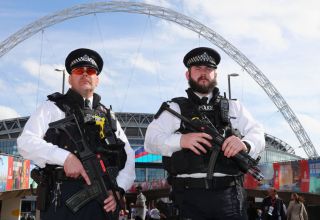 Everyone in the stadium and everyone at home hoped they'd never have to live through seeing scenes like this again. Children and their families killed as they left a music concert.
At times like these sport can provide a distraction and helps some to heal, but there's so many more important things going on in the UK, and across the globe, right now.
The overall message portrayed at Wembley on Saturday was a poignant one: this was no time to hide.
Now, even in one of the darkest moments for the UK in recent history, was the time to face the world and stand tall.
"It's just another day. You can't live in fear, can you?" Arsenal fan Ryan Kilburn said. "There's no point in hiding."