LONDON — Before David Wagner turned up Huddersfield Town were drifting in the lower reaches of the Championship, struggling for survival in England's second tier.
[ MORE: JPW on"miracle" for Terriers ] 
Now, just over 18 months after the German-American's arrival, Wagner has led Huddersfield to the promised land of the Premier League for the first time in club history and it's the first time the Terriers have been in the top-flight of English soccer since 1972.
Wagner, 45, took a big risk when he left Borussia Dortmund II in November 2015 to head to Yorkshire but it has paid off. Big time. As a student of the famous Gegenpressing, he took a risk but along with enticing players from Manchester City, Chelsea and Liverpool to join on loan, Wagner has galvanized an entire club with his passion and desire on the sidelines.
Reports have suggested the likes of Wolfsburg in the Bundesliga, plus many Premier League clubs have been trying to entice Wagner away from the John Smith's Stadium.
[ MORE: Wagner reacts to fairytale ] 
Yet, after Huddersfield beat Reading 4-3 on penalty kicks at Wembley Stadium to win the Championship Playoff Final on Monday, it appears highly-likely Wagner will be their manager next season.
As he strode in to his post-game press conference, Wagner shrieked "Helloooo" to the media and then tripped over the stage of the press auditorium at Wembley before apologizing for smelling like Champagne as he had changed out of his all black suit and shirt.
It's tough not to like this guy.
Especially because he had so many doubters when he turned up in England with a plan to play a high-pressing style in the Championship, a nutritiously demanding league both physically and mentally.
"I'm so happy we've proven that experience is not everything," Wagner said. "I've always been confronted with questions of my experience in English football, the league, no winter break and the play-offs. Experience is important, but if you have passion, desires and ideas you can match it. We've shown it's possible and brought this fairy tale to a happy ending."
Wagner has been the architect of creating a wonderful team spirit between the players and the club as fans marvel at his ability to say the right thing at the right time but still being able to smile as well as snarl when necessary. He is no longer seen as Jurgen Klopp's buddy who got a job in England off the back of Klopp's recommendation.
He has carved his own path, created his own identity and is leading Huddersfield on their own wonderful journey as 40,000 Terriers fans descended on Wembley and made a dreadful din all afternoon long to try and roar their team to the Premier League. Their team were the better side on the day and now they have brought Huddersfield an estimated $218 million through promotion.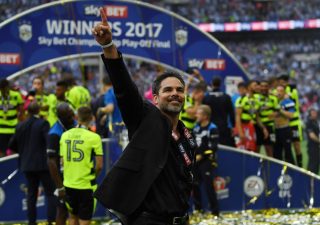 The style of the team is tough, physical and direct. Wagner's men only scored 56 goals in 46 league games (the second fewest in the top half of the table) and actually finished with a goal differential of -2. They found ways to get wins time and again, grinding out victories late on and feeding off their togetherness.
ProSoccerTalk asked Wagner if he will follow the model of any previous clubs who have been promoted to the Premier League, with other minnows such as Watford, Bournemouth and Burnley solidifying themselves in the top-flight after recent promotions.
"I'm not experienced enough," Wagner laughed. "I have no experience about Bournemouth, Burnley. I know a little bit about the clubs, but I haven't followed their story and how they came to this stage. We have to be focused on ourselves and this football club has to be focused on themselves. This football club has created an identity and this was always our target, that we create an identity and a style of football where even if we wear neutral jerseys people from outside are able to say 'okay, that could be Huddersfield.' I think it makes no sense to compare ourselves with other small clubs. This football club has its own story and I think, we are on the way."
Huddersfield are on their way, but what does it mean for the town in Yorkshire which has a population just over 160,000?
Wagner showcased just what it meant to him as he climbed on the railing of the second tier at Wembley as hoisted the playoff trophy into the air, looking like he was almost going to fall over the edge. Huddersfield's fans let out a huge roar, and, just like they've done all season, they embraced the German tradition of gathering together with players after the game to celebrate a victory by throwing their arms in the ear.
"Everybody knows that last time this club was in the [top division] was 45 years ago," Wagner said. "It's a big, big achievement and I'm so proud of my players, and I'm happy for the whole town and everyone who helped Huddersfield take these steps forward – including the chairman, who backed nearly all of my ideas!"
Huddersfield were meant to finish in midtable, at best, as fans bought in to Wagner's charisma after he rebuilt the squad in the second half of the 2015-16 season on the way to a 19th place finish in the 24-team league, before setting things up perfectly for his first full season in England with a team-bonding trip to Sweden during preseason.
"He has made a massive difference, he has changed the whole culture of the club around," Steven Sunderland, a lifelong Huddersfield fan said outside Wembley. "He has brought a new mentality to the game. That German mentality. A winning mentality. He has got everybody on board and that's the main thing."
Wagner also didn't take much of the praise, instead lavishing it on his players who have been brought together with loan deals, free transfers and their record transfer who scored the winning penalty kick at Wembley, Christopher Schindler, cost just $2.3 million from 1860 Munich last summer.
The former U.S. national team striker scoffed when asked about the $15 million budget for this season, saying it was "much lower than that" and revealed what he told his players ahead of the playoffs.
"I said to the players before the [play-off] semi-finals: 'You are heroes, you finished fifth in the league, but from hero to zero in football is sometimes only a week and now you have the opportunity to become legends.' Now they are legends for sure," Wagner said. "Everybody will remember what this group of players have done with a small budget. And they deserve it. This football club has written an unbelievable story."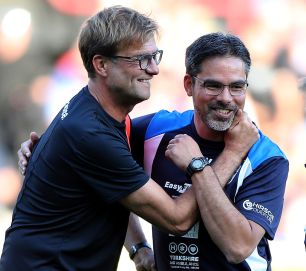 The Premier League will have another charismatic German screaming and gesticulating on the sidelines next season, with Wagner laughing about the prospect of facing his good friend Klopp on the sidelines when the Terriers play Liverpool.
"I will probably meet him on the sidelines in the Premier League… it will be funny, for sure," Wagner smiled. "When we had the friendly he was the first manager who came in my managers office before the game and we drank a cola. So I am unsure if this will happen in a Premier League match, but from my point of view it could happen. When the game starts he and I are out of control, even if he is my pal I don't have to agree with everything that he is doing."
But Wagner is caught up in the moment and isn't thinking too much about next season or even next week. He admitted he will have to make plenty of calls to try and secure the services of loan stars Kasey Palmer, Izzy Brown, Aaron Mooy and Danny Ward next season, but right now he's all about one thing: the party.
"I haven't thought about my personal standing or [that of] individual players," Wagner said. "All that's in my head is celebration. My only focus was this final, so I was not involved in planning [celebrations] but there are a lot of smart, intelligent and very happy people in Huddersfield who have been thinking about that – and after 45 years it is sure to be one of the better celebrations."
There's no doubt Wagner will be leading those celebrations and he will be a hero forever in Huddersfield.