International friendlies are all about learning. With just days to go before the United States faces another crucial pair of World Cup qualifiers, Bruce Arena experimented a bunch against Venezuela with the idea that he can learn plenty about his current squad.
The 1-1 draw featured heavy United States possession, but nary a true look on goal. As Arena put it, "the final product wasn't very good."
The main reason for this? The absence of Jozy Altidore.
[ MORE: 3 more things we learned from the 1-1 draw with Venezuela ]
Altidore, the 3rd-leading scorer in USMNT history, was absent from the squad at Rio Tinto Stadium after missing the early portion of camp due to his brother's wedding. Therefore, Arena left him out, instead pairing Clint Dempsey and Bobby Wood up front in one of those aforementioned experiments. While both Dempsey and Wood are quality players and both showed flashes of usefulness throughout the game, they are also far too similar in style to form an effective partnership at this stage. Both are speedy strikers who make runs through the defense, but neither has the true strength to allow others to get into space.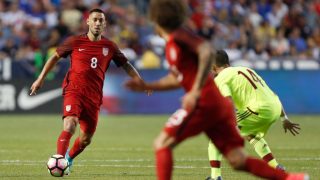 Jozy's hold-up play was the biggest missing piece for the United States against Venezuela, and while he has taken plenty of heat during his time with the international squad (sometimes deserved, sometimes not), Altidore is a critical piece of this USMNT squad, never more evident than just outside Salt Lake City last night.
If the United States is to take a positive points haul against Trinidad & Tobago and Mexico, they will need Altidore at his best up front, not only scoring goals but also to help turn possession into danger up front, something the US was unable to do against Venezuela. Altidore is often judged by his ability to score goals for the US, but that is not nearly his only contribution to the squad.
Introducing Jozy Altidore back into the starting lineup most likely would see Bobby Wood the odd man out in a fully healthy squad, which is an unfortunate loss, but he and Dempsey simply do not provide enough variance up front. Wood will get plenty of chances in the future with Dempsey's time eventually up, and he offers a speedy, dangerous option off the bench for the final 20 minutes of an even game.
The bottom line is that, despite his sometimes divisive stance with USMNT fans, the United States needs Jozy Altidore. That was blatantly obvious through 90 minutes in Sandy, Utah.