The game in 100 words (or less): Is there any doubt that Atlanta's Designated Player signings have paid off? They certainly did on Saturday with all three of the club's DPs notching goals in the win for Tata Martino's group. It was a brilliant return for Josef Martinez, who scored his sixth goal of the season with a blast from a tight angle, while Miguel Almiron continues to impress up front for Atlanta. Yamil Asad is quietly becoming one of the top playmaker's in MLS as well, adding his eighth assist of the year. The victory puts Atlanta into the sixth and final playoff spot in the East.
Three moments that mattered
16′ — Villalba fires hosts in front — The defensive miscues continue for the Crew and Hector Villalba made the visitors pay big time. Side note: That's Yamil Asad's EIGHTH assist of the season…
26′ — Crew equalize through Higuain — Scrappy does it sometimes and Federico Higuain was in the right place at the right time for this one.
67′ — Almiron puts Atlanta back on top — So cool. So casual. Miguel Almiron makes everything look way too easy.
88′ — Martinez with an absolute scorcher — It's been awhile since we've seen a goal from this man, but wow! Just wow!
Man of the match: Miguel Almiron
Goalscorers: Hector Villalba (16′), Federico Higuain (26′), Miguel Almiron (67′), Josef Martinez (88′)
---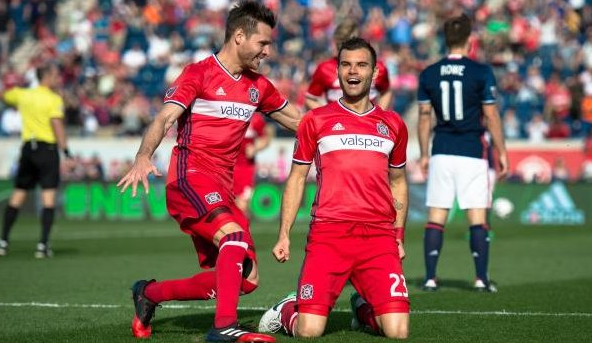 The game in 100 words (or less): The Chicago Fire are the hottest team in MLS and Nemanja Nikolic is looking like a legitimate MVP candidate. The Fire striker has 13 goals on the season now after adding another on Saturday, while also tallying the game-winning assist with just under a half hour remaining. For the Revs, it's the club's first loss at home of the season, snapping a seven-game perfect run to start 2017.
Three moments that mattered
18′ — Nikolic just keeps on scoring — Is there a better signing this winter than Nemanja Nikolic? I'll wait… That's 13 goals now for the Fire striker.
61′ — Solignac doubles the lead — That's some touch from Nikolic to get it into his partner's path for the finish. 2-0 Fire.
70′ — Delamea gives the Revs a glimmer of hope — He took a shot winning this header but still gave the Revs a chance at a point with 20 minutes left.
[ FOLLOW: All of PST's MLS coverage | Standings | Stats | Schedule ]
Man of the match: Nemanja Nikolic
Goalscorers: Nemanja Nikolic (18′), Luis Solignac (61′), Antonio Mlinar Delamea (70′)
Follow @MattReedFutbol