When two sides meet at Red Bull Arena on Saturday afternoon the tension between players will be high and even more so when the supporters cross paths.
It may be nearing the end of June, but the New York Red Bulls and New York City FC will meet for the first time this season in MLS play on Saturday as the two clubs renew their Hudson River Derby (New York Derby, for some) rivalry.
[ MORE: MLS Power Rankings — Week 17: East leads way at the top ]
Some still question the validity of the rivalry given the brief history in which the two clubs have faced off against one another, but that little percent of the population is completely outweighed by those that really follow MLS.
Now entering the third year in which the Red Bulls and NYCFC meet, there's more dislike between the two clubs, the players and certainly the managers as well.
Albeit a lopsided first six encounters, five wins to one in favor of the Red Bulls, every time the sides meet is another opportunity to not only build the rivalry but also expand on the question: Is New York red or is it blue?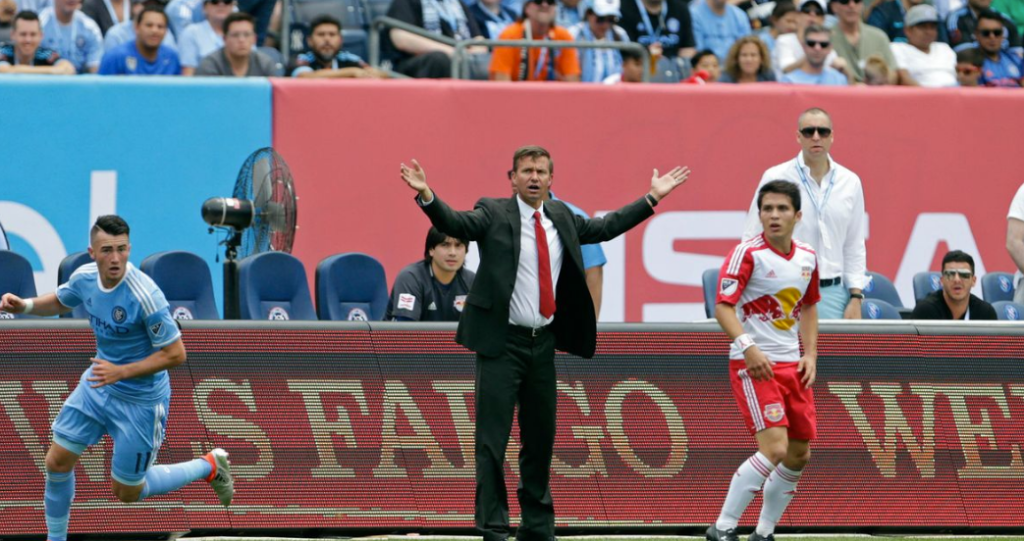 This has become a popular topic between supporters of each team and subsequently turned out to be a marketing dream for the clubs and MLS as a whole.
When it comes down to the on-field play, many of the same faces are still intact with their clubs from when the teams met a little over two years ago. David Villa and Bradley Wright-Phillips spearhead the attacks for their respective sides, but the star strikers have performed in very different manners in the previous derbies.
Wright-Phillips has scored an impressive eight goals in six MLS meetings against NYCFC, while Villa — who has 51 MLS goals — has just found the back of the net once against the Red Bulls.
Outside of the Red Bulls' 7-0 thrashing last year, the majority of the matches between the two teams have been close encounters. And this time around should be no different.
The teams met just a week-and-a-half ago at RBA in a U.S. Open Cup match that saw the hosts narrowly come away with a 1-0 victory, which has been the story of the Red Bulls season thus far.
Only four Red Bulls players have scored goals in 2017, which in comparison to NYCFC's 10 players is a stark difference. Patrick Vieira's side has scored 12 more goals this season as well, which certainly plays into NYCFC's hands, however, when these two clubs get together there's been a noticeable struggle for NYCFC in the attacking third.
Vieira's men have scored just five goals over the first two seasons of this matchup, while the Red Bulls have found the back of the net 18 times.
Here's a brief breakdown of results when the two sides have met since 2015. (Winner in bold)
May 10, 2015 — Red Bulls 2-1 NYCFC
June 28, 2015 — NYCFC 1-3 Red Bulls
August 9, 2015 — Red Bulls 2-0 NYCFC
May 21, 2016 — NYCFC 0-7 Red Bulls
July 3, 2016 — NYCFC 2-0 Red Bulls
July 24, 2016 — Red Bulls 4-1 NYCFC
June 14, 2017 — Red Bulls 1-0 NYCFC (U.S. Open Cup match)
Follow @MattReedFutbol