With the 20 Premier League managers now set for the start of the 2017-18 season (Frank de Boer joined Crystal Palace to occupy the final vacancy in the PL) things are slotting into place ahead of preseason kicking off for most clubs next week.
The expectations for each boss are now being amped up accordingly too.
[ MORE: Full PL schedule – 2017-18 ] 
Below is a look at the expectation levels for each PL manager, with a rating out of 10 and a brief description of what is expected to be achieved by each of their teams.
Yes, we know that plenty of transfers are yet to be made but there are just 47 days until the Premier League season kicks off and we all know how demanding PL fans can be.
Enjoy the last few days of your summer break, gaffers…
---
Jose Mourinho (Man United) – 10/10 – Expected to win the PL and at least reach the last four of the UCL. No joke. Always the most under-pressure boss, but delivered a EFL Cup and Europa League last season. Those trophies bought him plenty of extra time, but United's fans are an expectant bunch and if they carry on drawing games then Mourinho could be in trouble midway through the season.
Pep Guardiola (Man City) – 10/10 – After a third-place finish and a poor showing in the Champions League, Pep has to get off to a flying start. Challenging for the title and reaching the final four of the UCL is a must. Total defensive overhaul is well underway with plenty of outgoings, while adding new full backs will be key. Make no mistake about it, Pep will be under pressure if City don't start well.
Jurgen Klopp (Liverpool) – 9/10 – Following an up and down second half of last season, the jury is still out on Klopp for many when it comes to putting out a balanced team. We all know his teams can score goals and attack, but balancing UCL and PL action will be a huge test, and he needs to get in new defensive talent. Expectations are always very high at Anfield and they should be with players of a higher caliber courted this summer.
Antonio Conte (Chelsea) – 9/10 – So, you would think Conte will be way down this list. Not so much. The Italian masterminded an incredible turnaround last season as the Blues won the PL 12 months after finishing 10th. With UCL action now back on the table (Chelsea's fans expect them to conquer Europe) Conte has huge expectations to handle. Better get spending big, Antonio.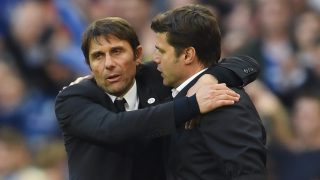 Mauricio Pochettino (Tottenham Hotspur) – 8/10 – Perhaps a little high, especially with a potentially unsettling move to Wembley, but Spurs fans and the soccer world have come to expect plenty from Poch. The Argentine boss had a talented young group to work with but finishing in the top four should be the priority. Going past the group stage in the UCL will be the main aim next season.
Arsene Wenger (Arsenal) – 8/10 – Arsenal fans will still be expecting plenty from Wenger after he signed a new two-year deal following plenty of uncertainty. The Frenchman will have to handle the rigors of the Europa League, but is likely to play a young squad in that competition and prioritize the PL. Nothing other than a push for the PL title will satisfy Arsenal fans, plus the future of Ozil and Sanchez will go a long way to determining expectations on Wenger.
Ronald Koeman (Everton) – 8/10 – The Dutch legend has raised expectation levels at Goodison after guiding them back to the Europa League and flirting with the top four at times last season. In his second season in charge, Toffees fans will be dreaming of a top four finish and a good cup run. No pressure, Ronald.
Rafael Benitez (Newcastle United) – 8/10 – Newly-promoted Newcastle will have huge pressure on their shoulders as they see themselves as a top six PL club who should challenge for the FA Cup and EFL Cup. Benitez has a huge rebuild to lead this summer and there are already reports he is frustrated at losing out on top targets. Magpies faithful are passionate and success-starved.
Frank de Boer (Crystal Palace) – 7/10 – With a big name comes big expectations and the Dutch legend will find that out in the PL. After taking his first job in England, de Boer will be expected to guide the Eagles to a top 10 finish and unlock the potential of their talented youngsters. Plenty of changes needed, especially in defense, if that's going to be the case.
Slaven Bilic (West Ham United) – 7/10 – The Hammers need to get off to a very good start if Bilic wants to keep his job, long-term, with contract negotiations on hold. The Croatian saw his second season in charge of West Ham go horribly as they battled back to a respectable PL finish after crashing out of the Europa League in the qualifying rounds. Losing Payet and having multiple injuries didn't help, but many of Bilic's buys didn't work out. His recruitment this summer will be huge in him keeping his job. Top 10 finish a must.
Mark Hughes (Stoke City) – 7/10 – With Stoke finishing outside the top 10 last season, Hughesy knows his forwards must start scoring or he will be in trouble of losing his job. The Potters are a stable club but were in real danger of being dragged into a relegation battle last season. Like Bilic, a strong start is needed for Hughes to keep everyone happy.
Paul Clement (Swansea City) – 6/10 – He kept the Swans up with a miraculous late run and now all eyes are on Clement to see if he can solidify the South Wales club in the PL. On the face of it, keeping Gylfi Sigurdsson is key to Clement's plans as Swans fans hope a top 10 finish and two good cup runs will arrive. A slow start could see the Swansea board making yet another managerial change.
Marco Silva (Watford) – 6/10 – After working a minor miracle at Hull, Watford's fans are hoping Silva can build a strong identity for their squad of misfits. The Hornets slumped badly last season under Walter Mazzarri but Silva will keep them solid in defense and dangerous on the counter. Top 10 finish would be very successful.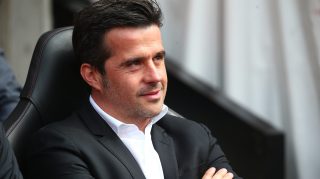 Mauricio Pellegrino (Southampton) – 6/10 – Many will point to Pellegrino taking over from Claude Puel as a bizarre decision, but Saints' fans were so bored with Puel's tactics and inability to inspire his players. Pellegrino's task is quite simple: bring back the high-pressing style and play more attack-minded players. That, plus a top 10 finish and another good cup run, will do nicely. Not that easy to pull off though for a first-time manager in England though.
Craig Shakespeare (Leicester City) – 6/10 – After the title winning season in 2015-16, fans of the Foxes are understandably eager for more success. Shakespeare will be tasked with a top 10 finish and after their run to the UCL quarterfinals last season, expectations are high at the KP. More likely is another relegation battle and if that's the case in December, Shakespeare could be under pressure.
Tony Pulis (West Brom) – 6/10 – This is a strange one to judge as Pulis overachieved massively last season, but many West Brom fans were left underwhelmed by a ridiculous poor finish to the season. Scoring goals is the main problem for the Baggies and Pulis' fate will depend on recruiting a new striker in the summer. Surprisingly the favorite with many to be the first PL boss fired in 2017-18.
Sean Dyche (Burnley) – 5/10 – The "Ginger Mourinho" can do little wrong in the eyes of Burnley fans. He is building a strong, stable squad but having the likes of Michael Keane unsure about his future will unsettle the Clarets. Another season in midtable is what Dyche needs but a relegation battle could see Burnley's board get nervous in midseason.
David Wagner (Huddersfield Town) – 5/10 – Tough to see the eccentric German-American manager being under pressure at all after masterminding a miraculous promotion to the PL for the first-time in the Terriers' history. Passionate and a real connection with the fans, a relegation battle is expected and Wagner is the type of character you'd want in that situation.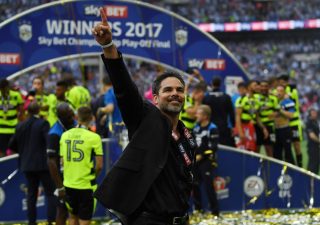 Chris Hughton (Brighton & Hove Albion) – 4/10 – After leading Brighton to promotion, Hughton deserves to be given a full season to see what he can achieve. In reality that may not happen if the Seagulls are floundering by the festive period, but Hughton is an experienced boss capable of building a strong defensive core. Staying up is the main aim.
Eddie Howe (Bournemouth) – 4/10 – One day they will probably build a statue of Howe in Bournemouth. And rightly so. Until then, expectations keep going up with his young squad finishing ninth last season after a fine finish. Despite that the Cherries faithful expect another relegation battle and anything other than that is a bonus. For Howe, he has a dream job with a club fully supporting his ideals.