Wayne Rooney sat next to Ronald Koeman smiling from ear to ear as he held the Everton jersey once again.
These two are the forefront of Everton's revival.
[ MORE: Rooney United's best ever? ]
Being unveiled to the media on Monday at Goodison Park, the all-time leading goalscorer for Manchester United and England had returned to the club where he made his name and the team he still supports.
Rooney, 31, repeatedly stated that Everton's aim must be to win a trophy for the first time since 1995 and his burning desire is to help his boyhood club in their exciting new era.
Both Rooney and Koeman acknowledged that there's extra pressure on Everton given their summer of spending, and both know they have to deliver. Now.
"With Ronald's ideas and the players we are bringing in, it's on us," Rooney said. "It's alright sitting here saying 'we want to win trophies' but it's on us as a football club to make sure we do that. That's why we have to work hard and make sure we are in the best position to do that… That's why you play football, to win trophies. That's of course the target and the aim. That's what we want to do. We don't want to limp around in the season, we want to be successful. I know we have the right man to lead us to do that."
Koeman may well have the right man in Rooney to lead his young, talented squad and Rooney admitted that the decision to go back was "a no-brainer" while his manager spoke of Rooney's desperation to return.
After spending 13 years away winning every trophy possible at Manchester United, Rooney has now returned hungry to prove the doubters wrong and it's clear that Koeman has big plans for the Evertonian.
When asked where Rooney would play — now a key question for most of his managers as father time catches up with him — Koeman gave an intriguing answer.
"Everybody knows the qualities of Wayne. It is try to get more productivity, we spoke about last season. He is a striker," Koeman said. "Offensively he can be a No.10 behind the striker. A free role from the left. The No.9. The No.7. That's the position he will play."
In short: he will be used wherever and whenever he's needed. Rooney seems just fine with that after spending a season mostly on the bench at Old Trafford under Jose Mourinho.
"I needed to play more games and I didn't play that often last season. I know I'm at my best when I'm playing games consistently," Rooney said. "I spoke with Jose [Mourinho] and it was the right time for me to leave and go and play somewhere else and I firmly believed Everton was the right option for me to do that."
Koeman now has a figurehead to build his team around.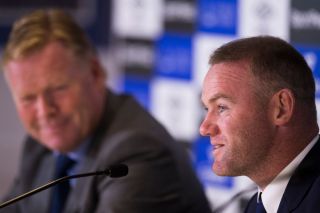 Last season was his first in charge at Goodison and although his young team excited with a seventh-place finish, flirting with a top four finish for a little while, losing the goals of Romelu Lukaku (his move to Manchester United is close to completion) will hurt the Toffees.
Koeman wants to see "several players scoring 10-15 goals rather than one scoring 25" and with Sandro, Davy Klaassen and Rooney coming in to compliment Ross Barkley, Kevin Mirallas, Yannick Bolasie and others, all of a sudden Everton is loaded with different attacking options.
Given his experience of delivering on the big stage, Rooney could be the key cog.
"The experience of Wayne is really important to win something and to bring to the rest of the players," Koeman said. "We have some good older players in the team, there is a lot of experience, but we have some really good young talented football players. It's an example for them to learn from him and learn from other players in the team. Altogether it was really important for me to try to bring Wayne back to the club."
Koeman suggested more new arrivals would follow as Everton are linked with deals for Olivier Giroud, Gylfi Sigurdsson and others, but it is Rooney who will help knit everything together.
A true blue at heart, the Liverpudlian striker revealed he is ready for the next step of his career and brushed off talk of him returning to the England squad, simply saying that if his performances are good enough for Everton then Gareth Southgate can't possibly ignore him.
"I was at the stage of my career when I had to take the next step," Rooney said. "I thought about it and obviously after speaking to Ronald, the discussions we had, I knew it was where I needed to play and needed to be. I'm excited. I just can't wait to get out there and play."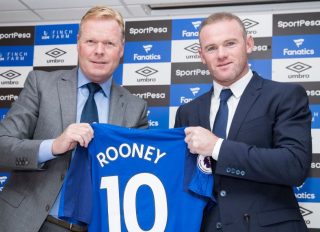 Whether or not Rooney will be handed the captains armband remains to be seen, but winning trophies for Everton is at the forefront of his mind and if he can regain his best form then this addition will look like a masterclass from Koeman.
What if he could lead Everton to their first piece of silverware in over two decades?
"It would be incredible," Rooney replied. "I was at the final in 1995 and to win a trophy as an Everton player, it would be a special moment."
Everton's fans, Rooney and Koeman are hoping they are the start of a special era for the Toffees.
With big money spent on new players, a new stadium on the way and youngsters rising to the first team, having a local lad and die-hard fan leading the charge is almost the fairytale scenario.
Their Dutch manager knows fairytale's don't come true without spending big and putting the right type of players together.
"We want to continue what we did last season," Koeman explained. "Everybody knows everyone is trying to get the best players and all the big six in the Premier League, they will try and spend money as well. But I think that it is a good signal to everybody that we are on board and we will try to give them that competition that we didn't last season. We did well last season but now we need to make the next step. To make the next step we need to get that type of player in and with the type of qualities to improve."
Rooney, Koeman and Everton will take the next step together.