The United States of America is not winning the Gold Cup.
At least that's not how things look despite Bruce Arena's much-needed call-ups of Michael Bradley, Jozy Altidore, Tim Howard, Darlington Nagbe, and Clint Dempsey.
[ MORE: Match recap | Altidore bit | Player ratings ]
Don't let the clean sheet fool you: The defense was a mess again, the finishing was off, and any other remaining team in the tournament would've dismissed the U.S. at the quarterfinals given the same chances.
Agree or disagree, read on…
Back line blues
Tim Howard bailed out Eric Lichaj for a miserable early giveaway, but the play was far from an aberration for the Yanks' defense.
Lichaj, solid in his first match of the tournament, struggled with giveaways in this one. Center backs Omar Gonzalez and Matt Hedges were caught out of position and sometimes out of the camera, with the former's missed clearance of a cross nearly allowing El Salvador back into the game in the 63rd minute.
With this roster and Costa Rica on the other side Saturday, Hedges probably needs to slide back onto the bench and Gonzalez needs to be paired with his World Cup mate Matt Besler. We'd still like to see more from Matt Miazga, but unsure a semifinal against the team that got your last coach fired is the spot for a relative rookie.
Now what does Arena do with the fullbacks? Neither Lichaj nor Morrow shone in defense, but Graham Zusi has been very poor and Jorge Villafana is yet to put forth a complete performance in this tournament. Looking back to the Martinique charade, defense is slated to send the Yanks away from the Gold Cup without a title and probably without a Final. Find a fix, Bruce.
The roster changes were needed
While it wasn't Clint Dempsey's best night, he provided a key assist and made sure that each of the five roster changes — third string goalkeeper Jesse Gonzalez is six — showed why Arena made the changes after the group stage (though who he sent home, *cough* Kelyn Rowe *cough*, remains up for debate).
Michael Bradley is simply the best option in the center of the park right now, and showed that the captain is still the man even if Dax McCarty is a fine backup. Darlington Nagbe was clean on the ball as usual, Tim Howard made an early calming stop of a horrible Lichaj giveaway, and Jozy Altidore showed that he remains the player to game plan for if you're a CONCACAF team. While only Howard and Bradley will really love their games, all five will be necessary to a Gold Cup Final run.
Adjustments haven't been great
Maybe Arena doesn't have the options he needs to show "master tactician" status, and his work is far from the biggest team problem, but the second half was a problem.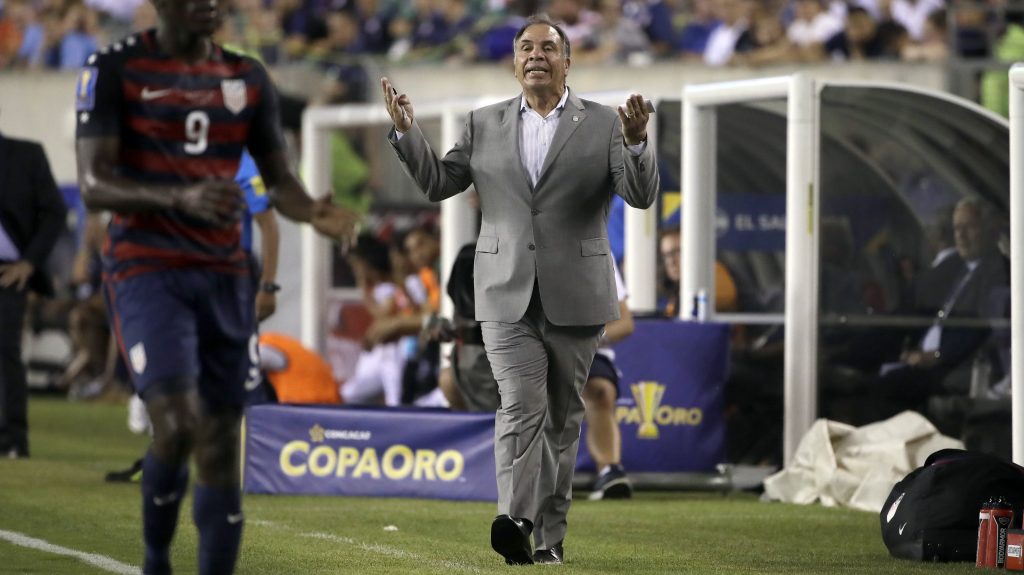 One substitution in particular was questionable: Arena took off Paul Arriola and replaced him with forward Jordan Morris. Now perhaps this was somehow due to Arriola's sneaky groin kick earlier in the match, and that's about the only way I can handle the sub (Full disclosure: I've enjoyed watching Arriola, so if you think he's been poor then call this post "Two things" and move on).
The move disrupted Nagbe's great night and the Yanks never really rebounded to threaten a third goal. In fact, they probably should've seen their lead knocked down to one at least once. The Kellyn Acosta for Gyasi Zardes sub was welcome, for sure, so it's not like Arena was a disaster. And the side hasn't looked aimless as it did under Jurgen Klinsmann, so this isn't a witch hunt. But the Americans need better.