The major selling point of Bruce Arena's hire, aside from his being the anti-Jurgen Klinsmann, was that the United States men's national team would not be out-foxed tactically (or at least not be caught without a game plan).
Thirteen games into the tenure, the jury is out on whether the American boss' second stint is on the path to World Cup success — those assumed goal posts will likely be moved depending on the group draw in Russia — but he has brought stability to the team and engineered a positive change in mentality.
[ MORE: How will USMNT line up? ] 
I have a great deal of respect for Joe Prince-Wright's view of the national team, and ProSoccerTalk's editor wrote today that U.S. Soccer would be proven right in its hiring of Arena if the Yanks won the Gold Cup with a Wednesday win over Jamaica.
But it doesn't take a devil's advocate to ask if it is quite that simple?
As much as I'm sure the removal of Klinsmann became necessary due to the morale of the USMNT and its players' opinions of the German manager, I'm far from certain we've learned much about the hiring of Arena. Frankly, I can't imagine any of the results being much worse under Peter Vermes, or Caleb Porter, or Ben Olsen.
The best win of Arena's second tenure so far was probably the semifinal defeat of Costa Rica this weekend, and the best moment was the 1-1 draw at Azteca against Mexico. There's no denying he's righted the World Cup ship —  and that's paramount — but it's hard to imagine just qualifying for Russia should give Arena some sort of status, 0-2 hole or not. Any coach needs to be judged by his tournament, and Arena knows this. He's helped author the best World Cup performance in modern U.S. men's history, and he's also presided over a train wreck (Imagine pulling that performance with that roster into the 2018 supporters' climate. I'm shuddering on behalf of social media).
Which brings us to the import of Wednesday in Santa Clara. The United States lineup is experienced in big games and superior to Jamaica, which is coming off one day less rest. Yes, Jamaica's squad features an incredible goalkeeper in Andre Blake and a half-dozen MLS players, but the rest are largely players who ply their trade in the U.S. second tier or Jamaica's top flight.
Again, against Michael Bradley, Tim Howard, Jozy Altidore, Clint Dempsey, et cetera, et cetera.
The bookmakers say a Jamaica win would pay off 8:1. Just getting to penalty kicks would pay 3:1.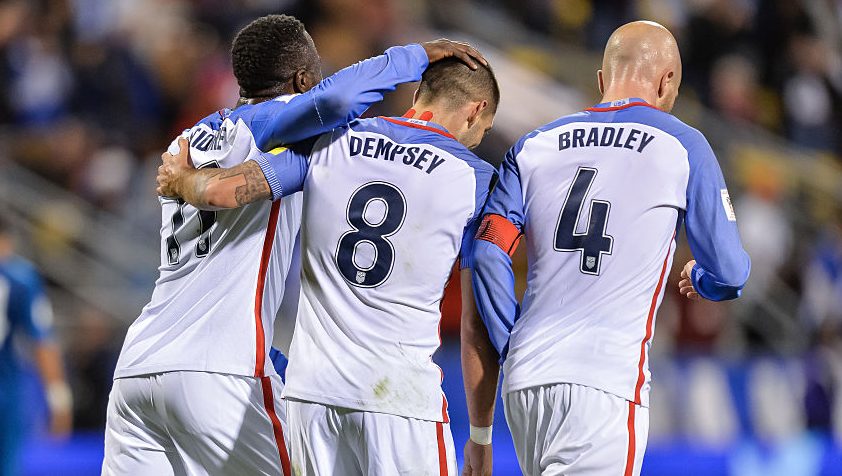 The U.S. should win the 9:30 p.m. ET start, and put one foot in the 2021 Confederations Cup in Qatar. If it doesn't, it'll be because the side couldn't sort out its wobbly back line or find its way past Blake. The latter would be more forgivable than the former, but really only in a "Tim Howard vs. Belgium but unblemished" fashion.
And it could be wrong to call Arena's tournament a failure if the Yanks lose, depending on how it happens, but this is a man who helped a much lesser U.S. side to a 1-0 home friendly win over Jamaica just a few months ago (a Jamaica side who's only missing player of consequence was Darren Mattocks). Arena trotted out Luis Robles, Graham Zusi, Steve Birnbaum, Walker Zimmerman, Jorge Villafana, Dax McCarty, Chris Pontius, Benny Feilhaber, Sebastian Lletget, Jordan Morris, and Juan Agudelo. The team he'll start on Wednesday will be miles better.
Mattocks and his Reggae Boyz are true to their country's national reputation of electrifying speed, and it's imperative that Arena sets his backs to handle that. That means true outside backs — sorry, Graham Zusi — and center backs who won't be forced to foul too often. That is, after all, the only way Jamaica found its way past Mexico via a free kick from a dangerous spot.
Mexico attempted 200 more passes, converting 150 more than Jamaica in the semifinal. It'll be on Arena's enterprising attackers to find a way past a stacked defense without opening up the midfield too much to counter attacks. Jamaica also played a borderline perfect game when it did have the ball, missing on just 16 of 143 passes and, again, scoring on a free kick.
Frankly, if the U.S. loses to Jamaica in the same way as Mexico did, it probably wouldn't be proper to lay it on Arena. It would mean another batch of American players had failed to find a way to goal. But what we're counting on is a better organized team than the baffled bunch that fell 2-1 to Jamaica under Klinsmann in the 2015 Gold Cup.
In that way, yeah, we can count on Arena being a relative success. But winning this tournament, especially given who Mexico called up, needs to be treated the same way you'd view it under any other manager: expectation. Anything less wouldn't make Arena a failure, but would certainly qualify as a failure for the U.S. program.