The United States men's national team is now one Gold Cup title behind Mexico after claiming its sixth trophy with a 2-1 win over Jamaica on Thursday in California.
[ MORE: Match recap | Altidore's free kick ]
Here's what we learned from a fun win over the Reggae Boyz.
A moment for U.S. Soccer history
It doesn't matter whether the Americans were heavy favorites or underdogs (they were heavy favorites), a title-winning match is going to make memories for an entire program.
That it was Stanford product Jordan Morris who scored the match winner in the 88th minute only makes it better.
Morris is a symbol of the many paths Americans can take to the national team, and his industrious efforts and "100 mph at all-times" motor received a deserved exclamation point.
"It's unbelievable. Every time I step on this field it's an honor to represent this country. This game was amazing. Jamaica made it really tough and I was nervous cause it was my guy who scored on the goal so I was trying to make up for it any way I could."
It wasn't Clint Dempsey, Michael Bradley, or Jozy Altidore who etched their names in U.S. Soccer history, and that's a good note for this side as it builds toward, hopefully, the 2018 World Cup in Russia. That picture above says a lot.
Bruce gets it right (mostly)
While being careful not to give the legendary U.S. boss too much credit for choosing 10 of his best 11 and trotting out the same lineup from a solid win over Costa Rica, Arena had five games to find a team that would win a final on home soil and he successfully pulled that off.
He was right to know he could navigate the group stage with an experimental bunch, even if those games showed that the American depth isn't near what many of us hoped it might be at this point in the program's development.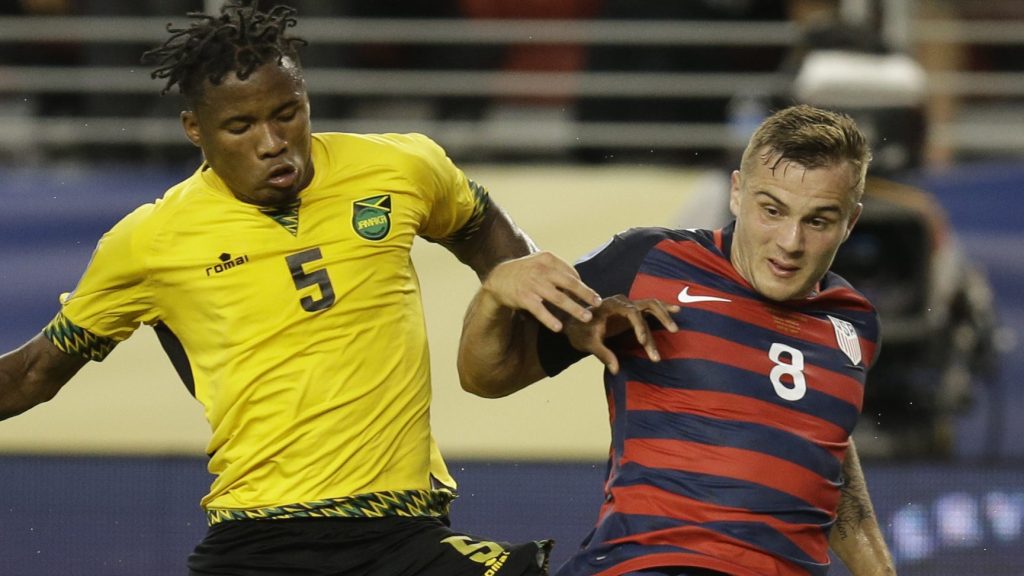 What it means for a World Cup or even the rest of CONCACAF qualifying is another thing, but the quality of Michael Bradley, Jozy Altidore, and Tim Howard is too much for all of CONCACAF but Mexico (and Costa Rica on its best day).
Lauding Arena for plugging Dempsey into the match as his first sub is like lauding a pizzeria owner for ordering mozzarella for his pies, so let's move to sub No. 2. It was a risk to plug ice-cold Gyasi Zardes into the match, and the LA Galaxy man did not look good for most of the match. But his cross on the winner got the job done, and you can't take that away from the team.
The future feels bright
Michael Bradley was given the Golden Ball as the best player in the tournament, and the fact that the Yanks clearly arrived in the tournament with their captain's return to the fold following the group stage is no coincidence.
Yet it is a pleasant and mild surprise. Bradley had not starred for the U.S. for some time, though he is clearly their best option in the middle of the park. For him to arrive and put in a calm, collected, and dominant batch of shifts is a good sign heading into some tough World Cup qualifiers.
Tim Howard proved again that there was never any need to consider anyone else as a No. 1 — even though Brad Guzan had some great moments in the group stage — while Jozy Altidore and Clint Dempsey both shined in spots.
Considering that Christian Pulisic, John Brooks, Geoff Cameron, Fabian Johnson, and Bobby Wood were (probably) just hanging out in Europe during the tournament shows that the Americans can feel good about life. That's a marked change from life under Jurgen Klinsmann, and U.S. Soccer has been proven right time and again by that move. The jury's still out on Arena, but that same jury has good vibes right now.