Next weekend's 2017-18 season opener will mark the beginning of Stoke City's 10th season in the Premier League, a stretch of top-division football bested by just seven sides in England (the "big six," plus Everton).
[ LIVE: Stream Premier League live ]
No club in the PL better knows what it means to be mid-table, always and forever, for better or for worse — average finish in nine seasons: 11th; never higher than 9th, never lower than 14th.
[ MORE: 2017-18 PL season preview hub ] 
Best-, worst-case scenario: There's a version of the universe in which Everton's big-money signings require an entire season to take to the PL, Southampton lose their best player before the season is two weeks old and are slow to take to new manger Mauricio Pellegrino's ideas. All of which would open the door for Stoke to challenge last season's seventh- and eighth place finishers for those very spots. There's also a universe in which Saido Berahino is less interested this year than last, Stoke's oft-injured defensive stars are injured again, and they finish 15th, avoiding relegation by two or three points.
Best possible XI is…
---
—– Butland —–
—– Zouma —– Cameron —– Indi —–
—- Diouf —- Imbula —- Fletcher —- Pieters —
—- Shaqiri —- Allen —-
—– Berahino —–
---
Transfers In: Kurt Zouma (loan, Chelsea), Darren Fletcher (free, West Bromwich Albion), Josh Tymon (compensation, Hull City)
Transfers Out: Marko Arnautovic ($26.3 million, West Ham United), Jonathan Walters ($4 million, Burnley), Phil Bardsley ($2.6 million, Burnley)
Last season
13th in Premier League
3rd round in EFL Cup
3rd round in FA Cup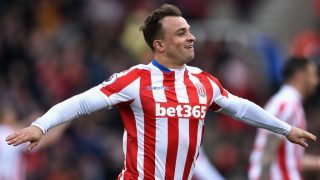 Star player: Xherdan Shaqiri — When speaking about "star players" for mid-table sides like Stoke, the first thing you should ask yourself is, "Which player will one of the big clubs impulse-buy for $30 million if he has a great season?" Last year, it was Marko Arnautovic (though, West Ham United aren't quite the "big club" that immediately comes to mind). Shaqiri is merely an 18-goal/assist season away from a $40-million move to, say, Liverpool, and with a solid midfield base behind him and a handful of capable(-ish) striking options ahead of him, 2017-18 could be that season.
Coach's corner: Here's what you're almost guaranteed to get with Mark Hughes as your manager, assuming he's been afforded a balanced squad (translation: any season outside his Queens Park Rangers stint): they're going to be extremely disciplined, organized and committed to the cause… for roughly half, maybe even two-thirds, of the season. The curse of a mid-table inertia is as follows: even when you're punching well above your weight, you're still miles off the promised land. Once you've secured your status in the league for another season, the drop-off is easy to forecast weeks in advance. You can fire the overseer — say, Tony Pulis — but you're only ever going to end up in the exact same place.
PST predicts: Adding the experience of Fletcher and the otherworldly upside of Zouma, for a grand total of $0, is fantastic business and will do wonders to improve the spine. That said, the Potters were in the bottom third of the goal-scoring charts last season, and that was before Arnautovic left (and is yet to be replaced). Anything higher than 9th would be massively overachieving; if nothing else, the goal differential should be closer to zero this season (-15 in 2016-17).