It's a well-worn literary cliche to praise a book for taking the reader "behind the scenes" of something normally cloaked in secrecy or treated like an exclusive club.
Yet what former professional soccer player Bobby Warshaw does in "When The Dream Became Reality" cuts to the very core of such usually overblown acclaim. Warshaw taps his typing fingers into his guts to push out every bit of a soccer and human journey, beautiful and ugly, that started in Pennsylvania and headed to California, Brazil, Dallas, Norway, Sweden, and Israel.
For those who've watched "Rise and Shine," the documentary of Jay DeMerit's post-graduate decision to go from the University of Illinois at Chicago to knocking on doors of professional clubs around England, consider that. Now skip the part about Premier League glory and cover the rest of the story in brutal self-analysis and uncommon truth-telling about the risings and failings of an athlete who believes deeply in his teams (often at the probable expense of his future).
[ MORE: Real Madrid 2-1 Man Utd | Mourinho reacts ]
To open up like that is a challenge around friends (or a psychiatrist). Warshaw does it for the world.
"The fact that it hasn't ruined my life yet is a plus," Warshaw told PST.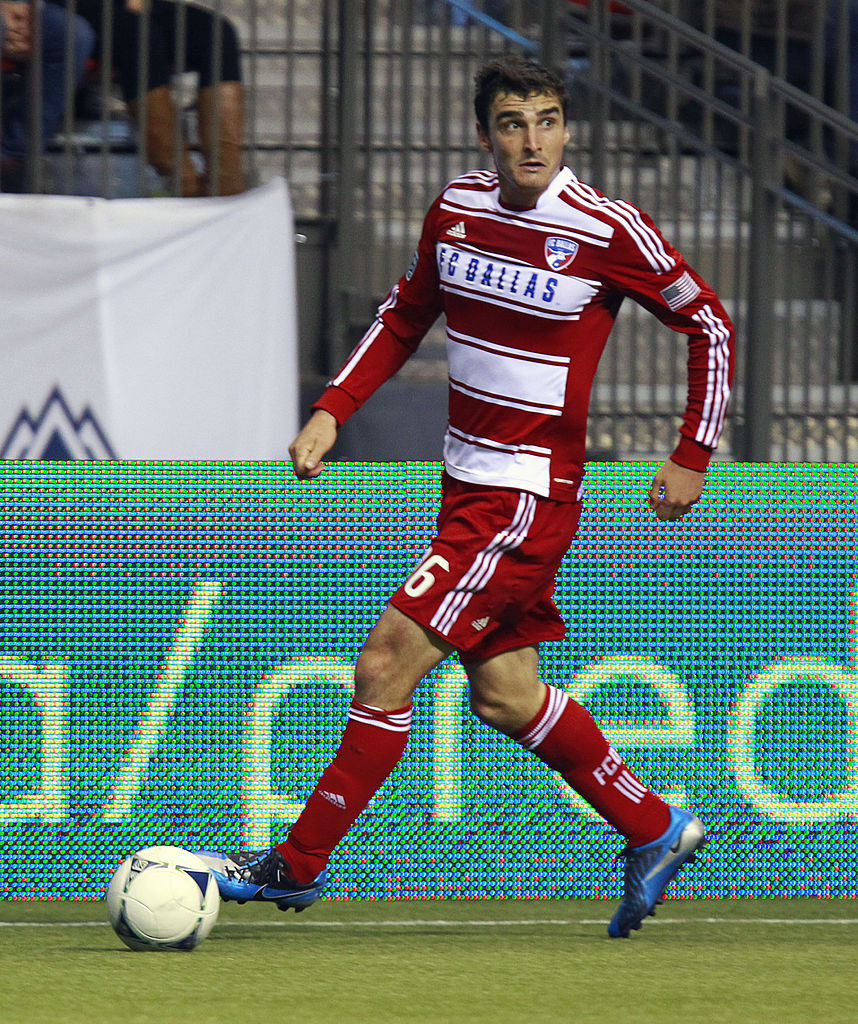 It helps that Warshaw's personality lends itself to honesty. Self-confidence gives way to self-deprecation at times, but the former U.S. U-17 midfielder's growth from Stanford to FC Dallas to Europe and back is laced with vitriol, humor, and a willingness to meet the reader's life head-on.
So for every entertaining story detailing a foul that led him to five lost teeth and the same number of root canals, or a knock-down drag-out fight with his MLS manager about loyalty and player selection, there's a bared and raw player questioning whether he's made the right move. And he goes after his own experience with a savage comb, telling stories about his competitive streak many would swerve to avoid like jagged glass in the middle of the road.
"The theme of the book is we all have taken risks in your life," Warshaw said. "I've done it enough that I'm conditioned that if I'm not scared out of my mind, I'm not doing something right."
And that's not to say writing with such candor was easy. Warshaw admits that at least one of his editors, MLSSoccer.com's Matt Doyle, was sent a draft not for word work but to make sure the book wouldn't shove his career into a wood chipper.
"I was so scared the whole time," he admits. "Sick to my stomach on a daily basis, minor panic attacks. I'm not a religious dude, I'm not very faithful, but I had this one general idea that I feel these things and I'm scared to death to put them out there but everyone else feels them too. Trust that these are universal feelings. We all feel them and we never talk about them enough and it might do some good for the world. I had that little seed of faith in the back of my mind."
[ MORE: Is it Spurs at Wembley, or against Wembley? ]
Personally, from a reader's standpoint, I can tell you I went from, "I'd like to read what about that guy on Twitter's career" to "Wow, I'm glad I read about that guy on Twitter's career and I tore through the thing." It's not necessarily just for the love of soccer, but for the connections on a personal level. In some ways "When The Dream Became Reality" feels like a study in the sociology of soccer, and the way American personalities function within it. Moreover, it carries lessons for those who are passionate in whatever chosen field.
Given his willingness to speak his mind, Warshaw will likely spend a good long time in the American soccer world should he want to continue in media, coaching, or something else. For a better taste of his personality, here are his thoughts as PST quizzed him on his journey and the state of American soccer.
PST: You've starred in college, been a first round MLS SuperDraft pick on a roster, barnstormed onto the consciousness of Sweden's top clubs as a surprise forward, dealt with promotion and relegation battles, and then came back to American soccer's second-tier. What are the things you learned about players who "make it" versus those that don't?
Bobby Warshaw: "I'll give you three different things. One: some people are just really freaking good. We like to think it takes some passion or some drive but some people don't work hard and just…. Fabian Castillo, right? Not a great teammate, but he was just really freaking good at soccer, and really fast. Some people are just born with something.
"Two: there are some guys who just by sheer force, and I was one of them, they work hard enough to get good. It's repetitions. If you pass me a ball 10,000 times, I'm going to get decent enough at trapping it. They just stay after it every single day. They had no business being a professional except they just worked harder.
"The third part is having a coach who believed in you. You can make a World Best XI of guys who never saw the light of day just because they had a single coach. I think about this with Pulisic a lot. We think he's great but there's no chance that Christian Pulisic is the best 18-year-old to ever come out of this country. He's just the only one who had a coach who played him at 18."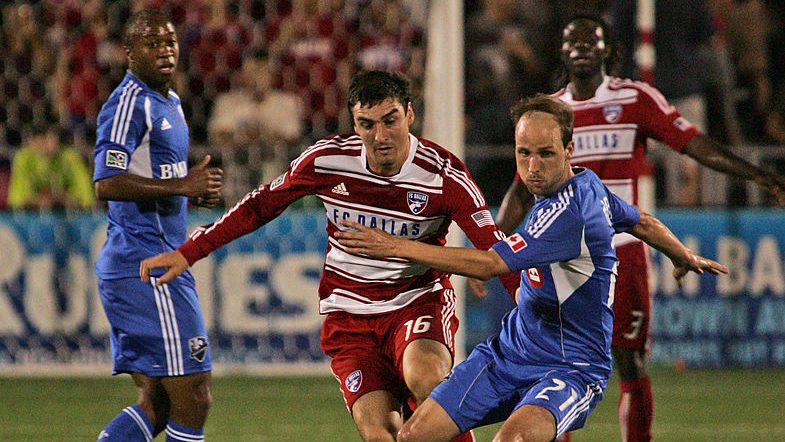 PST: So as someone who played at one of the best schools in the country, repped the U-17 national team out of Mechanicsburg, Pennsylvania, and raved about the facilities at FC Dallas, what's your take on player development here?
BW: "The first moral decision is what is our end game? Do we care about winning a World Cup that much that we're willing to rob 2,000 kids a year of their high school life? Wouldn't we all want to go back and live high school and college? And here we are taking these kids out of school and sticking them in random academies. For what? What's our end game? To win a World Cup, which we're probably not going to do anyway? We have a really important moral decision. Do we really want to get rid of college soccer? We're making a huge sacrifice for something I'm not sure we will get or is worth it anyway.
"The flip side is probably the best thing that every happened to American soccer and that's the mechanization of youth development. One thing America does really well is build machine-like enterprises. The second that Brazilians and Italians got off the streets and started playing in Academies means all of a sudden this is an industry we can compete in. Maybe everyone else having the same urge is what really helps us."
PST: We love college soccer, but also because of the potential for atmosphere that might not come from playing a U-18 game for an academy. Do you really think the future for NCAA soccer is in jeopardy?
BW: "I'm gonna steal a line from Stanford coach Jeremy Gunn. College soccer should be the best reserve league in the world. Who's got more money to put into something than Stanford, Maryland, Indiana, and UCLA? Why don't we harness that and make it a real league and make it like USL, where it's an academy for everyone 18-22?"
PST: You comment in the book about waking your sixth grade teammates up from a sleepover to have an early morning training session, so work ethic clearly wasn't an issue for you. But what was it like when you went from Stanford student to "This is my profession" at FC Dallas?
BW: "I'm not sure I ever saw it as a profession. I knew logically that it was a profession and things happen that say it was clearly a business. For me personally it was never a profession which I think is why I always struggled so much with it. The people that accepted it was a business, I think fared much better and survived much longer. The second you get out of thinking this is living the dream, or having some wonderful passion, is what helps people survive a lot longer.
"I don't think I made that many logical decisions about it. I'm probably going to dislike myself one way or the other, and I know I'll dislike myself more the other way. I wish I could say I had some super logical way I thought about it, but you do what you think is right. It didn't always work out that way, but I made the decision and went for it."
PST: At what point did you think about those decisions making for a good book?
BW: "You read about my ex-girlfriend in the book. We're sitting in DC last February at Politics and Prose, and I'm grabbing a book and Sarah's there and I'm like, 'This would be so cool to have a book.' Then I came back from Israel and my dad made the comment, 'Why don't you take five months and travel the world and make this book?' Fast forward to April, I'm in Harrisburg, practice is over at 1 o'clock, I opened my notebook in a coffee shop and I just started doing it. All of the sudden I had 10 chapters. Those were the 1, 2, 3 steps that really got the ball rolling."
"I didn't mean to write a real book. It was a collection of essays, the Israel story, the Brazil story, these funny things, and then the relationship chapter, the sexuality chapter, and a chapter on racism that got cut. Just basically these things I don't feel professional players talk about honestly enough.
"Like I'm leaving professional soccer now and this is everything I have in my soul, here you go.
And then all of the sudden George Quraishi at Howler said I think we can do more, write a real story of journey and exploration and human growth and character. I said I didn't think I have that in me but I'll try. It grew, which was really scary because at first this book wasn't me."
PST: And putting it out yourself?
BW: "I didn't think it was that big a deal. I was tired of working with managers, agents, and bosses. What can they do that I can't? It would be nice to be in a Barnes and Noble but I didn't write it to make money. I wrote it to tell a story. I always thought it would be cool to have a small business. Hopefully you got the theme from the book is that I'm a guy who says just go for it."
Learn more about his book here.