LONDON — There is a real danger that the book "That's so Spursy!" will have to add an entire chapter for their 'home games' played at Wembley Stadium over the next season.
[ MORE: Three things we learned ]
Fans of every club get butterflies in their stomach when they first spot the famous arch of Wembley either from the train, the road or on foot.
Supporters of every club except Tottenham, that is.
Spurs lost 2-1 to Chelsea at Wembley on Sunday as the first-ever Premier League game at their temporary home followed the narrative to a tee. Let's get this straight from the offset: Tottenham didn't deserve to lose this game. At all. They did, because, well, Wembley. Is it as simple as that?
Everyone connected with Tottenham will be saying so, but there are so many factors to consider, and to try and alter.
After dominating the game Spurs were hit by two sucker punches courtesy of Marcos Alonso's first half free kick and then a late Alonso goal following a mistake from Victor Wanyama.
Tottenham have now lost more games at home this season than they did all of last season and they've won just two of their 11 games at the new Wembley and one of their last five 'home games' there.
Mauricio Pochettino, who continues to be positive above moving to Wembley, insisted that Spurs' new home wasn't to blame for his first London derby defeat as Spurs boss.
"It doesn't affect me. I understand that we need to talk and everyone today I think the Wembley effect is not the reason because we lost the game," Pochettino said. "The team played really well and it is not fair to blame Wembley because Wembley is, for me, one of the best places in the world to play football."
"Today was clear today that if you love football and watch football and you want to watch again the game, you will see Wembley isn't the problem and the size of the pitch. I think we played better, we created chances to score but that is football," Pochettino continued.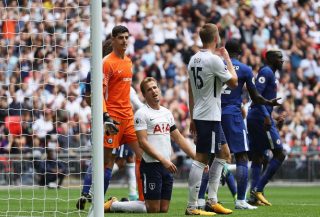 The main qualm from those connected with Tottenham is the size of the Wembley pitch. Here is a fact: it is only five yards longer and two yards wider than their White Hart Lane pitch where they failed to lose a game last season with the size of the pitch supposedly a key factor in allowing them to high-press teams into submission.
Spurs have a system which only works if they push their defensive line high. Jan Vertonghen revealed in preseason that he sees Harry Kane, their highest line of attack, as the reference point for when they need to push higher. The gap between Spurs' defense and Kane was much more than it was last season, but maybe that's because they were too scared about leaving space in-behind for Chelsea to hit them on the counter and that would leave the ultimate sweeper-keeper, Hugo Lloris, with too much ground to cover. Five yards it a lot of space to make up time and time again at the top.
Those were the tactical issues, but some of the aesthetics were also challenging.
With confetti still on the floor from Arsenal's FA Community Shield win against Chelsea two weeks ago, plus beating drums being broadcast over the loudspeakers to generate more noise which prompted chants of "what the f***** hell is that!" from the Chelsea fans, this will take some getting used to.
There are many positives to Spurs playing at Wembley this season.
My ears are still ringing from the roar when Michy Batshuayi scored an own goal late on to make it 1-1. Adults can pay as little as $25 for a ticket, with children paying just $10. It was notable that more families were present at the home of soccer on Sunday with Spurs suddenly able to accommodate double the amount of home fans they could at White Hart Lane. From that point of view it is fantastic.
Every game will be an event but on the flip-side every game will feel like a cup final for visiting sides. Burnley next week, Swansea in mid-September and Bournemouth in October will all relish the chance to play at Wembley in Spurs' next three home games.
Chelsea boss Antonio Conte told Pro Soccer Talk after the game that Chelsea found extra motivation by playing at Wembley.
"Honestly, I think to see this atmosphere was great. This stadium, Wembley, it is a fantastic stadium, to see this, it is amazing. It is amazing also for the opponent," Conte admitted, as he smiled. "In this atmosphere, so strong for us, our fans tried to push the same despite 70,000 Totttenham supporters. Honestly I think to see this atmosphere is also great for the opponent."
Tottenham's players will not only have to deal with that but the bigger pitch, the increased pressure from larger crowds and also trying to settle into a temporary home. Even after Tottenham get through this season on the road, they will move into the new stadium at White Hart Lane and have to do this all over again in 2018-19.
The mental side of this is huge, hence why putting your finger on how to solve this jinx is so complex.
Just as West Ham proved last season, it's tough to settle into new, larger surroundings. Mentally it plays tricks with players, the staff and supporters. Everyone. Just like Arsenal struggling in UCL games many years ago before them at Wembley, the truth is that not much can be done to lift this hoodoo.
It has been a constant dull noise scrambling away in the back of the mind of Spurs' players for well over a year. Pochettino didn't want to blame the Wembley pitch but he did point at Tottenham's unlucky streak continuing.
"I think we were a little bit unlucky, if you don't have sometimes this bit of luck, it is difficult to win," Pochettino explained. "I am only disappointed, I am not upset."
Tottenham's players will park their cars in different spots, sit in different places in the locker room and may even wear new boots for their next home game at Wembley against Burnley next Saturday. Maybe they can train on the Wembley pitch more, sleep in the executive boxes at night and have lunch in the glitzy suites to become more familiar with their new surroundings.
In truth, it will take time. Nothing more, nothing less.
They must simply do anything to break this hoodoo before the UEFA Champions League group stage rolls around next month as they cannot afford any more home defeats in the PL to harm their title hopes any further.
Right now this is just a jinx, but soon the negative noise about Wembley will drown out the optimism of over 70,000 Tottenham supporters.