Wayne Rooney is England's all-time leading goalscorer with 53 goals and he played for the Three Lions 119 times, more than any other outfield player in history.
[ MORE: Rooney retires from England ]
Rooney's legacy will live on for decades but when the 31-year-old announced his international retirement on Wednesday, one sentence in his statement will likely stick in your mind.
"One of my very few regrets is not to have been part of a successful England tournament side," Rooney said.
After 14 years of the hopes and dreams of every English fan being placed on his shoulders at major tournaments as the attacking leader of the so-called "golden generation" perhaps constant failure at the main events are the biggest reason why Rooney has decided to bow out earlier than many expected.
[ VIDEO: Rooney's top five England goals ]
Rooney hadn't played for England since November 2016 against Scotland in a 2018 World Cup qualifier, so this wasn't too much of a surprise, especially after Gareth Southgate left Rooney out of his last two England squads. There is no doubt that his powers have been waning but it appeared Rooney was set for a recall for England's final batch of qualifiers in the next few months and the captain of the Three Lions would lead the team to Russia next summer.
Yet with less than 10 months until the 2018 World Cup, the tournament Rooney previously stated would be his last for England, why did he now feel the need to step down?
With his fine form for Everton to start this season following 12 months on the fringes at Manchester United (where he became their all-time leading goalscorer last season too) it appeared Rooney was fitter and sharper than he has been for the past four or five years. Fitness does not appear to be the issue.
Cristiano Ronaldo is a year old than Rooney. Lionel Messi is one year younger than Rooney. Like Ronaldo and Messi he has won everything he can in the domestic game, and still that is not enough. All three have the weight of their respective nations on their shoulders but now only Ronaldo and Messi are continuing to lead their nations. Yet in Messi's case, he too walked away from the national team after they lost to Chile in the 2016 Copa America Centenario, only to be persuaded to return soon after.
Like Rooney, Messi has yet to win a major title with his nation, but Argentina have certainly come much closer (four defeats in major finals, two on penalty kicks and one in extra time during his career with La Albiceleste) than England and Rooney every came. It appears that Rooney will not make a dramatic return for England a la Messi, but never say never.
Of course, one player cannot make a team but you can argue that the England teams Rooney was the focal point of were the greatest to never reach the semifinal of a major tournament, let alone win the damn thing.
Scoring just once in 11 World Cup games for England over three tournaments, Rooney's finest moments in tournament play came in his first major competition: EURO 2004. In Portugal a young, bullish, teenage Rooney scored twice against Croatia and led England to the quarterfinals before he broke a dreaded metatarsal and England, as they would in the next two tournaments, lost on penalty kicks to Portugal in the quarters.
After that flurry of four goals and an assist in his first four tournament games, Rooney would go on to score just three goals from 47 shots in his next 17 games in major competitions.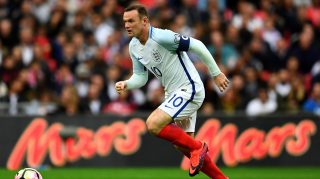 More misery in major tournaments arrived as he snapped in the 2006 World Cup quarters, being sent off for a stamp on Ricardo Carvalho, then responded to England fans booing the team in South Africa in 2010 by ranting into TV cameras about their criticism. Rooney was banned for the opening two games of EURO 2012 and returned only for England to exit in the quarterfinals, again, this time to Italy. He finally scored at a World Cup in 2014 but England crashed out at the group stage and he then captained England at EURO 2016 but they bowed out in embarrassing fashion to Iceland in the Round of 16.
That, somewhat poetically, was to be his last appearance for England at a major tournament.
There's no doubting that Rooney was the most talented striker England ever possessed with his ability to score sublime goals and create chances for his teammates. Yet, the greatest players on the planet are always judged by what they won on their international stage, mostly by dragging the team around them to new levels.
Pele won three World Cups with Brazil. Diego Maradona won one with Argentina. Ronaldo has won a European Championship with Portugal. Rooney won nothing.
That remains the only regret in a storybook international career which saw a lad from Liverpool put on a pedestal at the age of 17 and handed the keys to a nations success.
It didn't work out how Rooney, and everyone else, had hoped when it came to ending England's now 51-year wait for a major trophy, but he delivered goals, guile and commitment which the likes of Harry Kane, Dele Alli and Marcus Rashford will try to replicate in the next few decades.
Rooney's international career will always be celebrated and his achievements are unlikely to be surpassed, but there were always be a tinge of regret he could never lead the Three Lions to international glory.