A win over Costa Rica in Friday's CONCACAF World Cup qualifier moves the United States men's national team into second place on the Hex table, a far cry from the basement positioning when Jurgen Klinsmann still led the side.
The USMNT has found its footing since Klinsmann was fired, with Bruce Arena overseeing home wins against Honduras and Panama and road draws with Mexico and Panama.
[ REPORT: Chelsea in for Rafinha ]
Now the Yanks have a chance to avenge one of the most egregious USMNT losses in recent memory, the 4-0 smashing at the Estadio Nacional de Costa Rica last November.
How can they do that?
Mind the left
Take away Costa Rica's 4-0 thrashing of the USMNT and Los Ticos are averaging a goal scored per game in qualifying and just a plus-1 goal differential. The lone loss came at Mexico, when El Tri jumped out to an 8th minute lead and carried a 2-0 advantage to the break.
Mexico used a 4-3-3 to take the match to visiting CRC, which used a 5-2-2-1. That's a bit less packed in than the 5-4-1 that buried the Yanks in November, but gives you an idea of what to expect.
The stats say Costa Rica attacked the United States' left side through Randall Azofeifa more often than not, going after Christian Pulisic, Fabian Johnson, and Matt Besler. It's the same tactic Los Ticos tried against Mexico, and were shutout.
Why? Suffice it to say Hector Moreno, Miguel Layun, and Hector Herrera are a trickier trio to handle than a teenager — even a sublime one — playing his first Hex road match, a left midfielder, and a decent MLS center back who had been in-and-out of the USMNT side since the 2014 World Cup.
What's this mean for Friday? Likely a lot of pressure for DaMarcus Beasley or Jorge Villafana, with Johnson sitting at left mid and either Omar Gonzalez, Tim Ream, or Besler up for a very stiff and focused test.
Suck up the space, don't sleep on the counter
One thing that's seemingly found the U.S. at sixes and sevens more and more often than not is counter attacking play. Kevin Parsemain blew by Matt Hedges in the buildup to one of Martinique's Gold Cup goals, and Kellyn Acosta and Co. had a nightmare versus Javier Hernandez and Carlos Vela in the Mexico equalizer at Azteca.
A lot of this should be settled by center back Geoff Cameron and defensive mid Bradley, but keep an eye on who Arena pairs with each player. And keep an eye on how much room the Yanks, especially presumed right back Graham Zusi, give Bryan Ruiz and the other Costa Ricans to attempt shots from distance. We don't expect the Americans to give up goals with the run of play, even given Marco Urena's instinctive runs and blazing speed, unless they allow the cannons to fire…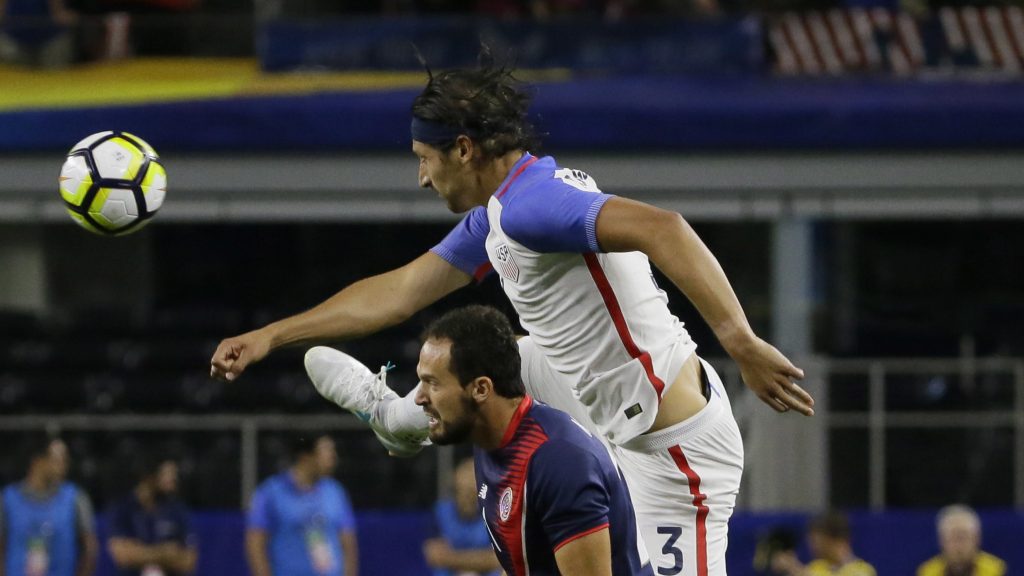 Work on set piece defending, Mr. Arena
Even amongst those who didn't want to see Bruce Arena take over as USMNT coach, there was little doubt the LA Galaxy man would stop the Yanks from their sad habit of hapless set piece defending.
He hasn't… yet.
Je-Vaughn Watson for Jamaica in the Gold Cup Final (corner kick) wasn't against the Yanks' top unit and Asamoah Gyan's free kick in a June friendly was borderline unstoppable and against second-choice backstop Brad Guzan.
But it was Fabian Johnson who was lost on Jose Manuel Velazquez's corner kick goal for Venezuela. Gabriel Gomez bested Villafana and Tim Howard in the WCQ at Panama off a long throw-in.
That's eight total goals conceded against Arena's USMNT, four off set pieces, and that's not counting several errors that didn't come back to haunt the Yanks. Sort it out, Bruce.
Don't overthink it
The United States should win the game. It's a fact backed by essentially every visit from Costa Rica in a meaningful match for this generation of national team players.
2017 Gold Cup — USMNT 2-0
2016 Copa America — USMNT 4-0
2013 Gold Cup — USMNT 1-0
2014 World Cup qualifying  — USMNT 1-0
2010 World Cup qualifying — 2-2 draw
That's not to say Costa Rica isn't a good team, and Los Ticos won Group D over Uruguay, Italy, and England to become one of the darlings of the 2014 World Cup.
But if Arena, Tim Howard, Clint Dempsey, and Michael Bradley prepare the side for this match the way they likely should, one game at a time against an inferior visitor, it's a straightforward win and a foothold in Russia.
With three matches to go, the Yanks would have 11 points. Trips to Honduras (next week) and Trinidad and Tobago remain, as well as an October visit from Panama. With Mexico hosting Panama on Friday and Honduras off to T&T, the table would look like this with three to play should the U.S. handle Costa Rica:
Mexico — Low: 14 points, High: 17 points
USMNT — 11 points
Costa Rica — 11 points
Panama — Low: 7 points, High: 10 points
Honduras — Low: 5 points, High: 8 points
T&T — Low: 3 points, High: 6 points
That means the likely 4th, 5th, and 6th place teams would remain on the U.S. docket. Book your tickets to Russia.