Bruce Arena is out, and the United States men's national team could look very different the next time a ball is kicked by the men in red, white, and blue.
Tab Ramos is expected to take over on an interim basis, or at least be the prime candidate, before the Yanks play November friendlies in Europe next month (President Sunil Gulati said one is confirmed, and the second should be overseas).
[ VIDEO: Jermaine Jones' fiery USMNT diatribe ]
Those will be the first of many friendlies, as the U.S. is not scheduled to play serious competitions until the Copa America and Gold Cup in the Summer of 2019. That's what happens when you miss a World Cup, something that American soccer hasn't experienced since the mid-1980s.
The U.S. could assemble a summer tournament this summer, but the twin tourneys in 2019 mean it has plenty of time to experiment seriously in search of a huge depth pool needed for a wild couple months.
That Gold Cup will be an important ask of the team's depth, too, and it will be interesting to see how a new manager prioritizes his roster considering a title is needed to clinch a place in the 2021 Confederations Cup and avoid another CONCACAF Cup playoff.
Considering the wealth of promising domestic and overseas U-20 prospects and the fact that the United States has used more than 75 players in recent history, just about anything is possible for Ramos (or whoever takes over).
November's call-ups are especially tricky. For one thing, they are in Europe and could be against very good competition as sides angle for form before the World Cup. Expect it to be heavily-based in overseas players and a sprinkling of MLS players who have been eliminated from the postseason.
The second legs of the MLS Conference semifinals will be held Nov. 5, one day before the international break. While we suppose Toronto FC leaders Michael Bradley or Jozy Altidore could set some sort of standard by demanding to be part of the phoenix rising from these disastrous Hex ashes, but it's almost certain the following USMNT mainstays will have played in those Nov. 5 matches and will not be heading to Europe: Bradley, Altidore, Matt Besler, and Graham Zusi. Based on current seeding, the Americans will also be without Clint Dempsey, Dax McCarty, and Darlington Nagbe.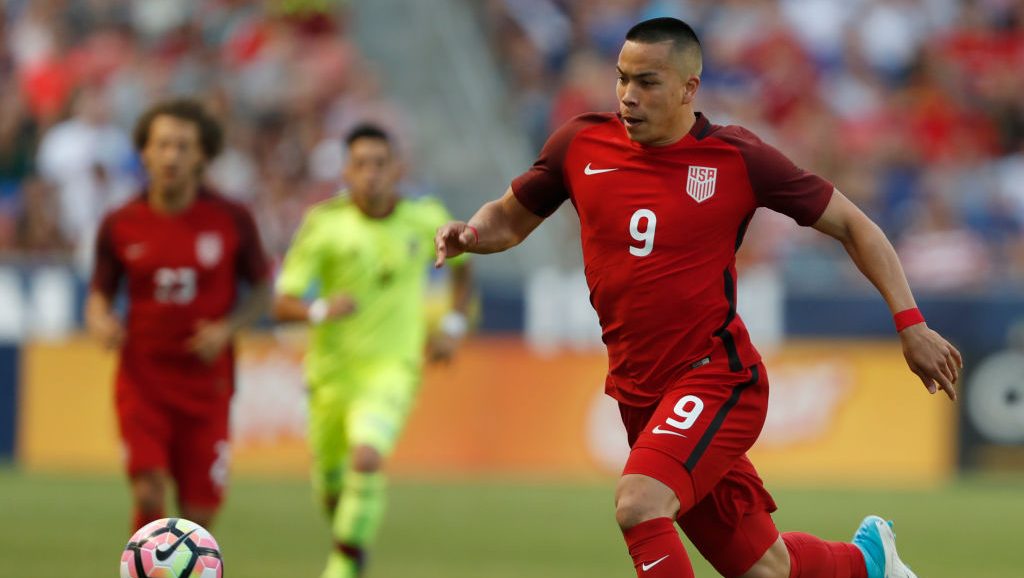 It seems likely guys like Christian Pulisic and Geoff Cameron will get a break, though there could also be "farewells" for some of the old guard (this seems more of a January thing given the MLS Playoffs).
We imagine guys like Alejandro Bedoya, Tim Ream, and Bobby Wood are going to be called in to help show guys the ropes
Hopefully, young Schalke star Weston McKennie is back from his thigh injury and fit for 90. Might U-17 and U-20 World Cup star Josh Sargent get a chance to dip his toes into an international break?
We'll let you build you lineups from this corps, also expecting some surprises, and we'll probably wind up going down a rabbit hole to build some of our own.
Who are we missing? Hit us up with your names, thoughts, and XIs in the comment section.
---
MLS-based, will miss playoffs, called up in October: Tim Howard, Alejandro Bedoya, Paul Arriola, Gyasi Zardes.
MLS-based, will miss playoffs, called up in last year: Bill Hamid, Joe Bendik, Brian Rowe, Steve Birnbaum, Jonathan Spector, Taylor Kemp, Keegan Roseberry, Chris Pontius, Kelyn Rowe, Jermaine Jones, Juan Agudelo, Dom Dwyer, CJ Sapong, Alan Gordon.
Europe- or Mexico-based, called up in October: Bobby Wood, DeAndre Yedlin, Omar Gonzalez, Tim Ream, Jorge Villafana, Geoff Cameron, Christian Pulisic, Michael Orozco.
Europe- or Mexico-based, called up in last year: Ethan Horvath, William Yarbrough, Eric Lichaj, Matt Miazga, John Brooks (injured), Timothy Chandler, Fabian Johnson, Joe Corona, Kenny Saief (injured), Lynden Gooch, Julian Green, Caleb Stanko, Aron Johannsson.
MLS-based, will miss playoffs, not called up in last year: Christian Ramirez, Miguel Ibarra, Lee Nguyen, Ethan Finlay, Tommy Redding, Patrick Mullins, Russell Canouse, Derrick Jones, Andrew Farrell, Kyle Fisher, Chris Tierney.
Europe- or Mexico-based, not called up in last year: Danny Williams, Terrence Boyd, Mix Diskerud, Emerson Hyndman, Perry Kitchen, Alfredo Morales, Antonee Robinson.
Top U.S. youth prospects: Weston McKennie, Cameron Carter-Vickers, Josh Sargent, Jonathan Gonzalez, Haji Wright.
Top U.S. youth prospects, could have MLS playoffs:  Justen Glad, Erik Palmer-Brown, Tyler Adams, Brooks Lennon, Jonathan Lewis, Jesse Gonzalez.
---
Some far-fetched potential lineups (Remember – Anything is possible):
Serious Future XI
Horvath
 Carter-Vickers – Cameron – Miazga
Yedlin – Williams – McKennie – Pulisic
Arriola – Wood – Gooch
All-Europe XI
Horvath
Yedlin – Carter-Vickers – Miazga – Villafana
Chandler – Williams – McKennie – Pulisic
Wood – Johannsson
(Mostly) Farewell Tour XI
Howard
 Lichaj – Cameron – Ream – Beasley
Arriola – Williams – Bedoya – Johnson
Wondolowski – Wood
Few to no caps XI
Horvath
Farrell – Miazga – Carter-Vickers – Tierney
Rowe – Gonzalez – Morales – McKennie – Gooch
Ramirez