In the United States, U.S. Men's National Team star Christian Pulisic continues to make waves overseas after forgoing college and the opportunity to play in Major League Soccer.
While his case is a bit different, one of Atlanta United's young stars has taken a path less traveled, but is finding similar success in his first season in MLS.
Julian Gressel was drafted in the first round of the 2017 MLS SuperDraft, after boasting a strong college soccer career with Providence. The 23-year-old finished second all-time in school history in goals, while making a strong name for himself on the American soccer scene prior to being drafted in January.
[ MORE: Landon Donovan considering U.S. Soccer presidency run ]
Pro Soccer Talk had the chance to catch up with Gressel as the Atlanta rookie and his side prepare for their final match of the regular season before the MLS Cup Playoffs.
"It definitely helped because you get competitive games in and obviously also get national recognition from within the college system from playing in a big conference and going to a good school like Providence," Gressel said in regards to playing in the Big East — one of the traditional power soccer conferences. "We made it really far in the NCAA tournament as well so it wasn't just the Big East. The conference usually has three, four, sometimes five really good teams that make it to NCAAs, so it really helped me develop as a player."
Although it's become a common path for players not just in Germany, but throughout Europe and other prominent soccer regions, to pursue a professional career without much schooling beyond high school, Gressel opted to better himself both on and off the pitch.
"It was mostly school that was just a way for me to have a chance to do something after soccer," Gressel said. "In Germany, I probably would've had the chance to play in the third or fourth division. Possibly 2.Bundesliga, but I only had a high school degree and I didn't want to leave it at that.
The first-year MLSer finished with a degree in business management at Providence.
Gressel plied his trade with several smaller German sides prior to his arrival in the U.S., including FC Eintracht Bamberg of the Landesliga Bayern-Nordwest in Germany's sixth-flight.
Like many other players that weren't accustomed to following MLS across the pond, Gressel wasn't certain what the league would bring for him, however, he didn't buy into any misconceptions about it.
"I honestly didn't follow MLS before coming here," Gressel said . "As I came here my roommates and I started watching games basically every weekend and I also got to go to Gillette Stadium as a freshman to get my first live game with the Revolution.

"That experience gave me a bigger look at the league and then I figured out more about MLS as time has gone on and I've spent more time in the United States."

"I always knew it was a difficult league and there were too many misconceptions overseas that the speed of play is slower in MLS and other things like that. I wanted to experience it [MLS] myself first before making an assessment."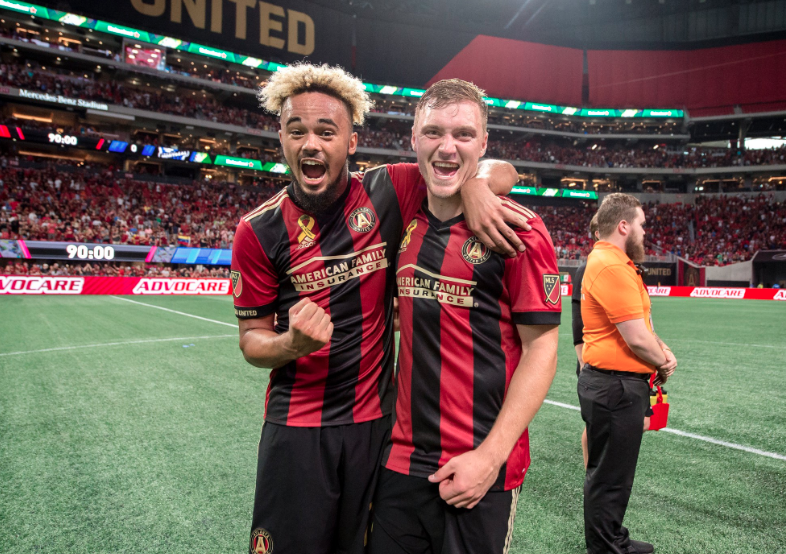 With one match remaining in the regular season, Gressel has tallied an impressive five goal and nine assists, while starting 23 matches for Atlanta.
Gressel will surely be in the running for Rookie of the Year, along with Minnesota forward Abu Danladi, Jack Elliott of the Philadelphia Union and others. However, it has been Gressel's ability to put together a complete season that really separates him from the pack.
The first-year attacking player has shown his technical ability throughout his rookie campaign (as seen in the video below), but Gressel believes that while he does exhibit a fair amount of composure, that it also helps playing alongside budding stars like Miguel Almiron and Atlanta's top goalscorer, Josef Martinez
"It helps having the guys on my team that I get to play around as well," Gressel continued. "Miguel [Almiron] and Josef [Martinez] are some of the guys that help elevate my game on a weekly basis. And you never want to be the one that lets your team down so that's always another motivational factor. You don't want to play that bad pass that breaks down an attack."
In addition to being the beneficiary of playing with good teammates, Gressel has had the opportunity in his first season to play under one Gerardo "Tata" Martino — widely regarded as one of the top-tier managers around the world.
[ MORE: D.C. United's Bill Hamid exploring European options ]
Most are aware of his time at Barcelona, but Martino's expertise goes beyond that — including managing the Paraguayan and Argentine national teams.
To Gressel, it's no surprise that Martino's name has gained some traction as a potential boss for the USMNT following Bruce Arena's decision to leave the Americans last week.
"I think he's a great manager," Gressel told PST. "He has great ideas tactically. He's definitely the best I've ever seen or had the opportunity to work around. I haven't been around so long, but tactically he has ideas that I never would've imagined and then they end up working. He's one of the greatest coaches out there.
"It's no secret that he's had success with other national teams beyond just performing well at the club level. To have this rumor out there it's pretty clear that people view him highly. I'm not sure how well he'd work because of the language barrier, which doesn't help.
"It's up to U.S. Soccer at the end of the day, but I hope he stays with me and the guys here for longer because I learn so much every single day."
Follow @MattReedFutbol