(Dusan Tadic talking to Joe Prince-Wright)
When I was growing up as a kid in Serbia, I had always dreamed of this moment. Last week we did it. We qualified for the World Cup. When you play for your country, everyone remembers you if you play in a World Cup. It is that simple.
I remember the 1998 World Cup when we were Yugoslavia, I had the sticker albums of all the players and I still remember that squad and who was playing.
[ LIVE: Watch Saints v West Brom, Saturday ]
It is very nice to be there, at the World Cup, and we need to try and go step by step and see how far we can get. A lot of people are saying we can provide some surprises and not much is expected of us, but we don't see it like that.
With Serbia, there will always be pressure.
We are the kind of players and people who do not know how to live without pressure. Even if we play against Brazil or some of the other bigger countries, we think we are better than them. That is the way we are. People expect us to beat the big teams and we have plenty of pressure from within.
It has always been that way, lots of pressure, but at the start it was all much simpler…
---
HOW IT ALL BEGAN
There were a lot of kids, everywhere, and we were always playing outside in the streets.
I think this is the best way to learn football, to play with your friends, street football, looking back, those are wonderful memories and I look back on that time in my life fondly.
My hometown, Backa Topola, was in the north of the country near the Hungarian border. It is a nice part of Serbia and I am very happy I grew up there.
Growing up, one of my best memories is getting my first pair of boots. There were Adidas and one of my fathers friends gave them to me. They were a special present and I wore them all the time. When it came to my first shirt, well, this was a little interesting. My father likes Partizan Belgrade and my uncle, well, he likes Red Star Belgrade. They are huge rivals and they would always get me a shirt from each club. Ah man, that was rough.
The shirt I held closest to my heart is one I had when I was 13. It was the shirt from the 1998 World Cup that Yugoslavia wore and had Predrag Mijatovic's name on the back. You remember that shirt, the one with the big collar?  We did really well in that tournament and I wore that shirt everywhere. I still have it somewhere at home.
Our country has gone through a lot of tough times, especially when I was growing up, but I think playing football gave myself and other kids at the time an escape from everything else that was going on. Those were tough times.
When it is like this, it is important that kids play football or another sport because you are in nicer situations and have positive vibes around you. Because if you don't play sport at times like that, I don't know what you would do.
I am very happy I grew up in Serbia. You can have tough times, good times, but you learn a lot. I am incredibly proud of where I am from.
My father, that's where my love for the game comes from. He watched every single game I played in growing up. He still does now. All of my family and friends, they would come to watch me and their support was incredible.
Every coach I've had, even if something was wrong, you still learn something from every single one of them. I am very lucky to have had so many good coaches over the years who I tried to learn from.
My idol growing up was Zinedine Zidane. I tried to learn from him. He did everything to perfection. Everything was easy for him. I loved watching him. He was a genius.
Not just the way he played but I also like his personality, the calmness he has off the pitch and the way he carries himself. After I watched him on TV I would go straight out into the street in Serbia to try and play like him.
I was lucky that I moved to a team like Vojvodina at the age of 14. They are known to have the best academy in Serbia, so there are many similarities to how things are here at Southampton with an emphasis on bringing through young talent.
Vojvodina always gave young players a chance and by the time I was 16 I was in the first team and then we went to the Europa League and it was a great time for me with wonderful coaches who pushed me to my maximum. I'm pleased that the pressure was so high when I started off there. That made me into the player I am today and helped me want to succeed and get better.
When I then moved to Holland, at the beginning I was looking around like "why is everyone so relaxed?" I was confused. After you lost a game, everyone was laughing and everything. If you did that in Serbia, that would be a big problem.
It took me time to adapt to the less intense atmosphere in Holland but I played with, and against, some great players who ended up with me here at Southampton. Graziano Pelle and Jordy Clasie from Feyenoord and then a young Virgil Van Dijk was just coming into the first team in my second year at Groningen.
When I played in the Netherlands, the league was very strong but a lot of players have left the Eredivisie and they are struggling a little with a lot of young players coming through.
But when I look back at my time in Holland with Groningen and FC Twente, this was the most important period of my life. I was at that stage when I had to grow as a player and a person. I am happy I was there. Holland has a philosophy of football which links up with how I like to play.
I learned a lot and it prepared me well for the challenge at Southampton.
---
SETTING RECORDS IN SUNNY SOUTHAMPTON
It wasn't always my aim to come to England but everyone thinks about the Premier League because it is one of the strongest leagues in the world.
You want to show yourself in the strongest league and this was the right moment.
I knew back in 2014 that Ronald Koeman really wanted me. Southampton are a nice club with great supporters and I came here with a lot of new players in that summer of 2014 and some people expected a lot from me, but that didn't bother me because as a player you have to trust in your qualities and show yourself and help your club.
After 2014 we had the two most successful years in Southampton's history. Everyone was proud of that and I was pleased to be a part of it.
I have so many great memories here at Southampton. I'm in my fourth season and I have a strong connection with the fans who sing my song and support me no matter what.
From the first moment they accepted me very well. I try my best to entertain and make them happy and to give them joy. A lot of people come to watch and support you as a player so you need to try to give them enjoyment. Ii try to entertain.
I live in a marina called Ocean Village in Southampton and it doesn't feel like you're in England. When you say to people "oh, I live in England" everyone is like "it is rainy and cold there, why are you doing that?"
But Southampton is not like that. It is not like the rest of England. Here the weather is very good (at least compared to the rest of England!) and every day I am happy for that. Trust me.
So far we've had a lot of success but when I sit back and think about all of the good times we've had since I arrived, my winning goal at Old Trafford against Manchester United back in 2015 is the best.
We hadn't beaten United away from home for 28 years and it was my first time playing at Old Trafford. I will never forget that moment. Ever.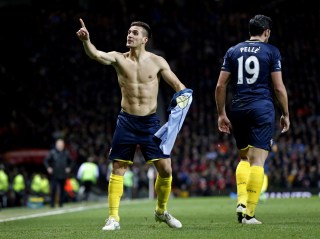 Our aim here at Southampton, and my aim, is to get us back to Europe.
It is very important for us. Just as important is another good run in the cup, just like when we went to Wembley last season and lost to Manchester United. I don't have any regrets about the League Cup final. None of us do. We did our best and I think we should have beat Manchester United. Anybody watching would have said that. We were unlucky. Sometimes, that's football.
Someone told me earlier that a year ago today we were getting ready to play against Inter Milan in the Europa League at the San Siro. Wow. Time flies. We have to get back to playing in big games like that.
It will be hard to keep improving every year because there are so many quality teams in the Premier League but that is my main focus.
Well, that and my two kids. People say it a lot, but being a father has changed me as a person and I live a different kind of life. I am very happy with my life and my two children. I enjoy every moment with them.
I know on the pitch I can seem a little on edge. I'm a fierce competitor. Off the pitch I am easy going and I relax more. A lot more. Honest.
On the pitch I'm sharp and I show my emotions a lot more. I've always been like that, wearing my heart on my sleeve. On the pitch I want to win. We all do. We give everything for our team. We are all winners and we want to win every single game.
Every training session. Every game. Even when I play cards… I have to win. It is interesting that only this makes me happy. If you want to learn one thing about me from reading this, it is that I do not like to lose. Nobody likes to lose, but especially me. It is difficult to accept.
When some of the players play table tennis or basketball, I have to be the best. I can't stand losing. I'll throw things and get upset because I just want to win. It's simple.
My teammates know that and some of the players I'm closest with, like Cedric Soares, will tell you that.
Sometimes Cedric and I go up to London on our days off and hang out and have dinner but with two young kids, I spend a lot of time with my family. I'm just looking forward to meeting Cedric in the World Cup if Serbia play Portugal. We owe him one. Portugal beat us in the qualifying for the European Championships. I want revenge and on the pitch I'd be in his ear all of the time. I wouldn't stop.
I'd enjoy that…
---
WORLD CUP DREAM COMES TRUE
After reaching the World Cup last week, our first time as a nation since 2010, Serbia is fresh in my mind.
Perhaps the thing I'm most proud of in my career is to be the reigning player of the year in Serbia.
When I look at some of the past winners, Nemanja Matic, Branislav Ivanovic, Nemanja Vidic, Dejan Stankovic and guys like Mijatovic, it makes me very happy to be in that kind of company. It proved to me how much respect people in Serbia had for me after goals and assists for the national team and also what I've achieved here at Southampton.
This award motivates me to get better and better.
And the fact that I will hopefully be heading to the 2018 World Cup with Serbia, the first major tournament of my career, it is an incredible feeling. Even now when I look back at photos from the night we sealed qualification in Belgrade against Georgia, it makes me emotional.
When I look at the photo below, I get emotional. I was just so happy. Even though I'm crying.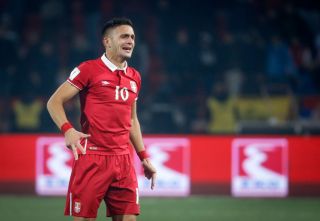 Going into that final game of qualifying, as a team we were under the biggest amount of pressure I've ever felt with the national team.
If we didn't win that game against Georgia and qualify for the World Cup, I think they would have taken our passports away and told us we could not come back any more! It was like that. Seriously.
Those games like that, where it is so incredibly important, we are not a country that goes to every tournament, so it was a huge success for all of us.
I'm already 28, so for my national team career this is massive because playing at a World Cup is something everyone remembers. To seal the qualification in Belgrade, in front of our own fans, it is something I will always remember. The celebrations that night were quite special…
It is something I will never forget but hopefully there are many memorable moments to come both with Serbia and Southampton.