Fewer fun things have been as agonizing as filling out a ballot for the 2017 Major League Soccer Best XI.
This goes beyond the travails of deciding whether you need your lineup to be one that can actually play functionally in a match, whether that be by using a standard formation or players out of position. Even long believers in that process — this post-writer fell in that group until, spoiler alert, this season — would be challenged by this season's options.
[ MORE: PST's Best XI | Award winners ]
Part of that is due to super teams — Who contributed the most? — while plenty more comes down to some absolutely bonkers performances from players on wildly disappointing teams (Ignacio Piatti and Romain Alessandrini, we're looking at you. Andre Blake, you, too).
Admittedly, my Best XI looks a lot like the one compiled by our PST staff, seven of 11, but I'll give you my decision later. Here are some of your challenges.
1) Super teams — Toronto FC was the best single season club in MLS history and, given the parity and strength of the league relative to previous seasons, it's easy to argue it isn't even close. Sebastian Giovinco is its best player but missed significant playing time. Victor Vazquez became the straw that stirred the drink. Michael Bradley and Jozy Altidore were fantastic but missed time with international commitments. Left-sided man Justin Morrow is, spoiler alert, my defender of the year.
How many can you take from that squad, and how about the shiny new toy that is Atlanta United, which had injury absences of its own but excited on so many levels. Beyond ex-River Plate defender Leandro Gonzalez Pirez, the Five Stripes boasted four star attackers in Josef Martinez, Miguel Almiron, Hector Villalba, and Yamil Asad. Consider that this was September's Best XI according to the advanced stats people at WhoScored.com: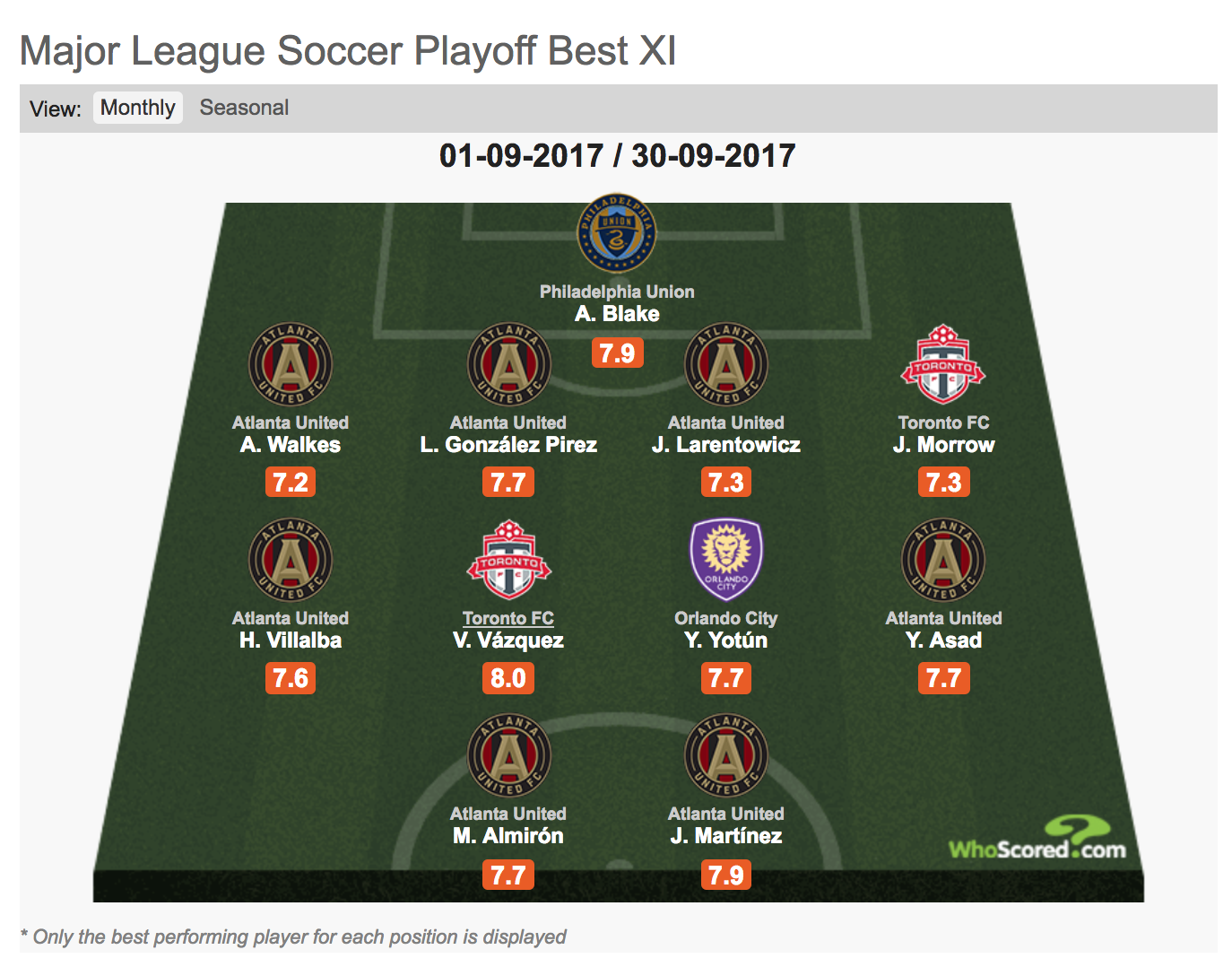 2) Midfield and attack problems: This is rarely easy given the magnification of star turns from players who score goals, but choosing even seven players this season was troubling given the remarkable amount of new boys and regular stars who got the job done this season.
In the midfield, there was the no doubt inclusion of Diego Valeri, who's 21 goals and 11 assists demanded MVP attention, and the dominant seasons of Seattle's Cristian Roldan and Montreal's Piatti. Then there's Bastian Schweinsteiger, Vazquez, Alessandrini, and RSL's Albert Rusnak.
Difficult stuff, and we're not even talking out-and-out attack. Martinez and Giovinco posted gaudy numbers despite missing significant portions of the schedule with injury. Is that enough to discount them? What absence counts for this? Miguel Almiron missed time late, while David Villa, too, had an MVP caliber season and Nemanja Nikolic only went and led his third-straight league in goals.
All that without a mention of Alex Ring, Justin Meram, Lee Nguyen, and Ola Kamara. Fortunately for the league's voters, Blerim Dzemaili's 22 matches mean he wasn't around long enough to warrant a vote despite 7 goals and 10 assists in limited time.
3) Formation: So, given this and the amazing season of Morrow, how do you rightly go about picking three at the back? It's enough to move stringent XI voters to a team that would get in trouble on a real pitch by using a 3-4-3 to maximize mids and forwards.
4) Goalkeeper: The usual suspects — Luis Robles, Bill Hamid — were good, with several others included in the MLS MVP shortlist: Bobby Shuttleworth, Tim Howard, Joe Bendik, and Stefan Frei (Robles was not included in RBNY's bunch). However, it's hard to imagine voters weren't deciding between former No. 1 overall SuperDraft pick Andre Blake of Philadelphia and the near-impeccable season of Sporting KC's Tim Melia.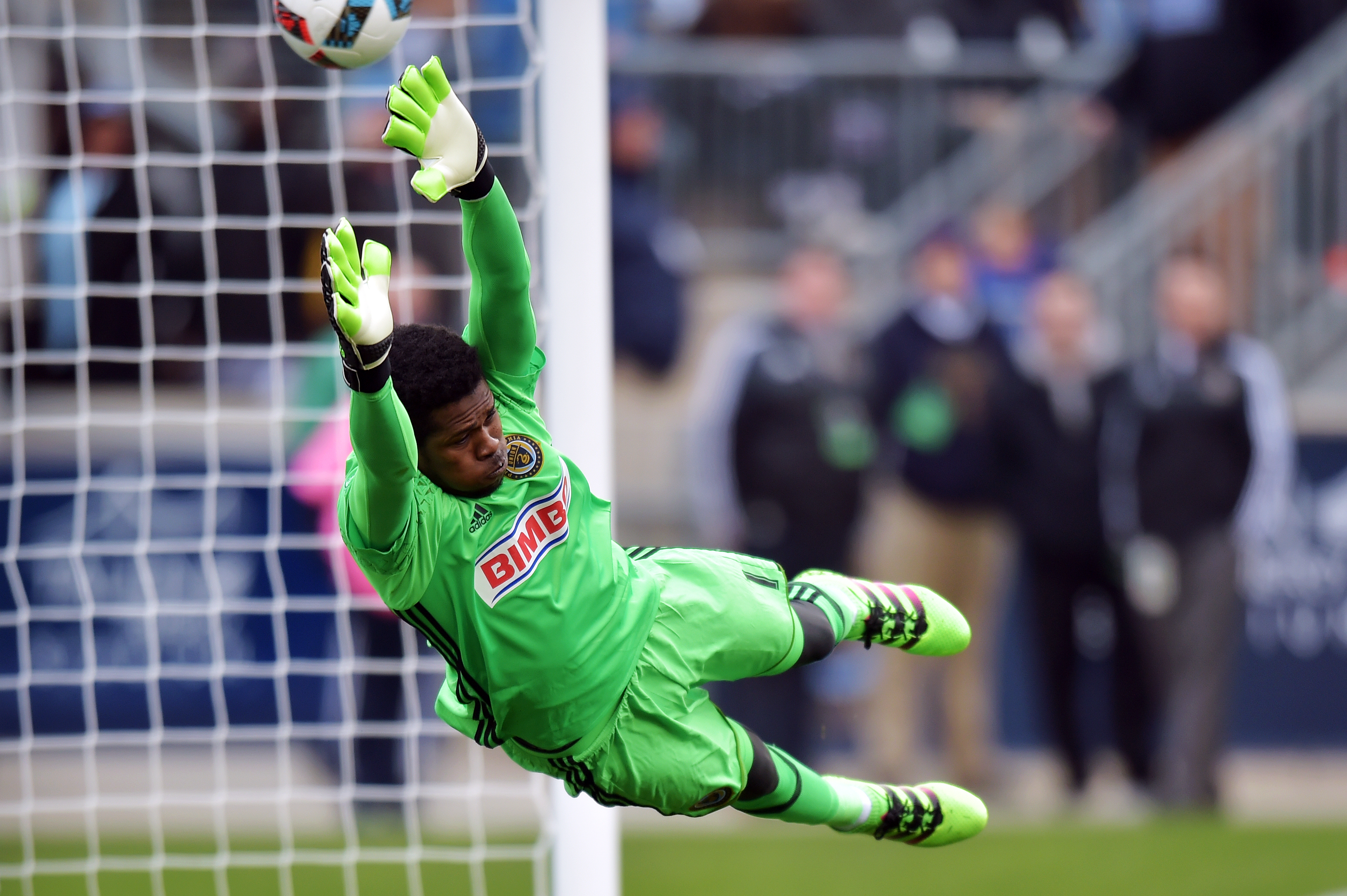 5) So what was your ballot, writer dude?
The Best XI was the only category that took me longer to sort out that the MVP debate, and that's because I had a very difficult time reconciling Valeri's unbelievable full season with the fact that Giovinco was the best player despite missing five different stints with injury (More on that later).
Ultimately, I hedged on that "Could this team perform on the pitch?" question. As much as it would be easy to play a four at the back by including Graham Zusi, or to feel better about a back three by having Kendall Waston get a deserved spot, I'd rather have Justin Morrow slightly out of position than have to sacrifice a midfielder or attacker.
The trio of forwards was the most difficult choice. Martinez and Giovinco were Nos. 1 and 2 in terms of potent players in the league when healthy. Martinez's 17 goals in 19 matches allowed me to slot him in the team, while Giovinco's 16 goals and six assists in 25 matches feel similar. Including both, however, would mean dismissing Villa, the best player in league history and the prime reason NYCFC finished second in the East, or Nikolic.
Here's one area I will hedge: While I felt confident in submitting my XI, I've since felt nagged by two exclusions: Villa (!!) and Waston. If the deadline was 4 p.m. ET Wednesday, I may have removed Martinez and Matt Besler.
Andre Blake (PHI)
L. Gonzalez Pirez (ATL) — Matt Besler (SKC) — Justin Morrow (TFC)
Bastian Schweinsteiger (CHI) — Cristian Roldan (SEA)
Diego Valeri (POR) — Ignacio Piatti (MTL)
Josef Martinez (ATL) — Nemanja Nikolic (CHI) — S. Giovinco (TFC)
Ultimately, I think we beat your team.