Europe has become the holy grail — if you will — for rising American stars, but Zack Steffen's move back to Major League Soccer has made him one of the U.S. Men's National Team's hottest goalkeeping prospects.
The 22-year-old Pennsylvania native quickly became a name to know back in 2014 when he burst onto the European soccer scene after signing with German side SC Freiburg.
[ MORE: Whitecaps, Sounders end scoreless in Western Conference first leg ]
While the move quickly thrust him into the discussion as the "next big thing" in the USMNT goalkeeper pecking order, trailing the likes of Tim Howard and Brad Guzan, his time in Europe didn't go according to plan after appearing in just 14 matches for Freiburg's second team.
However, Steffen's return to the MLS setup with Columbus Crew SC has brought him back into the spotlight, as he and his side quietly moved into the MLS Cup Playoffs as the most in-form team in the league.
[ FOLLOW: All of PST's MLS coverage ]
Pro Soccer Talk caught up with Steffen ahead of the Crew's Eastern Conference semifinals clash against New York City FC.
"It's always hard when you're playing on the road, and the ball just didn't seem like it wanted to go into the net, so I knew that made my job that much more important," Steffen told PST following Thursday night's dramatic penalty kicks win over Atlanta United. "I put an emphasis on every single game I play in, but I knew that I needed to play my best in order to give us a chance to win against a really talented Atlanta side."
Early in the match, Steffen was called upon to make one of the saves of the 2017 season, as he leapt to his right to get a fingertip on Miguel Almiron's curling effort in the 11th minute (video below).
It was the moment that provided the visiting Crew with a momentum-shift in their favor, which lasted the length of the match.
Speaking specifically on his own performance in the match, Steffen was pleased with his and his team's resiliency on the road against one of the more boisterous crowds in all of MLS.
"It was huge for me," Steffen continued. "It was huge for our team. I think we needed that momentum early on because they are a strong side and playing in front of that crowd made things really difficult early on. I think we absorbed their pressure early, which gave us a good shot to close the game out in penalties."
Since June 24, the Crew have looked like a completely different team for a variety of reasons. Greg Berhalter's side has lost just three matches in that span and boasting a 10-3-5 record overall — including Columbus' win against Atlanta.
Despite the club's success over the second half of the season, the Crew haven't been discussed heavily by many as the number five seed heading into the East playoffs.
That doesn't come as a surprise to Steffen and his teammates, though, who embrace the role of underdog as they aim to bring Columbus their second championship in franchise history (2008).
"Honestly, I feel like a lot of us in Columbus fly under the radar," Steffen said jokingly. "That probably just comes with the territory of playing in a lesser-known market, but I give our guys a ton of credit because we've gotten much better as the season has progressed.

"The second half of the season is a more accurate indication of the team we are, and can be. I think we showed that in the first round and will continue to do so moving forward in the playoffs."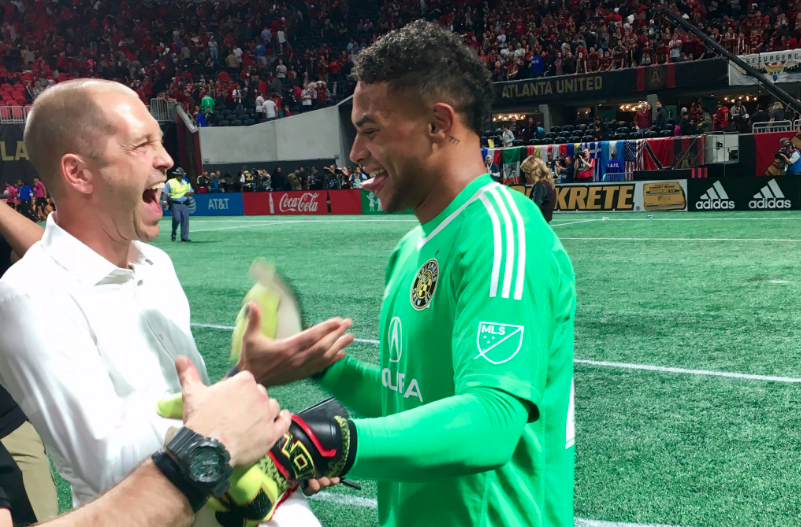 Steffen believes his side is more focused than ever, especially his Crew teammates that fell to the Portland Timbers in the 2015 MLS Cup final — a match that saw the Eastern Conference side give up two goals inside the opening 7 minutes of play at MAPFRE Stadium.
"I think a lot of it comes down to our mentality improving since the All-Star Break," Steffen told PST regarding the Crew's rising play throughout the season. "We're much more focused in training, and that's translated well to game days. We have some work left to do this season, but I think we're at a really good point with our form right now.
"I obviously wasn't part of the squad two seasons ago that went to the final, but many of my teammates were and I know that all of us are itching to get to MLS Cup. It's not just about our team. It's about the great fans that support this club. We're hoping to deliver another championship this year."
Atlanta certainly proved to be a formidable challenge for the Crew to start their postseason run, and up next for Berhalter's squad is New York City FC.
The two sides have familiarity with one another, after meeting at Yankee Stadium in the regular season finale on Decision Day — a 2-2 draw which saw Steffen make a crucial penalty-kick save on David Villa in the closing minutes.
Steffen boasted the second-best save percentage on penalties in the regular season, with three denials on seven spot-kick chances. That's of course excluding his brilliant shootout showing against Atlanta, which saw the young shot-stopper make two critical saves after extra time to help Columbus progress.
"It's definitely a huge help for us having that familiarity with NYCFC after playing them last week," Steffen said of Tuesday's opponent. "They're a very strong side, with guys like [David] Villa, but I think we showed our ability to go to their place and get a result. If we can take care of business at home then I feel we're exactly where we want to be heading into the away leg."
The Crew have been a clear lift to Steffen's morale as a player since linking up with MLS side last season, and while his focus remains on his club side, there is still that same drive and passion from before that he hopes will someday guide him towards the USMNT.
After previously appearing for the Under-18, U-20 and U-23 national teams, Steffen is on the right track. Now, he knows that he just needs to put it all together and "become the best player" that he can be.
"It's always an honor to play for the national team," Steffen told PST. "I've been able to have that opportunity since I was 12/13 years old, so it's always a great experience to test yourself against the best from your country and then obviously guys from top countries like Brazil and European nations.
"The national team isn't my top priority at the moment because I'm trying to become the best player that I can be, but I definitely want the chance to represent USMNT in the future because it would be a dream."
Follow @MattReedFutbol