Three keys to Sunday's three decisive second-leg matchups in the 2017 MLS Cup Playoffs conference semifinals…
[ MORE: Previewing Sunday's 2nd legs, from Toronto and NYC, to PDX ]
Toronto FC (2) vs. (1) New York Red Bulls — 3 p.m. ET
With a 2-1 lead — and a pair of away goals — heading into Sunday's second leg at home, TFC's key to advancing is quite obvious, while anything but simple: the numbers advantage must translate to a territorial advantage against Bradley Wright-Phillips and Daniel Royer.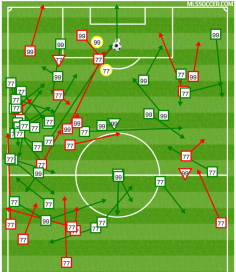 On the right, you'll see the combined touches of Wright-Phillips and Royer, New York's two most prolific final-product providers, in the first leg. You'll immediately notice BWP and Royer, New York's leading scorers with 17 and 12 goals during the regular season, respectively, combined for two open-play touches inside TFC's penalty area over the whole of 90 minutes — the first an unsuccessful pass by BWP (6th minute), the second a blocked shot from BWP (87th).
TFC's three-man backline, which quickly becomes a five-man unit when Steven Beitashour and Justin Morrow track back in times of need, dealt so well with the unconventional and coordinated movement of BWP and Royer. They're a nightmare come alive for most central duos, but faced with the organization and continuity of Chris Mavinga, Drew Moor and Eriq Zavaleta on Monday, TFC's central trio put on a clinic of communication and spatial responsibilities.
New York City FC (1) vs. (4) Columbus Crew SC — 5 p.m. ET
One might look at the scoreline from the first leg — 4-1 to Crew SC — and say there's simply no way back for NYCFC on Sunday. To which this writer would be so inclined to agree… if not for the magical presence of David Villa.
Let's go to the MLSsoccer.com chalkboard again, this time to see Villa's in-possession actions from the 52nd minute onward — the 38 minutes which remained after Alexander Callens earned himself a straight red card. Completely starved for service and support after Rodney Wallace was sacrificed to bring on a defender, Villa still managed to create five chances, either for himself or for others, including the one he scored in the 78th minute. Of course, Crew SC were busy breaking the other direction for three more goals while enjoying their man advantage, but that's something with which NYCFC won't have to wrestle again on Sunday (presumably).
Admittedly, it takes the most devoted of optimists to conjure a scenario in which NYCFC break down a bunkering Columbus side by three goals or more, but a man with 84 combined goals and assists (in 94 career MLS games) is as good a place as any to begin your search for hope.
Portland Timbers (0) vs. (0) Houston Dynamo — 7:30 p.m. ET
Finally, a tie without a presumed winner with 90 minutes still left to play. Feel free to imply any lessons from the abomination that was the first leg — I won't be joining you, but you're more than welcome to do so yourself — and I'll focus on the absence of Diego Chara (broken foot suffered in leg 1) and David Guzman (knee).
Typically, Houston's go-to strategy is to bypass the midfield altogether with long diagonal balls out to wingers Alberth Elis and Romell Quioto, or quick, cutting balls into the channels for the rotating duo at center forward, Erick Torres and Mauro Manotas. With Chara out for the rest of the season and Guzman's status uncertain at this point, the tactical tweaks applied by Houston manager Wilmer Cabrera will almost certainly determine the outcome of leg 2.
A continued refusal to deviate from Plan A would be the most welcome of sights for Portland's eyes. Quickly bypassing the middle third of the field, where Caleb Porter's side was once so strong but now so depleted, wouldn't be all too different from refusing to shoot against a team playing without a goalkeeper. If Houston can work a bit of possession in the middle third and entice Amobi Okugo and/or Zarek Valentin to abandon the space just in front of the backline, space — and chances — will undoubtedly open up against a Timbers defense which only ever looked competent when shielded by Chara and Guzman.