In the wake of Italy's failure to reach World Cup 2018, Pro Soccer Talk thought it would be fun to come up with an "NIT"-like tournament that FIFA could potentially present next summer for those that missed out on the world's most prominent football competition.
[ MORE: Italy misses the World Cup for first time since 1958 ]
For those that aren't familiar, the NIT is the "other" college basketball tournament held each March for college teams that failed to be selected for the NCAA tournament.
To make USMNT supporters and fans of Chile, Italy, Ghana, Holland and others feel better, PST created a mock 18-team competition for next summer.
---
Here's a look at the teams that could potentially be included in the tournament and how the bracket would stack up.
UEFA — Italy, Scotland, Wales, Netherlands, Northern Ireland, Greece
CONMEBOL — Chile, Paraguay, Ecuador
CONCACAF — USMNT
AFC — Syria, Uzbekistan
CAF — Ghana, DR Congo, Ivory Coast, Uganda
Play-in games — Honduras-Australia loser & Peru-New Zealand loser
For hypothetic purposes, we'll say that Honduras and Peru advance to the World Cup, leaving Australia and New Zealand eligible for the second-chance tournament.
From there, the teams are seeded 1-18 based on the latest FIFA rankings, with the top seeds (Chile and Wales) awaiting the winner two play-in matches.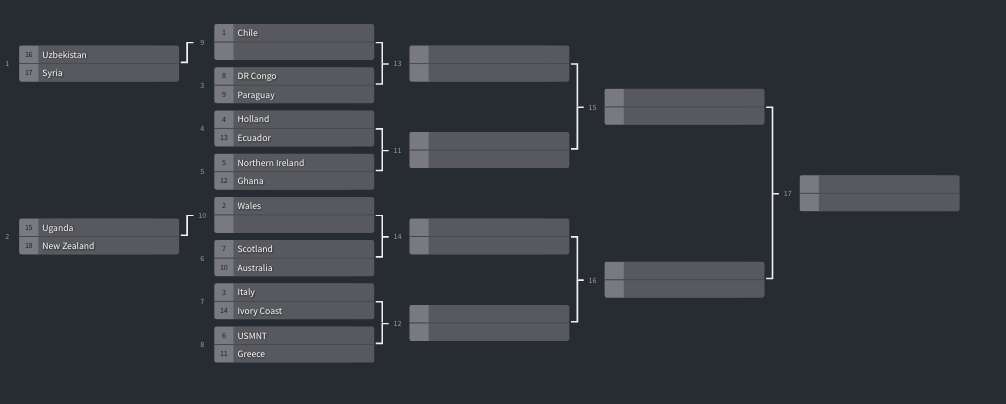 What do you think of the concept of this sort of competition? Where would it be hosted? Which nations should be included?
Follow @MattReedFutbol