The results of PST's Big American Soccer Survey are in, and our staff will be walking through the results of thousands of votes in a series of posts this week.
We didn't realize you could acronymize it to BASS, or else we would've done it sooner. So we begin BASS in the same place many American soccer conversations start: with Christian Pulisic.
[ MORE: All Big American Soccer Survey posts ]
The 19-year-old "Don't call him Wonderboy" admitted to fighting depression after the USMNT failed to qualify for the World Cup, but Christian Pulisic is the primary cause for optimism in many circles of U.S. Soccer.
USMNT supporters see him as the key to the future, club coaches see him as an example of how an elite career can be nurtured here, and European export proponents see his exponential growth at Borussia Dortmund as a beacon to call young U.S. talent overseas.
But what is his ceiling?
[ MORE: Rochester Rhinos in jeopardy ]
We supplied three choices for our readership:
European soccer Best XI candidate
Short of world elite, but best American player in history
About where he is now: Key player on a good team
It won't surprise anyone that Option No. 3 was the least popular, as it's difficult to believe a healthy Pulisic won't continue to improve. He's already one of the most important players on a UEFA Champions League team — and the most important player on the USMNT — at age 19, so the nine percent of people who voted "About where he is now" are mostly cynics or detesters of the game here, in all likelihood.
Thirty-seven percent of fans think he can be a Best XI candidate, which would put him in uncharted American waters. Getting to this point would mean Pulisic would get to a point where voters consider him capable of fitting in a team like the 2016 UEFA Team of the Season. The attack-minded players there only need one of their names: Messi, Griezmann, Ronaldo, Modric, Iniesta.
Now, this also would mean that Pulisic would need to either lead Borussia Dortmund to a Bundesliga crown and/or deep into the UEFA Champions League, and that leaves this poll option a massive bet by voters. He could also be an otherworldly playmaker on a second-tier team, but would need to just dominate. In the last three seasons, guess who many teams have placed a player on the Best XI?
Seven. That's 33 spots taken by seven teams. Barcelona, Real Madrid, Juventus, Bayern Munich, Atletico Madrid, Paris Saint-Germain, and Manchester United. PSG has one (Zlatan Ibrahimovic) while United had a half (Angel Di Maria played for the Red Devils and Real that season).
Which brings us to the majority vote: 54 percent of voters think Pulisic will not quite reach world elite, but will be the best player in United States history. This would mean passing the accolades of Tim Howard, Clint Dempsey, and Landon Donovan. From a team standpoint, this won't be terribly hard.
[ MORE: Dempsey wins award ]
Pulisic has won the German Cup. Howard has a League Cup, FA Cup, and Community Shield. Dempsey played in a Europa League final with Fulham, while Donovan won all of his club accolades in Major League Soccer.
What would it take for Pulisic to take a step into that category while staying in Europe (Forgive us for assuming a healthy Pulisic could return to MLS at any time in the next dozen years and contribute like Dempsey at the very least)? Would he need to join the rarefied air of aforementioned clubs like Real or Bayern Munich? Lothar Matthaus thinks he can do a job at the latter.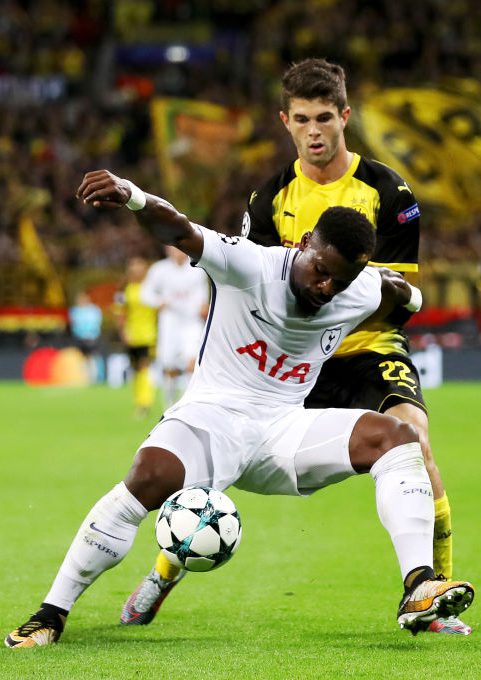 At a certain point, naysayers like to say Pulisic is being overhyped. We get that. As a culture we've gone through varying degrees of that, from Maurice Edu all the way up (or down) to Freddy Adu. But no player in U.S. history, at his age, has been nominated for the Goldenboy Award. Donovan didn't make a senior appearance at Bayer Leverkusen until 22, and Pulisic has 71 first team apps for BVB with 10 goals and 14 assists.
Transfermarkt has two comparable players for him right now: Leroy Sane and Anthony Martial. WhoScored rates him as the 21st best player in the Bundesliga this season. Squawka says only one player in Germany is attempting more take-ons per game, and has him as a Top 50 per game attacker, though his possession stats are not so hot. He's 19. This isn't overhype, considering it's a foray into the American unknown: It's legit hype.
This is the great unknown, paved by the work of Dempsey and Howard, Bocanegra and Reyna, Keller and even McBride. While we should sit back and enjoy it all, there's no doubt the focus will only continue to grow on Pulisic. It seems, wonderfully, that pressure doesn't bother the kid.
Imagine his prime. We know you are.