The Seattle Sounders all but booked a return appearance in the 2017 MLS Cup final on Tuesday, doing so by beating the Houston Dynamo 2-0 in the first (away) leg of the Western Conference finals on Tuesday. The game wasn't as close at the final score might appear to indicate.
[ RECAP: Sounders take 2-0 lead over Dynamo ]
We learned the following three things over the course of the 90 minutes…
---
The red card hurt Houston
No way, you're kidding, right? Clearly a 28th-minute red card (shown to Jalil Anibaba for the denial of an obvious goal-scoring opportunity) is going to have a massive impact on the outcome of a game. But, it really crippled Houston, given the way they play — having a numerical advantage in the center of midfield is so important to Wilmer Cabrera's side, in the name of frantically winning the ball back after conceding half or even two-thirds of the field.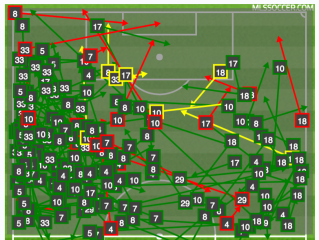 When you have to haul off one of three central midfielders, in hopes of still being about to force-create chances on the rare occasion you recover the ball and move it forward, three things are bound to happen: 1) legs are going to get very heavy, very quickly; 2) the clock appears to be counting up in double-speed; 3) you begin to concede two-thirds and three-quarters of the field instead — every move Seattle worked during the second half came after a waltz in the final third before finally meeting resistance.
At right, you can see every Sounders pass originating in Houston's half of the field — remember, Seattle are the away team here. Playoff games rarely, if ever, come much easier than that.
---
Addition by subtraction… again?
This one isn't so much a lesson from Tuesday's game, as much as it's a trend played out over the course of an entire season: much like they wound up being in 2016 following Clint Dempsey's heart condition robbing him of the final four months of the season, the Sounders are once again, dare I say it, better without another indomitable figure: Osvaldo Alonso.
Here's the numbers to back it up: without Alsono in the starting lineup this year, Seattle went 6W-2D-2L. In those 10 regular-season games, they scored 20 goals (2.0 per game, versus 1.3 with him in the lineup) and conceded 12 (1.1 per game, same when he played).
The central midfield pairing of Cristian Roldan (7) and Gustav Svensson (4) has proven a formidable foe for anyone and everyone during the second half of the season. On Tuesday — granted, against 10 men for more than an hour — they could do no wrong. (Passes attempted on the right; defensive actions on the left — green triangles are tackles won, orange are recoveries, blue are interceptions, purple are clearances, red are tackles lost.)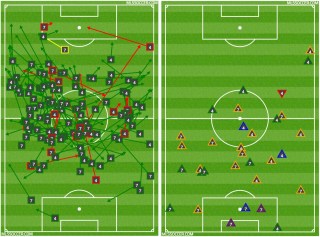 Alonso has been an unbelievable servant for nine MLS seasons, he's an MLS Cup champions, a four-time U.S. Open Cup winner, a Supporters' Shield winner and one of the best defensive midfielders in MLS history. He's also 32 years old with a growing history of lower-body injuries that seem to never fully heal, and he's now clearly third in the pecking order behind Roldan and Svensson. It's clearly an oversimplification to say that soccer is a young, mobile man's game these days, but it's certainly true of MLS, and the results are in near total agreement.
---
May I have some hope, please?
Here's a not-so-fun fact if you're a Dynamo fan: your team won one — singular — game on the road in 17 tries this season. Not a dark enough outlook? OK, have this: that lone away win came against D.C. United, who finished 21st out of 22 teams if you put MLS into a single table.
Maybe Seattle weren't so good at home this year… I'm really just searching for anything at this point, you're thinking. OK, it's possible, I suppose. They lost once at home all season, to Toronto FC, the best regular-season team in MLS history, by the final score of 1-0, in the month of May.
We'll see you in Toronto or Columbus for MLS Cup, Seattle Sounders.