In terms of qualifying for the knockout round, the Blues completed that mission on Matchday 5 of UEFA Champions League play.
[ MORE: Man United tops Group A with comeback win over CKSA Moscow ]
It was the final step of the process though that now has Antonio Conte's side eagerly (and probably angrily) awaiting their opponent in the Round of 16.
The truth is, there's nobody to blame but themselves for finishing second in Group C, despite being level on 11 points with winners AS Roma from Serie A.
Tuesday's 1-1 draw against Atletico Madrid was just another reminder of Chelsea's inconsistent play in their 2017/18 campaign, particularly in the UCL.
The Blues had their Spanish opposition on the back foot for much of the match, with Atleti goalkeeper Jan Oblak forced to make seven saves on the day at Stamford Bridge. Conte's group couldn't find a decisive second goal though, in spite of their countless chances created, which now leaves the defending Premier League champions in a precarious position ahead of the Round of 16.
Chelsea's inconsistency goes beyond just one match, though. Outside of the team's 6-0 opening match victory over Qarabag — who never realistically had a shot at advancing — the Blues had to grind out results just to advance.
Conte's men squandered a two-goal lead over Roma on Matchday 3, before ultimately settling for a 3-3 tie in that match. Then, the return leg against the Serie A giants proved to be even more costly as Chelsea received a 3-0 thumping at the Stadio Olimpico.
Take away the 10 goals the London scored in two matches against Qarabag (no disrespect), and that leaves you with six goals in three games because of the one Roma shutout.
Coming from a squad that boasts elite frontline talents like Alvaro Morata, Eden Hazard, Willian and others, that's a stat line that doesn't bode well for Chelsea as they head into the knockout round, where clubs are only going to get more and more challenging.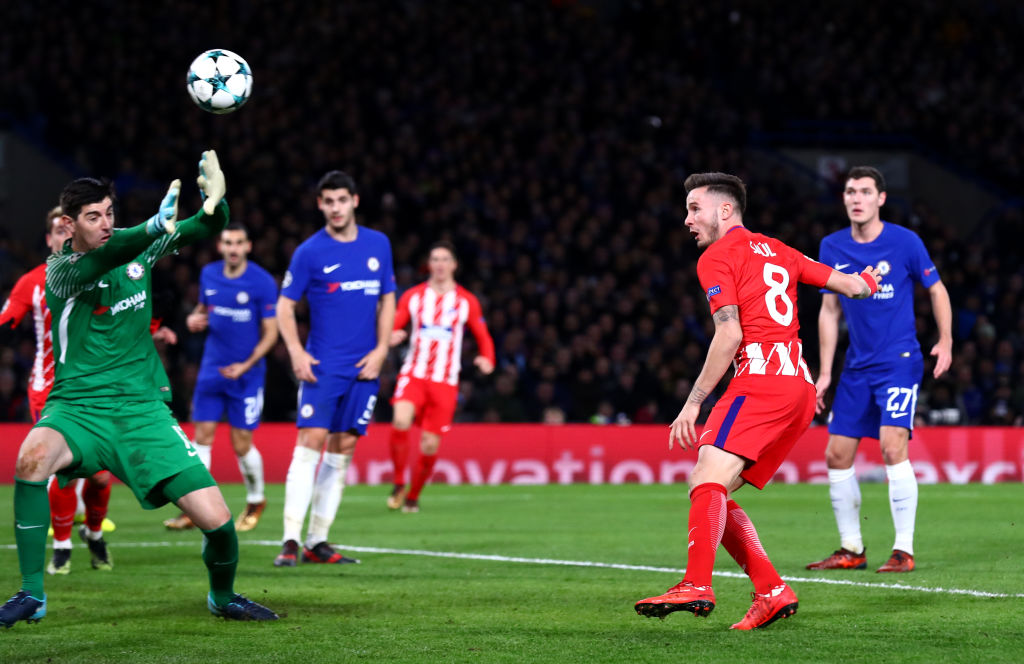 The rules are fairly simply for how the first knockout round draw will go. No team from the same country or group can be drawn against one another, which means Manchester United, Tottenham, Manchester City and potentially Liverpool are all hands off for the Blues, along with Roma.
Also, group winners from the group stage can only face runners' up, which eliminates half the field immediately in terms of which clubs can face on another.
With those five clubs (assuming Liverpool takes care of business on Wednesday) excluded from Chelsea's path in the first knockout phase, that leaves most likely three other clubs that the Blues could face in the Round of 16.
Let me explain.
Paris Saint-Germain, Barcelona and Besiktas are all non-Premier League clubs and weren't in Group C for the group stage. If a team other than Liverpool ends up winning Group E on Wednesday, then that could potentially open the door for a fourth team Chelsea could take on.
Assuming those three previously mentioned are in fact the ones available for selection though, the Blues may want to close their eyes during the draw.
Despite PSG's recent slip-ups, the club has lost just two matches all season in competitions, while Spanish giants Barcelona look as good as ever. Lionel Messi and Co. haven't lost a competitive match since August, when the Blaugrana dropped back-to-back games to rivals Real Madrid.
Besiktas would be the most-favorable team for Chelsea to take on (if they had a choice), but even the Turkish champions will be a tough out given their hostile home pitch and striker duo of Alvaro Negredo and Cenk Tosun.
Follow @MattReedFutbol