RANKING THE CREME DE LA CREME
It is a question which is dominating the Premier League right now: is this Manchester City team the best in Premier League history?
[ MORE: Watch full PL match replays ]
There is no doubt that even without winning the Premier League title this season (we are not even halfway in, folks) Pep Guardiola's men are set to be up there with the best teams the PL has ever seen after a record-breaking 16 consecutive wins and just generally breaking records like they're going out of fashion.
They have plenty of competition though to be the best-ever in PL history, though, and they'll likely need to go the entire PL season unbeaten if they are to be known as the best team ever assembled in England's top-flight. There are plenty of clubs who have had fine squads (Liverpool, Tottenham, Newcastle) but to be among the PL's best, you simply have to have won the trophy.
[ MORE: Latest Premier League standings ] 
Below we rank the top five teams in PL history, with this City side among them.
---
1. Arsenal (2003-04)

They won the Premier League title without losing (winning 26 games and drawing 12) "The Invincibles" have gone down in folklore for their incredible achievement. Thierry Henry, Dennis Bergkamp, Robert Pires, Sol Campbell and Patrick Vieira were in their prime and they just didn't look like losing. Arsene Wenger has the perfect mixture of passion and panache to make history and their incredible 49-game unbeaten run is unlikely to be surpassed, even by Man City. Apart from Arsenal, only Preston North End in the 1888-89 season have gone an entire campaign unbeaten. The only slight disappointment was that Arsenal didn't win any other domestic trophies and lost in the Champions League last eight. That said, Henry scored 39 goals in all competitions and 30 in the PL to lead the Gunners to a feat that many believe will never be repeated.
---
2. Manchester City (2017-18)*if they win the title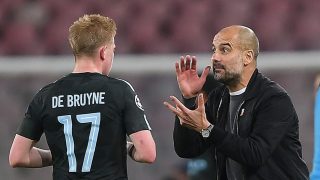 If (and it's still a big if despite their early season dominance) City win the title this season, given their 16-game winning run and attacking ability they will go down as the greatest team ever. It all depends on if they can go the entire season unbeaten but Guardiola is bringing soccer perfection to the PL. Yes, they've spent big to get there but the likes of Chelsea and Manchester United have also thrown plenty of cash at their squads and are nowhere near where City are right now. With Kevin De Bruyne, David Silva, Raheem Sterling, Leroy Sane, Sergio Aguero and Gabriel Jesus in attack, this City side have so many attacking weapons but adding Kyle Walker, Danilo and Benjamin Mendy in defense, plus Ederson in goal, has been a huge reason why they've blown the PL away. History is in the making for this City side, in more ways than one. They are totally dominating the Premier League.
---
3. Manchester United (1998-99)

It took the famous treble winning team until the final day of the Premier League season to win the league title, but their exploits in winning the FA Cup and the UEFA Champions League made up for it. Sir Alex Ferguson (just Alex Ferguson back then, actually) rotated his team masterfully in the final months of the season to pull off the greatest achievement in British soccer history. This was vintage United. Peter Schmeichel in goal behind a back four of Neville, Stam, Johnsen and Irwin, while Paul Scholes, Roy Keane, David Beckham and Ryan Giggs were in midfield and Dwight Yorke and Andy Cole were up top. A perfect blend of youth and experience, skill and determination. This was a true "team first" effort with the likes of Ole Gunnar Solksjaer, Teddy Sheringham, Nicky Butt, Henning Berg, Phil Neville and Jesper Blomqvist all playing their parts. Fergie was knighted after their famous last-gasp win in Barcelona against Bayern Munich and although they only won the PL title by one point, their exploits in the FA Cup (where they beat second-place Arsenal in heroic fashion in the semifinal) and in Europe played a huge part in them not running away with the title.
---
4. Chelsea (2004-05)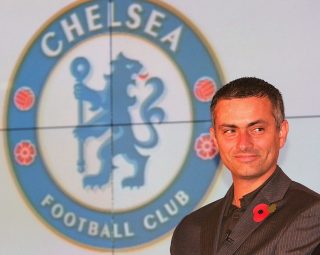 Jose Mourinho won the Premier League title in his first two seasons in charge of Chelsea but his squad in 2004-05, which sealed a first league title in 50 years, was the best. Chelsea simply tore the Premier League apart. Didier Drogba led the line as Frank Lampard charged forward from midfield to be the top scorer, while Arjen Robben was on the wing and Claude Makele protected the back four with Ricardo Carvalho and John Terry leading from the back as a young Petr Cech excelled in goal. Chelsea had everything and lost just one game all season long on their way to reaching 95 points, which is still a record points total for the Premier League champions. Defensively they were incredible as they set PL records for the least goals conceded (15), most shutouts (25) and fewest away goals conceded in a season (9). Mourinho, fresh from his Champions League and treble success at FC Porto, proved he was "The Special One" and also won the League Cup as well as losing in the UCL semifinals to Liverpool. Chelsea have won the title four times since 2004-05 but the squad they had over 12 years ago was the finest the west London club has ever seen.
---
5. Manchester United (2007-08)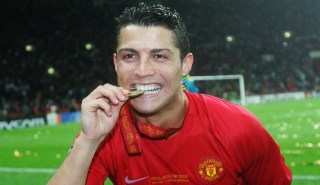 Yep, they had to have at least two teams in the top five. With 13 Premier League titles under their belt, they gained more points in their title wins either side of the 2007-08 campaign, but this was arguably their most impressive PL success. Cristiano Ronaldo led United's charge as the Portuguese superstar scored 42 goals in all competitions to help them win the Premier League and UEFA Champions League. Wayne Rooney and Carlos Tevez were Ronaldo's partners in crime as the trio scored 79 goals between them in all competitions. Paul Scholes, Ryan Giggs, Owen Hargreaves, Anderson and Michael Carrick were rotated expertly in midfield by Fergie and at the back Rio Ferdinand, Nemanja Vidic, Patrice Evra and Edwin van der Sar were formidable. After edging past Chelsea and Arsenal to the PL title, Fergie led United to UCL glory in Moscow against Chelsea as they won on penalty kicks. The trio of Rooney, Tevez and Ronaldo were appointment viewing and United were top of the table from March and never gave up their perch with Chelsea and Arsenal breathing down their necks.
---
MANAGERIAL MERRY-GO-ROUND IN FINE FETTLE
With familiar faces returning to the PL in droves over the past few months, most of them are doing rather well with their respective new clubs.
[ VIDEO: Premier League highlights ]
Sam Allardyce has won four from five with Everton who are now dreaming of Europe. Roy Hodgson is unbeaten in seven with Palace and has them out of the bottom three after two wins on the spin. David Moyes has won two of his last three at West Ham United and has turned them into a tough team to beat. Alan Pardew is slowly turning things around at West Brom.
There were plenty of moans and groans when these experienced coaches who have been on the merry-go-round a few more times than they care to mention were appointed, but they're proving they can get the job done.
Allardyce is on his seventh PL club. Hodgson and Pardew both at their fifth. Moyes on his fourth.
The initial bump of having a new manager has led Everton and West Ham out of trouble, and Hodgson is starting to turn things around at Palace after inheriting a real mess from Frank De Boer.
Pardew, another old hand who is back in the PL, will be hoping it is his time to shine next. His West Brom side drew away at Liverpool and although they still look goal-shy, he has made them more stubborn to break down.
All four newbies have settled in well and you can expect to see plenty more familiar faces arrive if the likes of Stoke City, Southampton and Swansea continue to struggle.
---
LET THE GAMES CONTINUE
This is it. Primetime has arrived.
The holiday season is here and the Premier League is in full flow with 40 games coming up over 11 days from this Friday. Like March Madness, having NFL games on Thanksgiving and the NBA's Christmas Day games, PL action dominates the holidays.
Bring. It. On.
[ MORE: Premier League schedule ]   
Below is the schedule in full for Boxing Day, the New Year's Day games and more.
At this time of the year we are full of festive cheer but in the Premier League, this deluge of games can make or break a campaign.
Think about that when you're tucking into your festive feasts while Romelu Lukaku, Kevin de Bruyne and Eden Hazard limber up and prepare themselves for yet another game.
---
Premier League Playback comes out every week as PST's Lead Writer and Editor takes an alternative look at all the action from the weekend. Read the full archive, here.