At the halfway point of the Premier League season, it is time to take a look back at the opening 19 weeks of the 2017-18 campaign.
[ VIDEO: Premier League highlights ] 
Below our writers select their award winners for several different categories, plus pick their moments and team of the season so far.
Get involved and let us know your selections in the comments section below.
---
Joe Prince-Wright (3-4-3 formation)
Goalkeeper: David De Gea
Defenders: Cesar Azpilicueta, John Stones, Phil Jones
Midfielders: Kyle Walker, Kevin De Bruyne, David Silva, Philippe Coutinho
Forwards: Mohamed Salah, Harry Kane, Raheem Sterling
Nick Mendola
Goalkeeper: David De Gea
Defenders: Ashley Young, Kurt Zouma, Harry Maguire, Marcos Alonso
Midfielders: Kevin De Bruyne, N'Golo Kante, David Silva
Forwards: Mohamed Salah, Harry Kane, Leroy Sane
Andy Edwards
Goalkeeper: David De Gea
Defenders: Nicolas Otamendi, Marcos Alonso, James Tarkowski, Cesar Azpilicueta
Midfielders: Kevin De Bruyne, David Silva, N'Golo Kante
Forwards: Mohamed Salah, Harry Kane, Raheem Sterling
Kyle Bonn
Goalkeeper: David De Gea
Defenders: Kyle Walker, Nicolas Otamendi, Cesar Azpilicueta, Sead Kolasinac
Midfielder: Paul Pogba, Kevin De Bruyne, David Silva, Eden Hazard
Forwards: Mohamed Salah, Harry Kane
Matt Reed
Goalkeeper: David De Gea
Defenders: Cesar Azpilicueta, Phil Jones, Nicolas Otamendi, Ben Davies
Midfielders: N'Golo Kante, Nemanja Matic, Kevin De Bruyne
Forwards: Harry Kane, Sergio Aguero, Mohamed Salah
---
Player of the Year (so far)
JPW: Kevin De Bruyne is in the conversation as the best player on the planet who isn't named Messi and Ronaldo. He has completely transformed his game from a winger to a central playmaker and he can simply do it all. Goals, assists, killer passes, he has everything in his locker and is probably the most complete player in the world right now.
NM: Kevin De Bruyne — Wizard, magician, conductor, maestro. Choose your playmaking term, this guy is the straw that stirs Pep Guardiola's drink.
AE: Kevin De Bruyne
KB: Kevin De Bruyne is bossing the Premier League, and all we have to do is sit back, watch, and enjoy.
MR: There are a host of players worthy of this title, but all things considered Mohamed Salah is the man. He's not only brought Liverpool's attack to another dimension, but he's completely silenced the worries surrounding the Liverpool attack that were thrown around prior to this season when Philippe Coutinho's impending departure was all that Reds supporters could discuss.
---
Manager of the Year (so far)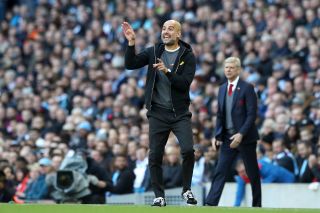 JPW: This is actually a little bit tougher than just selecting Pep Guardiola. With City on an incredible 17-game winning run, Guardiola will of course get all the plaudits. That said, the relative success of Sean Dyche at Burnley and David Wagner at Huddersfield must be mentioned. Both have overachieved massively with limited resources but the beauty of watching Man City week in, week out means Guardiola gets the nod.
NM: Manager of the Year — Guardiola — With massive respect to Sean Dyche, I can't in sound mind override Pep's unbeaten run in the deepest league on Earth.
AE: Pep Guardiola.
KB: Pep Guardiola. Manchester City has a chance at history, and given how under fire he was last year, this turnaround is incredible.
MR: It's an easy selection because Man City has propelled itself to a 13-point lead at the PL summit, but Pep Guardiola has done everything right in his second season in charge at the Etihad Stadium. He's guided Kevin de Bruyne to being the best creator in England and gotten the best out of Raheem Sterling, while shoring up the backline with Kyle Walker and Danilo, as well as Benjamin Mendy — who has barely even seen the pitch due to injury. Give Guardiola time and the Spaniard always seems to find a way to turn gold into more gold, or something like that.
---
Young Player of the Year (21 and under)
JPW: I'm going to have to go with Leroy Sane. He has added extra power to his game but still kept his speed and his trickery. At 21 years of age he looks incredibly mature and is such an intelligent player on and off the ball.
NM: Leroy Sane — Just sliding in at 21, the German has been a menace on the wings, racing to the end line with abandon and serving up cross after cross. Honorable mention to Watford's unearthed Brazilian gem Richarlison (20).
AE: Leroy Sane.
KB: For me it's Gabriel Jesus – barely. Sane is just as good a pick. Manchester City with two Young Player candidates…that team is set up.
MR: Despite rotating with Sergio Aguero, Man City's young Brazilian striker doesn't seem to miss a beat when he's on the pitch. Gabriel Jesus has 10 goals in all competitions this season, and he looks frightening getting forward each time City manages a push in the attack.
---
Comeback Player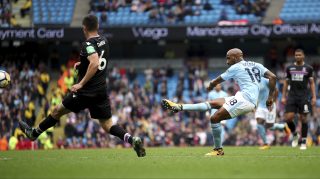 JPW: This is a really tough category. Fabian Delph has been a revelation at left back for City and Fernandinho in midfield, while Riyad Mahrez is back to his best at Leicester and you could argue that Mohamed Salah falls into this category too. Is David Silva really a comeback player? He's always been sheer class but this season he has taken his game to another level. That said, his Man City teammate John Stones is my pick. He's improved so much under Guardiola and looks a better defender this season.
NM: Countless nominees for this one, including Wayne Rooney, Fabian Delph, Kurt Zouma, and Emre Can. But I'll go with Riyad Mahrez, who Leicester City has to hope is willing to hang out through the season.
AE: Fabian Delph
KB: Aaron Ramsey, who missed an enormous amount of time for a multitude of injuries last season, and while none of them were terribly serious, each successive injury seemed to stop Ramsey's form in its tracks, forcing him to start from scratch again. He's having a fantastic season thus far. However, I still have my eye on Luke Shaw. There's a long way to go on that one, but Shaw is finally showing signs that he still can be the player Manchester United expected when they shelled out big money to lure him away from Southampton. He's struggled mightily with injuries, but if he can break his way into that Red Devils side, he can prove a massive asset. Problem is Ashley Young is having a great season in front of him at LB.
MR: When Pep Guardiola went out and made big adjustments to the Man City backline this summer, he didn't address the center of his defense. With captain Vincent Kompany missing much time due to injury in the past few seasons, it was a bit of a gamble to just rely on young defender John Stones, but Kompany has found his form once again and anchored a defense that has conceded just 12 goals all season.
---
Best individual team performance

JPW: Their have been some incredible displays from PL teams in Europe with all five making it through to the last 16, but City's demolition of Stoke City proved just how good they are going forward. They won 7-2 but it could have been 12-2. Everything clicked, as it has for most of this season.
NM: Can I go with a Premier League team in Europe? Because Spurs win over Real Madrid was pretty magical. If forced to stay domestic, I choose Man City 4-1 Spurs.
AE: Manchester City 5-0 Liverpool
KB: Manchester City 5-0 Crystal Palace. City has had a number of candidates this season, but that game had the best combination of beautiful attacking play, possessional strength, and smothering defending.
MR: The Clarets were granted a gift early on in their season opener against Chelsea when Gary Cahill was sent off inside the opening 15 minutes, but Burnley took full advantage with a 3-2 win at Stamford Bridge. Not only does it appear that Burnley could contend for a top four position, but their win against the defending league champions made for a great storyline to kick off the 2017/18 campaign.
---
Best individual player performance

JPW: Kevin De Bruyne against Tottenham Hotspur in their 4-1 win. He ran the show, scored a great goal moments after being clattered by Dele Alli and drove his team to victory without his partner in crime David Silva, who he gave a nod to during his goal celebration. True class.
NM: Wayne Rooney's hat trick against West Ham, mostly because I feel dicey not giving him Comeback Player of the Year.
AE: David De Gea — Arsenal 1-3 Man United
KB: Kevin De Bruyne vs. Arsenal. De Gea's performance against Arsenal was wild, but De Bruyne puts forth an effort across a full 90 minutes that proves he is the Premier League maestro.
MR: Goalscorers always get the recognition, but David de Gea's 14-save performance against Arsenal was just as special to watch from a goalkeeping perspective. In a match that could have easily been flipping in favor of the Gunners, De Gea made acrobatic stops time and time again to preserve the victory for he and his side.
---
Best fans/atmosphere in Premier League

JPW: Huddersfield Town at the John Smith's Stadium. Their fans create a wonderful atmosphere win, lose or draw. The Terriers have a 12th man and they're so hard to beat at home.
NM: Newcastle United at St. James' Park
KB: Anfield. Can't beat it.
MR: It could very easily vary on a week-to-week basis, but Anfield is always one of the best places to take in a match. The Liverpool supporters are impassioned whether winning or losing, and their "You'll Never Walk Alone" is one of the most iconic sports fandom songs in all of sport.
---
Signing of the Year (so far)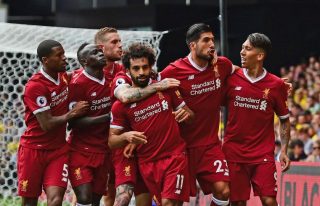 JPW: Mohamed Salah has been a revelation at Liverpool and you can see why Jurgen Klopp's analytic department was pleading with him to sign the Egyptian winger. Plenty of eyebrows were raised when he signed but Salah is the PL's top scorer and has 21 goals in all competitions for Liverpool. Simply stunning. Other contenders include Ederson, Alvaro Morata, Davinson Sanchez and Harry Maguire, who have all made a big difference to their respective teams.
NM: Mohamed Salah, Liverpool
AE: Mohamed Salah, Liverpool
KB: Mohamed Salah, Liverpool. Unquestionably.
MR: In his return to the PL, Mohamed Salah has been every bit the player that Liverpool had hoped that he could be. The top goalscorer in England, and arguably the most dynamic attacking player, Salah is not only poised to win the Golden Boot but also validate himself as one of the best wingers in the world.
---
Game of the season (so far)

JPW: Arsenal 3-3 Liverpool. I had the pleasure of being on-site at the Emirates Stadium for that game. I thought the 3-1 win for Manchester United at Arsenal would take some beating as that end-to-end game had it all, but the dramatic goals and comeback from Arsenal made this a truly unbelievable encounter. It could have ended up 5-5.
AE: Arsenal 3-3 Liverpool
KB: Arsenal 1-3 Manchester United
MR: Liverpool's 3-2 victory over Leicester City at the King Power Stadium was one full of drama and exquisite attacking from both sides. A penalty save by Simon Mignolet was the key difference for the two sides, while the Foxes thought that they should have had another penalty late on in the match.
---
Goal of the season (so far)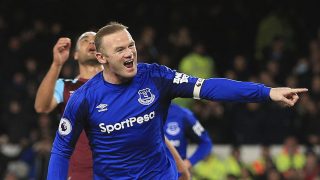 JPW: Sofiane Boufal for Southampton against West Brom. Saints badly needed inspiration and Boufal delivered with an amazing 70-yard run and fine finish. St Mary's was rocking as he scored that winning goal.
NM: Wayne Rooney vs. West Ham — 60 yards, on the laces. There is no other.
KB: I refuse to give Wayne Rooney this award because, while a 60-yarder is cool, the net was wide open. There haven't been any surefire stunners yet, and while I think Jermain Defoe's volley against Crystal Palace should have a go, and Rajiv van la Parre's against West Brom was spectacular, Sofiane Boufal's incredible run against West Brom (poor Baggies!) does the trick, mostly because the two defenders crashing into each other halfway through is just a thing of beauty.