The ever-growing feud between U.S. Soccer and NASL took to another chapter on Thursday, when the latter filed a letter to the former regarding concerns about the upcoming U.S. Soccer Federation presidential election.
[ MORE: Egypt coach believes Salah would succeed at Real Madrid ]
NASL — whose Division II status is still pending in the U.S. courts — has raised several questions about the upcoming election process, including how Major League Soccer will influence the election.
As it stands, MLS has 57 percent of the voting share on the USSF Professional Council, with nine of the 16 delegated allocated.
The field of eight candidates remaining in the election, include former Soccer United Marketing chief Kathy Carter, as well as Kyle Martino, Eric Wynalda and Paul Caligiuri — each of whom were former U.S. Men's National Team players.
Additionally, former U.S. Women's National Team goalkeeper Hope Solo, Carlos Cordeiro, Steve Gans and Michael Winograd have all been deemed eligible to run for presidency in February 2018.
Below is the full letter constructed by the NASL interim commissioner Rishi Sehgal.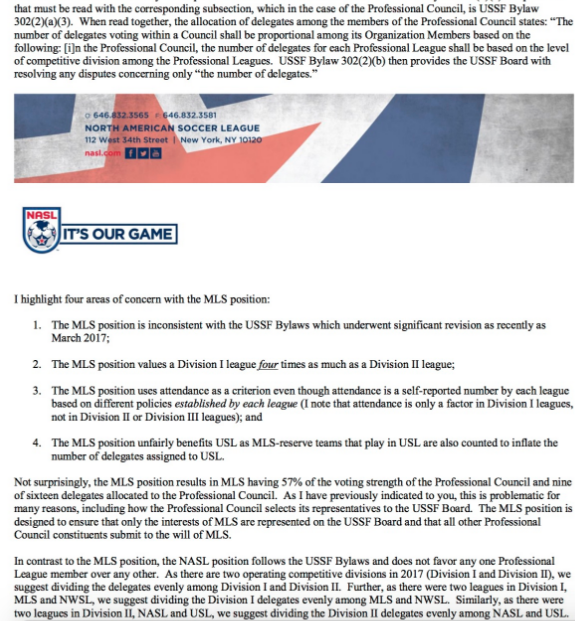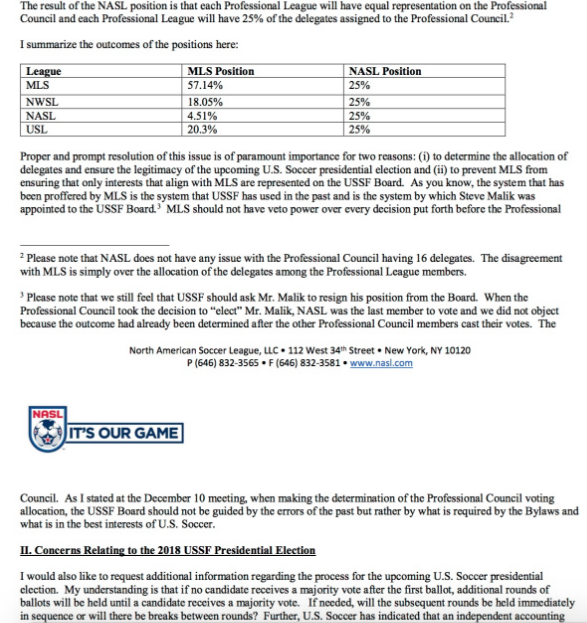 Follow @MattReedFutbol